Are you wondering how to move large furniture safely and effectively? 
Whether you are moving to a new home or remodeling your current one, knowing how to move the large items in your home is key.
While moving large, heavy, and bulky items might be simple, if you are not careful when you move large furniture, you can hurt your back, damage your items, or not be able to move the item at all. 
Fortunately, moving large items safely doesn't have to be difficult. By using a few best practices and a few tips and tricks, you can make this task a simple one.
If you need to move large and heavy items and want to do so in the best way possible, this short and simple guide is for you.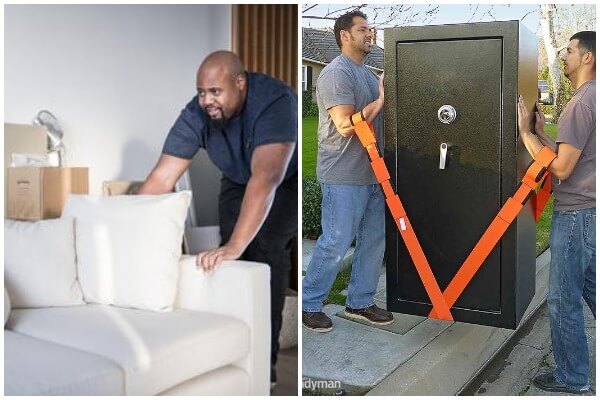 Start With a Plan
Before moving storage containers or heavy furniture, you need to start with a plan. Know the exact spot you want to place the item when you want to move, and more. By creating a plan of action, you can make the process as smooth as possible. 
Gather Your Materials 
The next step is to gather your materials. You might need furniture carrying straps, a shoulder dolly, a furniture dolly, blankets, tools to disassemble furniture, and more. Consider using a ramp and tools to remove door stop moldings.
Also Read: Packing and Unpacking: House moving tips
Enlist Help
While you might be able to move large furniture yourself, having a friend or family member help you will make the process much easier. For this reason, consider enlisting help when moving heavy items. 
Protect Your Furniture 
Before you start moving your items, you need to protect them. If you don't take this step, you can damage the piece of furniture you are moving, damage your floors, and even damage items that might be in your way. 
Also Read: Moving To A New Place? Here Is What You Should Keep In Mind
Consider Disassembling Items 
Perhaps the easiest way to move large furniture is to break it down into smaller pieces. This can help you avoid moving large, heavy, and bulky items, and instead easily move small items. 
Center the Weight
One tip to move large furniture easily is to center the weight. This will help you and the person assisting you, move large items quickly and efficiently. 
Focus on Sliding Items  
One of the best ways to move large furniture is to slide it instead of carrying it. By sliding items on a mat or a blanket, you can avoid potential back strains and everything else that comes with carrying heavy items.
This Is How to Move Large Furniture
By using these tips to move large furniture, you can make sure you are as safe and effective as possible.
Start by creating a plan of action for your move. You should also gather the right materials, enlist help, and protect large furniture. Consider disassemble the items and make sure to center the weight and focus on sliding.
Follow these tips to move large and heavy furniture as effectively as possible.
Don't forget to browse our site for advice on home improvement, finance, family, and more.