Are you currently working on your spring project list? Do you have a number of repairs and renovations you want to get to when the weather warms up? Before getting too ahead of yourself in the planning stages, you may want to start by taking a closer look at your roof. Making sure the roof is in tip top shape is vital to maintaining your house. The last thing you want to deal with is water damage in the home simply because you didn't spot damage or degradation in time.
So, what are the red flags to look for that signal it's time to replace your roof? Let's take a look at the top signs.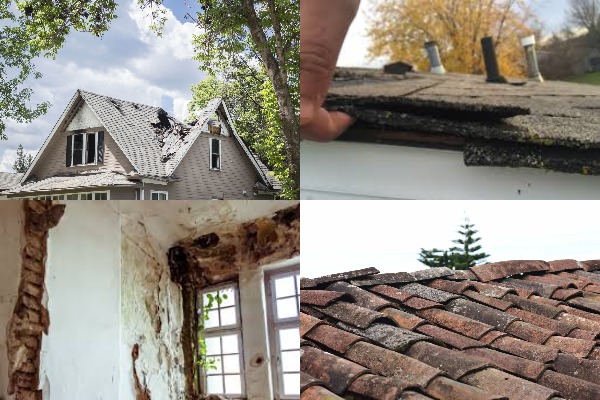 The Roof is Damaged
A damaged roofing is one of the most obvious signs that it's time to replace or repair your roof. Any sort of damage can quickly become a bigger issue, so this isn't something you want to ignore for days, weeks, and months. As soon as the damage is done, you'll want to get in touch with a qualified roofer to come out and look at it. If you address the situation quickly, you may be able to get away with a minor repair job rather than a full roof replacement. This of course depends on the extent of the damage, the condition of the roof in other areas, and the age of the roof.
Also Read: Things To Consider Before Getting A Roof Replacement
The Age of the Roof
This brings us to the next red flag, which is the age of the roof. Keep in mind that this factor alone shouldn't be the only thing you consider. Age can be deceiving in that some roofs last longer or shorter than others. Instead, you can use age as a rough estimate to when you may expect replacement will be necessary. 
Shingles Are Curling or Missing
If you have a shingled roof, you will want to stay on top of how it looks. If you start to notice the shingles curling or lifting, or worse yet, there are patches of missing shingles, this is a pretty clear indicator that the roof needs attention.
You Have Water, Moisture, and/or Mold Building on the Interior
If you get to the point where you find moisture, water, condensation, or mold growing in the attic or the interior, then you know the problem is pretty advanced. Not only do you have a roof issue, but now you've got a moisture issue that will need to be cleaned up. Unfortunately, if you don't go up to your attic on a regular basis, this red flag can be missed entirely.
Your Energy Bills Suddenly Jump
Another tell-tale sign that your roof is no longer performing as it should is that your energy bills suddenly increase. This could signal energy loss through the roof, which means that it's no longer insulating properly.
Also Read: Home Energy Efficiency: Reduce Your Electricity and Gas Expenses
If you've noticed any of these red flags with your roof, it's important to act swiftly before further damage can occur.