Moving to another state or a new home in the city of your dreams can be both exciting and stressful. One of the ways to ensure a hassle-free and successful move is to establish a great relationship with your hired moving service providers.
A good relationship with movers makes the process less stressful and much smoother. Unfortunately, it isn't as easy as most of you think. This is especially true if it's your first time hiring movers.
To ensure everyone's sanity throughout the relocation process, here are the ways to build a good relationship with your chosen moving crew: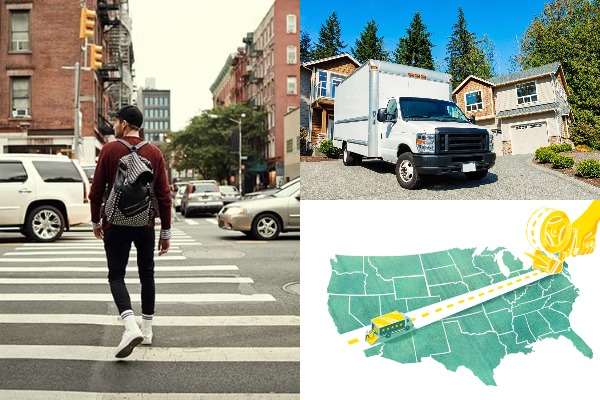 Look For Reliable Movers
Before you plan your long-distance move, consider searching for reliable movers. You can browse online using search terms such as 'movers in my area' or best moving company. This will give you a list of potential movers who can take care of your long-distance moving needs.
While filtering your options, there are various things you need to remember to find the right movers for the job. Note that your moving experience starts with your choice of service providers. So, don't be reckless or hasty with your choice if you don't want to end up with regrets. Instead, do yourself a favor and pick the right one to give you ease and make the entire moving process hassle-free.
When evaluating your prospective movers, ask them the following questions:
Do You Have Your Own Moving Crew?
Some moving companies don't have dedicated staff and may hire freelance workers. If you don't want this setup, find a service provider with fully employed moving professionals.
Companies with dedicated movers often ensure they have higher standards and keep them accountable. Full-time staff members also receive drug tests and background checks compared to contract employees.
What Type Of Move Do You Offer?
Another question you need to ask when hiring movers is the type of move they offer. Whether you plan to move to Virginia or another state, asking what movers can handle will help you make a wise pick and avoid choosing the wrong one for the job.
For example, if you're moving to a new high-rise apartment building, you must inquire whether they have the necessary tools, experience, and equipment to do the job well. The best movers must be ready to deal with anything that comes their way, including small doorways, lack of elevators, and parking restrictions.
How Long Have You Been In This Business?
While you can always hire new movers, working with those with years of experience is still recommended. That's why it's crucial to ask moving companies about their years of service.
This way, you can guarantee that their moving crew will be able to do their work responsibly and professionally. It's because highly experienced movers will do their best to protect the reputation they've worked so hard on.
Ask your prospective moving companies about their licenses to avoid rogue movers and scams. Professional movers must be properly licensed. You can check more about the company's licensing information online or by asking the owner itself.
If a mover is licensed, you can be sure that it follows your state's set of moving laws and regulations. Plus, they'll work professionally and provide you with the best possible quality moving services.
The best movers will do everything to protect your fragile items and priceless possessions. They often do this by offering basic and additional insurance coverage. So, in case of theft or accidental damage, your movers will be responsible for covering the expenses.
After asking your prospective moving companies such questions, narrow your options further and compare the pricing. Long-distance moving services may not be affordable, but the rate is worth it when combined with superb quality of service.
While settling with the cheapest to enjoy savings is tempting, you may spend more in the long run, particularly if they have hidden fees. If possible, work with movers who offer reasonably-priced services and guarantee quality.
Communicate With Movers Effectively
Establishing a good relationship with your movers is crucial for a smooth and efficient moving experience. This is particularly true when you're working with local teams like movers Louisville KY. Not only will it ensure a less stressful process, but it also guarantees that everything will go according to plan. Here are a few strategies to build and maintain this crucial connection
To communicate with the moving crew effectively, here are some tips you may consider:
Be Clear About Your Unique Needs: Knowing your needs will give you a better understanding of how much budget to allocate and which items to prioritize. It'll also help movers with what to prepare and do to meet your requirements successfully.
Don't Forget To Discuss Your Special Requests: Tell the movers in advance if you have special requirements or requests. This may include things such as packing particular items in a specific manner or transporting them separately. By telling your movers about your special requests, they'll be more prepared to meet or even surpass your expectations.
Provide Accurate Details: Give your movers the exact details about your long-distance move. It may include your new address, current address, and other obstacles they might experience throughout the relocation process. For example, if your new home has narrow hallways, inform your movers immediately, so they can think of possible strategies to make the process smooth.
Clear communication can make a difference in achieving a successful move. If you're clear about your needs and provide your movers with the details necessary, you can help make your moving day stress-free.
Be Prepared For Movers
If it's your first time hiring movers, you may not know how to prepare things for them. But once you hire movers, they expect you to be prepared for their arrival.
Fortunately, it's easy to get everything prepared. For example, if you request additional services like packing items, you must sort them before the movers' arrival and dispose of those you don't need. On the contrary, if you prefer to pack your items yourself, your movers will assume that your household items are packed and appropriately labeled for hassle-free loading.
It's never a good idea to proceed with your moving day if you're unprepared. This will only waste your movers' time and may require you to pay for additional costs.
If you don't want that to happen, follow these tips to ensure a smooth move and avoid causing inconvenience to movers:
Prepare boxes with essential items that you'll use when several things are out of reach. Keep such boxes with you whenever necessary.
Have your items packed up, labeled, and ready to be loaded if you choose not to use professionals.
Leave only the things you need for packing and discard any unwanted items.
Take down framed items.
Defrost and clean your refrigerator a day before movers arrive at your home.
Unplug your appliances, but take a photo of how they're wired up before disconnecting them.
Preparing for movers will keep everything smooth and reduce the overall move time. In many cases, it may lessen the final cost.
Make Your Movers Feel Comfortable
You hired movers for a reason, and if you choose the right one, you won't worry about their competence. But to build a good relationship with your moving company, you should do everything to make them feel comfortable throughout the process.
To do that, greet them properly and treat them respectfully. For example, ask their names and introduce them to your family members. Then, tour them around your house as you discuss your needs.
Unless you have specific requests, you don't need to instruct movers because they already know what should be done. If you have questions, feel free to ask them in a polite manner. Doing so will help you get along with your hired movers and motivate them to do a better job.
Another way to make your movers comfortable is to offer them refreshments. Ensure they have access to cups, ice, and water because relocation is a laborious task. Show them your bathroom and set your cooling or heating system at a comfortable level. To keep them energized, offer them a light meal or snacks.
Trust Their Service
Don't belittle the ability and work of your movers. Instead, trust their service. The most reliable moving specialists have undergone proper training to do their job right. If you always doubt their services and capabilities, you won't be able to create a good relationship with your movers.
Once you hire them for your long-distance moving needs, let them do their work how they want. If you're concerned about something, don't hesitate to tell them. This way, your movers will avoid it and try to improve their work to satisfy you.
From time to time, checking on them is also okay to know if everything is going fine. But don't do this in a way that will annoy the movers. To prevent this, inform your movers to call you immediately if they need something.
Be Available For Movers
Another way to create a good relationship with any moving company is to be present and available. It means being on-site to give access to your house, answer questions, and provide assistance when needed. If you're not available, you can have somebody else take care of everything for you. It may be your family member or friend. Doing so will help ensure that the move will go smoothly.
Although it's tempting to leave all things to the professionals, it's crucial to note that they're not familiar with your belongings or home. If you have pets or kids, keep them out of the way so that movers can focus on their job. This can also avoid possible injuries or accidents involving your pet or child.
When you're available and present on-site, you can also check the progress and ensure your items are handled carefully. As a result, you can expect that everything will go according to your plan.
Don't Be Too Demanding
If you want to establish a good relationship with movers, avoid being too demanding. Asking for what isn't fair is a big NO. While you can demand some things, you should never overdo them.
Movers may be handling your belongings, and you're paying for their services. However, it doesn't give you the right to demand more than you've paid. Know your limitations as a client, and don't abuse your power.
Once you treat movers right, you can be sure that they'll do a great job and won't give you disappointments. So, demand what's only covered in the contract to avoid problems.
Tip Your Movers
If you're satisfied with the overall performance of your hired movers, don't hesitate to give them a tip as soon as they're done. Although clients aren't obliged to provide extra rewards for movers, tipping can be an excellent way to show your gratitude and appreciation.
If you don't know how much tip to give, base your decisions on the quality of their work. For example, offer bigger tips if movers did an exceptional job or did more than they're supposed to. On the other hand, you may choose not to give a tip if you think the movers did a poor job and damaged your items or acted unprofessional.
Give Feedback
For movers, feedback can be everything as it lets them know what they should improve or avoid to satisfy the clients. While reliable movers care more about their work's quality, hearing words of encouragement from their clients may help keep their energy alive. So, leave a good review on their websites or social media accounts.
While writing a review, you can also name those who did an excellent job during the moving day. It'll make them feel appreciated and be more motivated to do a great job in the future.
Although leaving reviews or giving feedback can be time-consuming, doing so may benefit you over time. Besides, you may need moving services in the long run. If you've established a good relationship with movers, reaching out to them and hiring them again for your needs is much easier.
Final Thoughts
Working with reliable movers and establishing a good relationship with them can make a huge difference in achieving a stress-free and smooth move. Following the above tips and implementing them properly can create a productive and positive relationship with your movers.