Over the last few decades, the concept of Tiny Houses has steadily risen in popularity. A Tiny House is a term that refers to a living space that's about 225 sq ft in size. They typically look like a mash-up of living spaces that could give most jigsaw puzzles a run for their money. 
Life in these quaint and bohemian homes was initially popular only among the fringes of society- artists and new-age hippies that thrived in what many would call claustrophobic prisons.
But slowly, things started to change.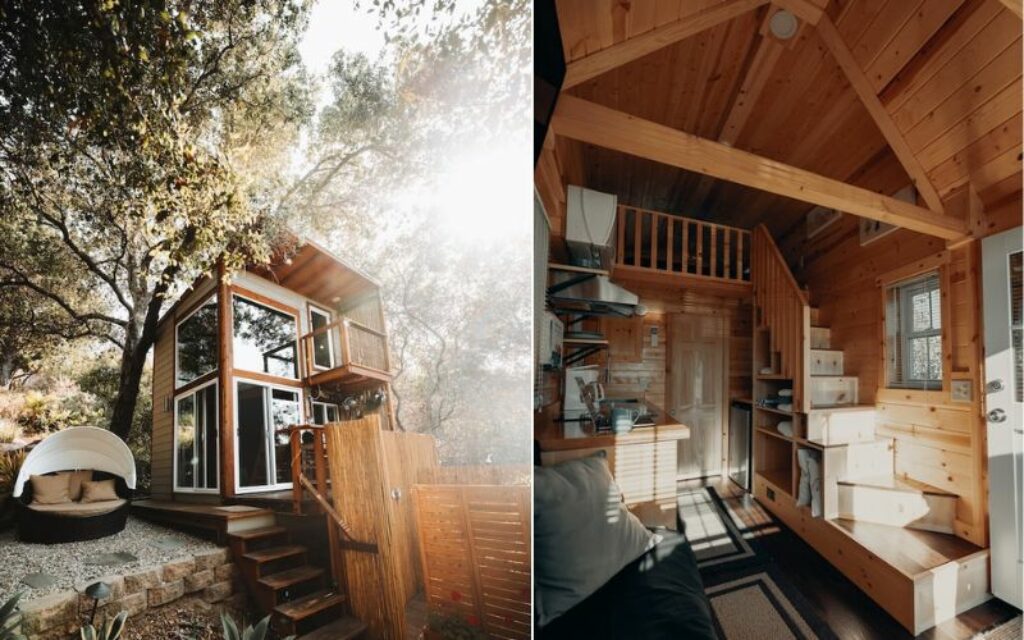 The Rise of Tiny Houses
The early 2010s saw vloggers like Kirsten Dirksen and her videos on unique architecture, particularly tiny houses,  rise in popularity. Gradually, this lifestyle started to see mainstream attention, and today, they make up a small but consistently growing share of the housing market. 
Tiny houses are much more affordable than traditional homes, which also explains their popularity. The cost of a 250 sq Tiny house would run you about $45,000, which is significantly cheaper than the average $298,000 asking price of most homes in the U.S. 
Things started to get interesting as well. Early this year,  Philadelphia started to explore Tiny Houses as a solution for the homeless. The fact that more people are being open to sustainable living arrangements is refreshing and signals a new style of homeownership. 
A more intimate and cozy one. 
If you are planning to buy a Tiny House, you might be wondering what to keep in mind. Worry not. We're going to look at how you can make the experience a more enjoyable one today. 
#1. Create a Compact Kitchen Space
This should obviously be one of your main goals. 225 sq ft of space is not a whole lot of room to work with. Things can get cluttered pretty quickly if you haven't planned how to structure your home. Getting the right kind of kitchen furniture is key.
You can get kitchen cabinets in Philadelphia from a place like KitchenSearch. They are a family-owned company that have been satisfying customers for close to twenty years now and making luxury furniture more accessible to different budgets.  
They are great at working around custom requirements, and since tiny houses have limited spaces, bespoke furniture is your best option. They also help with remodeling different aspects of your kitchen to keep things ergonomic.
The kitchen is one spot of any home that has the potential to make everything around it messy. Investing in creating a compact nook where everything has its place and can be tucked away out of sight makes things much more pleasing to the eyes. 
Also Read: 7 Awesome Mini Kitchenette for Small Kitchen
#2. Learn How to Light Your Tiny House 
In a tiny home, lighting can play an especially crucial role in creating the illusion of more space or coziness. If you want to create the illusion of more space, you want to aim for ample natural light. This can be achieved by installing large windows or skylights, or by using sheer curtains to let in as much light as possible.
Spotlights and recessed lighting can also be useful to highlight specific areas of the room, such as a reading nook or a corner for your plants, and this can help maximize the feeling of space. If you are going for a more cozy and warm feel, consider focusing on warm, low lighting. Table lamps and floor lamps are perfect for this. 
You can also use smart bulbs to be able to adjust hues and dim the lights to set the mood just right. White or slightly bluish colors can make a room feel more spacious, so having the ability to control the colors of your lights can be very useful. 
#3. Choose the Right Everyday Alternatives
Living in a tiny house does mean making some sacrifices. You might already be prepared for that, but it doesn't have to be all bad. Knowing the right sort of alternatives to use can help cut down the space crunch. For instance, instead of squeezing in a normal bed, consider using a murphy bed. 
Worried about how you will manage space on your work desk? Ditch the full tower computer and get a laptop instead. There are countless such alternatives you can find that simplify your life without needing to make a lot of sacrifices. Developing the skills to repurpose the same utility in multiple ways can be invaluable.
Conclusion
Tiny homes in Philadelphia and across the rest of America offer a unique and innovative solution to modern housing problems. Yes, they do come with their own set of challenges, and living in a small space will take some adjustment period. 
However, those who find a way to make the most of a tiny house can enjoy a simple, minimalist lifestyle, greater financial freedom, and a reduced environmental impact.