When the weather gets warmer, the deck becomes the most popular part of the home. So how can you make your deck more aesthetic without breaking your bank?
The answer is easy: focus on outdoor deck lighting ideas.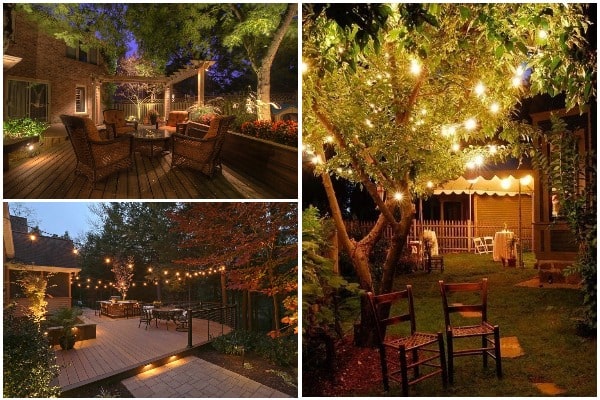 Researchers have found that ambient lights influence perception. A few strategically-placed outdoor lights will take your deck from drab to fab.
From outdoor string light ideas and LED Icicle Lights to railing lights, we have listed a few of our favorite outdoor lighting tips below. 
Illuminate Different Areas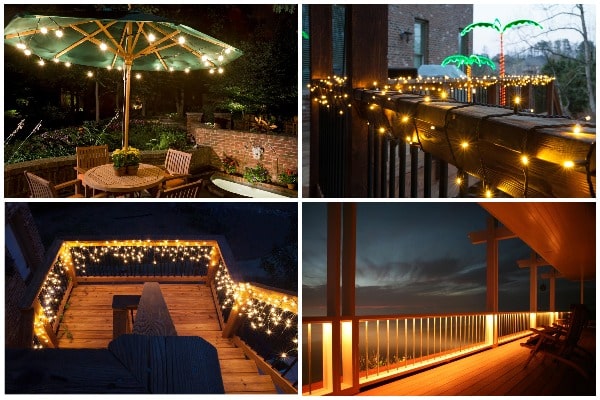 The list of outdoor lighting ideas is endless, which means you can have fun with creativity. 
Start with the stairs. Adding small lights along your deck's staircase will softly illuminate the pathway. Not only does this do wonders for ambiance, but outdoor lighting also makes your deck safer at night.
Another idea to decorate your deck with outdoor lighting is to illuminate the under-counter area if you have an outdoor cooking or grilling area. Soft light underneath the cooking space creates a dramatic effect and also illuminates the area for the person who is cooking.
Next, incorporate lights into your deck posts and railings. You can find outdoor lights that easily mount on top of the posts. If you want to get creative, incorporate different colored lights into your posts.
As for the railings, install lights under the posts. The railing will create a soft glow without exposing the bulbs. Similar to lighting steps, brightening the railing will make your patio safer.
Add Recessed Outdoor Lighting
Recessed lights are directly installed into a wall or ceiling. The fixtures include a light bulb, trim, and housing. The housing component allows the lights to look concealed. 
The appeal of recessed lighting is that homeowners enjoy a well-lit space, but the lights are hidden and don't pull focus from the room's aesthetic.
Also Read: Top Reasons & Why Use LED Lighting Systems For Your Kitchen?
Installing a few recessed light fixtures in your deck ceiling can keep your patio well-lit throughout the night.
As a bonus, recessed lighting fixtures are easy to maintain, making them ideal for the outdoors. They don't require frequent cleaning, and their concealed structure protects them from harsh outdoor weather.
Hang Outdoor String Lights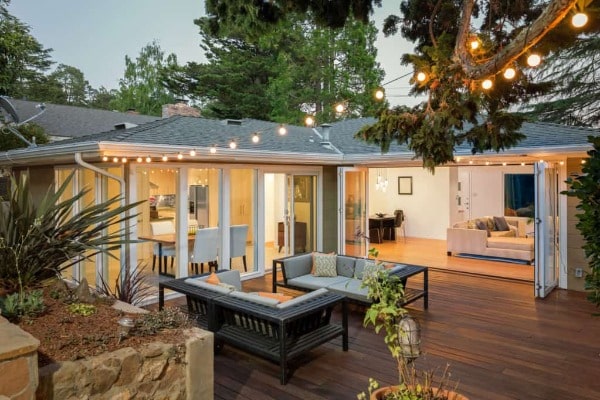 String lights are not reserved for the holiday season. Hanging outdoor lights around your deck or patio makes the area look fun and festive.
When selecting the perfect string lights for your deck, stick with a generic brand that is available year-round. Do not use Christmas lights. That way if you need replacement bulbs, you can always find them.
Also Read: 3 Ways to Make Your Outdoor Space More Inviting
As far as hanging the lights, get creative. Your only restriction is to make sure the lights are close to a power source. To make hanging the lights easier, look for trees and pillars that you can easily connect the lights to.
Light up the Floor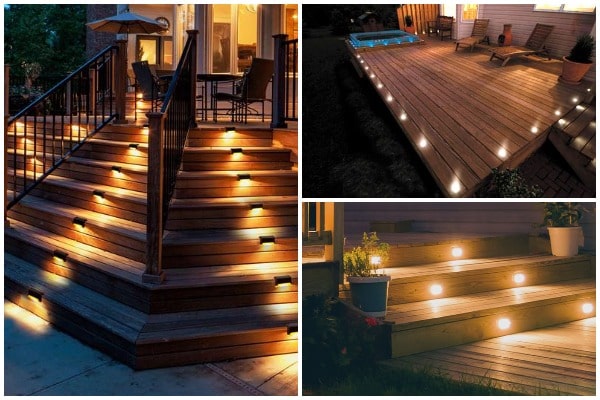 If you don't have an overhead to install lights above your deck, then the floor is your next best option. In-floor lighting is an excellent way to shed light in all corners of your deck.
Floor lights come in different low-voltage options. Low-voltage lighting is safe for outdoor conditions and available in LED and incandescent bulbs.
Embrace These Outdoor Deck Lighting Ideas and More
The list of outdoor deck lighting ideas is endless. From the ceiling to the floor, have fun illuminating your outdoor space.
So, now that the deck is covered, what's next? Explore our home decor blog for more useful design tips and tricks.