Pillows play an important role in both the comfort and look of any space, so it's important to pick the right ones. But, how do you do it? From the style, color palette, and size, to the type of material, shape, texture, and usage here are 14 tips to help you choose the perfect pillows for your room.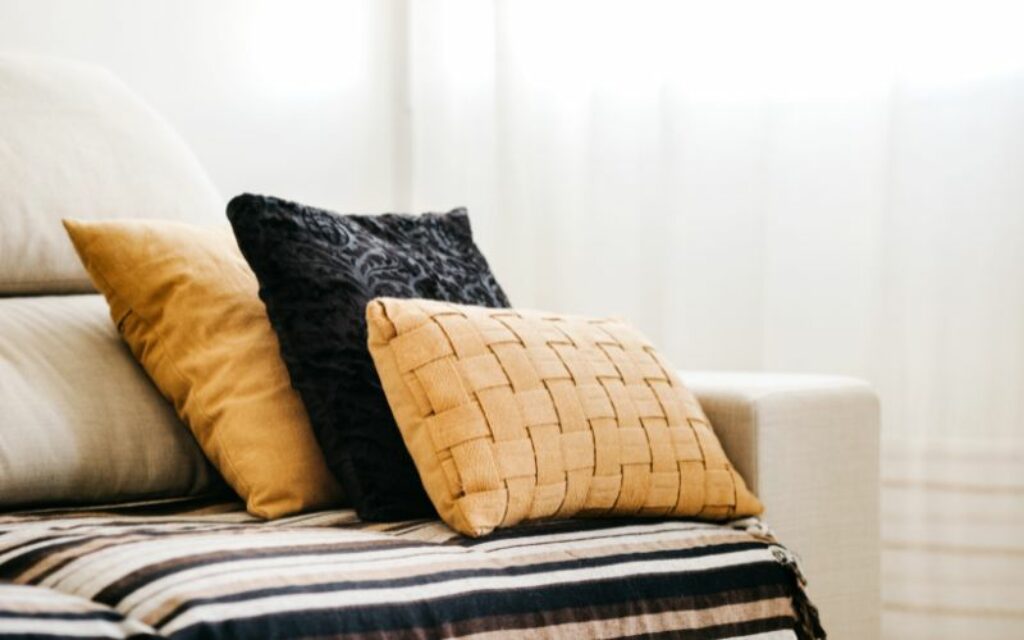 Consider the Style of Your Room
The style of your room should be the first factor you consider when choosing pillows. Whether you're going for a modern, traditional, or eclectic look, the pillows should help enhance the style of the space.
For example, if you're creating a modern, minimalist look, geometric shapes and solid colors are great options. If you're going for a more traditional look, floral patterns and textured fabrics are great choices.
Also read: How to make your house cozy and warm
Study the Colors Around
The next step is to select the right colors for your pillows. Pay close attention to the color palette of the room and choose colors that complement the other furnishings and décor. If your room has a neutral color palette, bright and bold colors can add a nice pop of color.
If your space is already quite vibrant, then sticking to more subtle shades will help keep the look balanced. Matching the color of your pillows to the dominant colors in your room can help create a cohesive look. If you want to add a pop of color, choose pillows in a complementary hue.
Also read: The 8 Most Important Decorating Rules
Consider the Size of the Room
When it comes to choosing the right pillow size for your room, it's important to consider the size of the bed, couch, or other furniture on which the pillow will be used.
Generally, larger pillows look better on larger furniture and smaller pillows look better on smaller furniture. If you're using the pillows as a decorative element on a wall or chair, then the size of the pillow should be in proportion to the size of the wall or chair to balance the scale.
Pick the Right Material
The material of the pillow is yet another important aspect. Different materials offer different levels of comfort and durability, so it's important to consider how often you'll be using the pillows.
Natural materials like cotton and wool are comfortable and breathable, while synthetic materials like polyester and microfiber are more resistant to wear and tear.
Take Note of the Shape
Pillows come in various shapes, including square, rectangle, and round. Therefore, considering the shape of the pillow is also important. Generally, rectangular or square pillows are ideal for couches and beds, while round pillows are better suited to chairs or as a decorative element.
If you're looking to add a bit of texture to the room, then you can choose pillows with unique shapes such as diamonds or ovals. Choose the shape that best fits the style of your room and the function of the pillow.
Think About the Texture
The texture of the pillow is another important factor to consider. Different textures can add a unique look and feel to a space. Textured pillows can also help to break up a space that's filled with plain or solid-colored pillows.
Keep the Function of the Pillow in Mind
If you want pillows for decorative purposes only, choose ones that are aesthetically pleasing but not necessarily comfortable. If you want pillows for both decorative and practical purposes, look for ones that are both stylish and comfortable.
Consider the Fill Material
Pillows can be filled with a variety of materials, including memory foam, latex, feather, down, synthetic fibers, buckwheat, millet hulls, wool, air, and even water. Choose the fill material that best meets your comfort needs without causing allergic reactions.
Consider the Required Firmness and Loft
Pillows can range from very soft to very firm and very tall to very thin. Choose the loft and firmness level that best meets your comfort needs. This would depend on your personal preference so always try before you buy.
Analyze the Cover Material
The cover of pillows is an important but often overlooked aspect. Pillow covers can be made from a variety of materials, including cotton, linen, silk, flannel, and bamboo fiber. Choose a cover you think would be most comfortable to rest your head on.
Please keep in mind that different pillow covers can be differently comfortable in different seasons. For instance, you wouldn't want to use a flannel cover in summer. So, choose wisely.
Add a Pop of Color
If your room is looking a bit dull, you can add a pop of color with a brightly colored pillow. Bright colors such as red, yellow, and orange can help to inject some life into a room and make it look more inviting.
Also read: Interior Design Tips To Create A Modern Country Home
Mix and Match
Mixing and matching different textures and colors can help to create a more interesting look in the room. Try mixing different shapes and prints, or pairing plain and patterned pillows together.
Consider the Care Instructions
Some pillows are dry clean only, while others can be washed with water. Some pillows must be hand-washed only while others can be tossed into the washing machine. Choose the pillow that best fits your care routine and preferences.
Consider the Cost
Last but not the least, think about your budget. Regardless of the condition of your room, pillows can range from a few dollars to hundreds of dollars, so it's important to set a budget before you start shopping.
Choosing the right pillows for your room is an important decision. Keep these 10 tips in mind and you'll be sure to find the perfect pillows for your space.