Small basements are often undervalued. Many homeowners still treat it as a neglected space meant only to house extra luggage, seasonal décor, and other unnecessary items. It's dark and dingy, and it's that part of the home that's only visited when the need to grab those items come. Therefore, there seems to be no organizational system in small basement spaces.
Let this situation not apply in your home. Your basement may be relatively small, but it has more potential than being a messy, catch-all room. To achieve the best results in organizing your small basement, you can hire a good contractor or designer, and you'll be amazed at all the possibilities you can do despite its lack of size. Partnering with professionals will enable you to make use of every blank wall and corner.
Visit the website of this reputable basement renovation contractor. If a basement renovation is in the books quite soon, this article is best for you. This will provide insider secrets in maximizing every square inch of small basement space.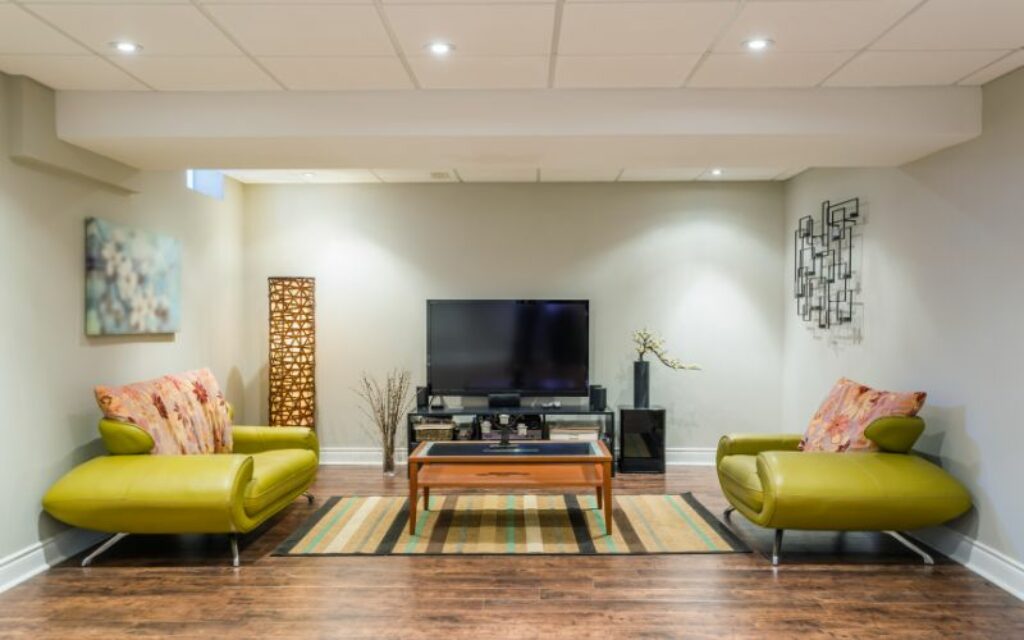 Paint The Walls In Light Colors
Painting the walls with the right colors dramatically affects the overall vibe of the space. If you aim to create the illusion of having a wider space, you can paint your basement with light colors. If you don't fancy white, there's always cream, lighter pastels and neutrals, and even a very light shade of gray.
Light colors instantly brighten a dark room, making it feel airier and bigger. Basements often lack light, given the limitations of installing windows. You can transform a dark and small basement into a bigger yet cozy one by selecting paint that's more on lighter hues.
Mount Wall Racks, Hangers, And Floating Shelves
One of the biggest challenges with a small basement is creating more organizational space. Otherwise, no matter how aesthetically well-designed a space is, keeping it clean and organized will be extra challenging when there isn't enough storage space.
Renovating a small basement also entails maximizing vertical space or blank walls. Visit your nearest home depot, and you'll surely come across loads of options for floating shelves. There are also wall racks and hangers, perfect for those coats you need to hang.
Mounting floating shelves isn't just a functional piece in your home but could also become an interior design element. It can add more depth and style to a once plain and boring wall through shelves and racks that match your home's interior. 
Also Read: Ingenious 21 Wooden Pallet Shelf Ideas
Install A Lot Of Lights
Natural light can often be hard to get by in basements, so it is important to install adequate lighting. Having a lot of lights strategically located around your basement makes a huge difference.
However, choosing and installing lights in a basement takes a thorough selection process. A small basement isn't the right avenue to have big, hanging, or drop lights, as it'll only consume space. Flat pin lights are a better choice for smaller spaces.
Remove Any Floor Carpets
Most basements are built with wall-to-wall carpets, which means the entire floor is covered with carpet. This is often done to create a warmer feel when walking barefoot in the basement. Unfortunately, it also drowns the space and makes it even smaller.
If you plan to renovate your small basement, consider removing the floor carpets. Let your natural hardwood shine. Rather than have your whole floor covered with carpet, select area rugs instead, as it'll make the room look bigger. Using area rugs work well to delineate a space, especially when you're using the basement for two purposes: as a living or den area and as a small bar or kitchen to hang out.
Design A Floor-To-Ceiling Cubby System Or Wall Shelf
If hanging shelves aren't your thing, you can take it up a notch higher by installing floor-to-ceiling shelves or a cubby system instead. Measure it up, and have different sizes for each space to accommodate your storage needs.
For example, the same wall shelf can have that big center square to house a hanging TV. Surround this with smaller square or rectangle shelves to display books, memorabilia, or even extra storage space. There are so many storage boxes you can choose from, so there's always an option for every need and preference.
The Bottomline
Upon reading this article, you might feel more confident about that newfound ability to make the most out of your compact basement. It's not always about having the biggest basement but how well you can use and design it. There are so many things a homeowner can do even with a small basement, with the decision ultimately boiling down to preference. Regardless of how you use it, choose a good basement renovation contractor, so this project will give you that basement you've long needed and dreamed of having.