Originality and artistic creativity are something we all aspire to. And with the help of a DIY boutonniere, these elements could be brought to life and delight the precious people in your life. A sola wood flower boutonniere could be a stylish accessory that takes you out of anonymity, matches your outfit, and can be customized in any shape or form.
Why buy wooden flowers? For one thing, they are cheap and durable. And for thousands of years, flowers have been an ideal gift for formal occasions and for intimate moments spent with loved ones.
Flowers are a way to express your feelings and can be a gift to show your love or gratitude to the people who have been close to you. Flowers are also a must-have for parties, weddings, christenings, or holidays where the focus is on the closeness between couples, such as Valentine's Day. Flowers can be accessories to your creativity, allowing you to redecorate your interior space. Their natural beauty could boost energy and make you forget everyday problems, whereas their enchanting scent could fill your rooms with nature's fragrance.
But mother nature is cruel. And flowers, with all their beauty, begin to wilt less than a week after they are picked. From a financial point of view, investing hundreds of dollars in bouquets that will be a wreck a week later is hard to justify.
But wood flowers don't have that problem. And a single wood flower boutonniere might be just what you need to make your originality shine through. A DIY boutonniere could be a fun project with your family, and the result could be more beautiful than anything you'll find on the market.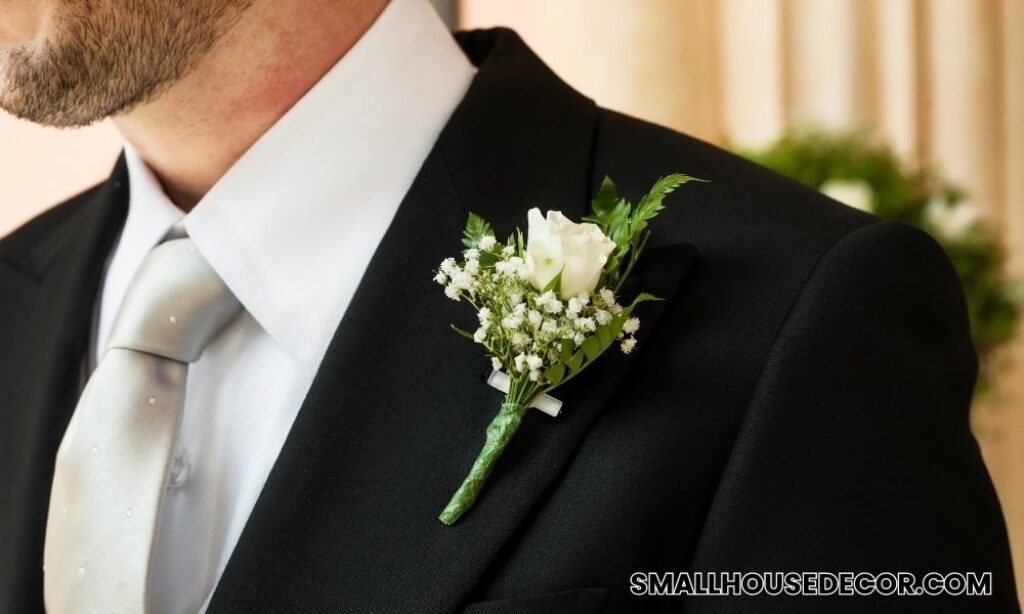 Why a DIY Sola Wood Creation? 
Nature has created hundreds of thousands of flowers to choose from. And at any given moment, an impressive array of them could be delivered to your doorstep. But flowers are seasonal and can be hard to find, store, and justify. Are you looking for an eco-friendly alternative that allows you to spend unforgettable moments with your loved ones?
In that case, you could invest the resources needed to create a DIY boutonniere. A DIY sola wood flower boutonniere will feature customization options and allow you to choose specific flowers, color patterns, greenery, and fragrance, to create an end-product that meets your needs.
A DIY boutonniere could be a cheaper alternative to products purchased from stores, be an outlet for your creativity, bring you closer to your partner or children, and be a way to relax and accomplish a sense of fulfillment.
A personalized wood flower boutonniere could use the most spectacular colors your originality can discover, be a way for you to perfect your DIY skills, and make an ideal activity to spend time with the people in your life that matter.
What Room Decorations Can You Make with Sola Wood? 
A sola wood flower boutonniere could be an accessory that will bring out your features, catch the eye of other brides and grooms, and complement your signature elegance. But most of our time is spent not at weddings but in the comfort of our homes.
And because of this, you are probably interested in finding ways to use your creativity and improve the design aesthetic of your residence. Sola wood flowers can be used to create original wall art that will transform your plain spaces into works of art. Also, sola wood flowers could be transformed into beautiful garlands for your garden or be used in centerpieces that will attract the attention of your property's visitors.
Are you trying to enhance the look of your bedroom? In that case, wood flowers could be used as mirror accessories, or they could be utilized to heighten the uniqueness of your picture frames. Wood bulbs can also be scented with your favorite fragrance and placed in the most hidden corners of your home.
The result could be a colorful property that smells beautiful, looks gorgeous, and attracts visitors' attention. Flowers are scientifically proven to give us a serotonin boost. And as wooden flowers are more financially advantageous, a sola wood flower boutonniere or wall art decoration could be an economically viable way to improve your mood.
Why Are So Many Couples Ditching Traditional Wedding Flowers? 
The average cost of a wedding in the United States is over $30,000, which for many couples is prohibitive. To reduce cost, many newlyweds have decided in recent years to forgo traditional floral arrangements and instead go with the sola wood route. And the advantages are both aesthetic and economic.
Wedding flowers are among the most significant expenses for indoor and outdoor venues, as they are challenging to arrange and preserve. Moreover, fresh flowers are unsuitable for people with allergies, which will almost definitely prohibit at least some of your friends or family from attending your special day.
Wood flowers are versatile, cheap, durable, and customizable. Do you want to build a sola wood flower boutonniere? Then you can do so. Are you interested in wall art decoration, garlands, wreaths, or centerpieces? Then sola wood flowers could be successfully used to let your vision come to life.
Sola wood bulbs can be reused for multiple events, be colored in bright hues not found in nature, are ideal for destination weddings because they keep their properties intact even in harsh shipping conditions, and are available all year round, which is not the case with freshly picked flowers.
It's All About Your Financial Freedom
Are you a creative person? Then you may be interested in designing a DIY boutonniere. Want the best quality to stand out on your special day? In that case, purchasing a sola wood flower boutonniere from a specialist shop might be a good idea. But whatever you choose, sola wood decorations could be the best financial choice for your wedding. Sola wood flowers are versatile, inexpensive, durable, and can be customized in countless ways.
Decorations made of sola wood can be synonymous with your creativity, be a medium through which you can relax, offer you moments to catch up with friends and family, and provide a way to start your married life on the right foot. The financial decisions you make at the beginning of your marriage can be essential for the long-term stability of your union. And one of the most unfortunate dissection points for couples is the cost of event decorations. Wood flowers can be a cost-effective solution. And buying them could be one of those decisions that, years down the road, you'll be thankful for making.