There are different ways people celebrate the 4th of July. The patriotic display of red, white and blue along with stripes and stars symbolizes enthusiasm and devotion. The ultimate patriotic door decor, and the annual display of the banner throughout one's house is a cherished tradition throughout the Union.
Some of the activities that we all participate in on 4th of July include, hosting and attending 4th of July BBQ parties, participating and watching parades with family and capping the evening with a marvelous show of fireworks and a couple of bears to tap it all off. 
While we do enjoy decorating the whole house (indoors and outdoors), special emphasis is given upon decorating the front of our house.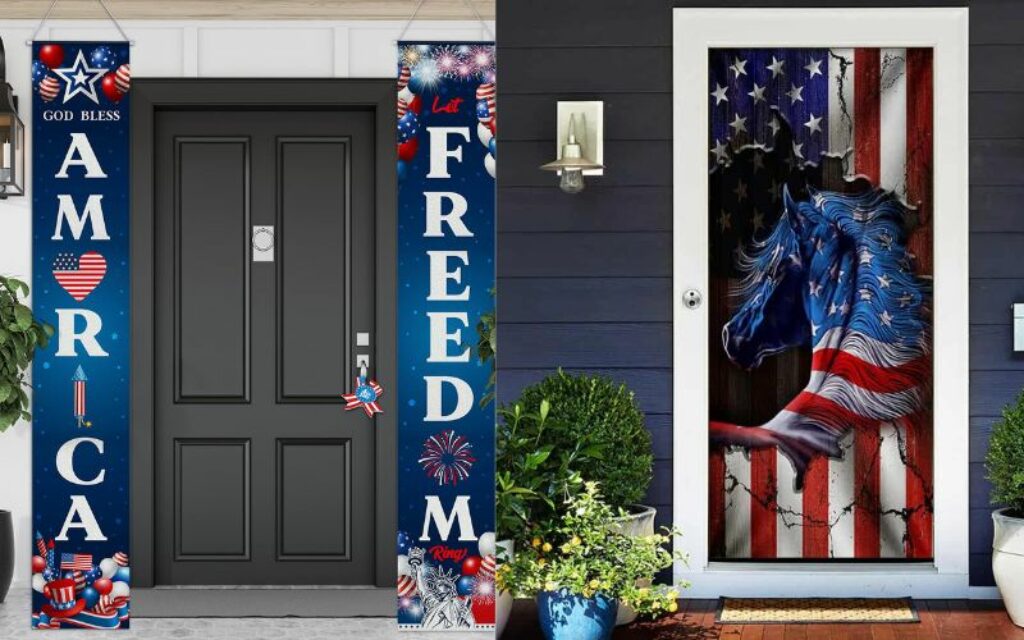 Let's have a look at how you can create a killer front door decoration for 4th of July.
Hoisting the Flag: Our Love Affair with the Star-Spangled Banner
We know that summer has arrived when there is more than usual appearance of stars and stripes out on the streets and inside homes. The arrival of 4th of July celebrations is literally announced by hoisting the flag on every manageable (and not-so-manageable) part of our homes and streets.
Let's scan and explore how we can display the flag in different ways to decorate outdoor walls and front doors.
a. Create a DIY Flag
There are different ways to create a DIY wooden or plastic flag. You can make handmade teared fabric vintage flags or you can create your own wooden plank flags. You can install these flags on your outdoor wall, as well as indoors in your living room, kitchen and stairs.
b. Paint Your Patriotic Outdoor Wall
You can paint your front wall into red and white strips. Suspend some wind chimes and hanging plants in front of the wall along with a vintage clock and your own patriotic front wall décor is complete.
c. Create Small Flag Banners
Flag banners are one of the most traditional displays. You can hang them on the outside of your window panels, in your front yards or simply put them on your front wall. Flag banners will always complement the look of your patriotic outdoor wall décor.
Also Read: Get Inspired by These 15 Black Front Door Ideas
Patriotic Front Door Décor
The ultimate patriotic door decoration of your front door should represent true 4th of July spirit. From red, white and blue color scheme to star and stripes adorning décor icons, following are given a few ideas that can help you jazz up your patriotic door décor.
a. Patriotic Wreaths
Nothing can beat the charm of an eye catching, hand wreath. Wreaths will act as the center point of the door, you can buy the wreaths that represent independence festivities or can go with a more subtle summer inspired design that can be used for the rest of the season too.
b. Screen Door Number
Give your door an iconic American history number, such as independence date or year. If you have mesh doors you can use the grid to create anything that tickles your fancy. Neon signs, fairy lights and ribbons can be used to create these awesome door designs. Apart from making a patriotic door décor, you can also create different summer themes shapes (flowers, inspirational quotes, your initials etc.).
c. Door Frame Flag Banner
This is a more temporary decoration that does not require extra effort and can be taken off once the 4th of July festivities are concluded. Decorate your door with a flag banner. You can put a patriotic wreath at the center of the door to complete this décor.
d. Classic Banner on the Door
The ultimate patriotic door décor will be something that brings you as close to the tradition as possible. A classic banner on the door in 70s style is a minimal yet pure representation of 4th of July celebrations.
The Ultimate Patriotic Outdoor Décor
4th of July BBQ parties are incomplete without decorating your yard. Here's how you can complement your kickass parties even more with ultimate patriotic decorations.
a. Garden Flags
There are different sizes and shapes of garden flags. The fancy metallic banners which you can hang from a tree or just use as a table placement. Small decorative flags can be fixed in pots and planters. Decorate the planters with cute little flags and fairy lights, this will brighten up your late night 4th of July BBQ parties.
b. Decorative Candles and Lanterns
Candles can be used as indoor as well as outdoor decorative items. If you are having a formal set up for your 4th of July party, you can use fancy aromatic candles as centerpieces on your tables. For a more casual look you can use old style lanterns, paint them red blue and white or just add stars and stripes. Big sized floor candles and lanterns can be placed in the corner of your front door, complement it with a starred and striped doormat, and a wreath on the center of the door and you have your ultimate patriotic door décor nailed.
c. Patriotic Star
One of the best ways to amplify 4th of July garden décor is to use stars as a theme. While red, white and blue are usually the colors of spreads, table cloths and your own costume, stars can be used in a lot of creative ways to enhance your party décor.
For your porch, use different types and sizes of wind chimes with stars. Complete the look by hanging white, red and blue ribbons and a banner flag on the outdoor wall.
For your garden, you can create cutouts of stars in different sizes and color them in red white and blue. Scatter these stars across the garden, hide them in the trees and wrap in confetti and fairy lights for a magical look.
d. Chalkboard and a Personalized Notes Wall
While it is quite common to have a chalkboard with a special 4th of July message written on it. You can expand the idea by adding a personalized notes wall. Dedicate a wall where your friends and family can leave little patriotic notes. You can either use stick-on notes and markers, or simply nail a sheet to your front wall and ask everyone to write something memorable or something that inspires them on that sheet. The notes can be related to Independence Day, about what inspires people the most, their favorite pieces of poetry, prose or quotes, and anything else that you may want to explore.
e. 4th of July and Summer Decorations
Patriotic decorations won't achieve their true potential if we ignore the cheery and sunny season. Include flowers and plants in your decorations. Floral wreaths and flower pots can be used along with banners and pinwheel flags. Center trays and floral centerpieces cane be used to enhance the beauty of individual tables. For center trays, you can use patriotic ornamental cups, tea cozies, miniaturized statues etc and a small vase of lilies or daisies.