From traditional to modern, a black front door can have a variety of looks. Whether you're looking for something classic or something more contemporary, there are so many different options out there.
Here are 15 black front door ideas that can help inspire your next project:
4 Black Front Door with Glass Ideas
A black front door with glass can be a great way to make a statement and bring elegance to any home. Not only is it aesthetically pleasing, but it is also very practical as it provides excellent visibility and safety due to increased visibility from the outside looking in.
It also allows light to pass through while giving privacy, allowing for a calming and secure feeling when you come home at night. The black color will also give your home a regal look that conveys strength and beauty.
Many people are choosing this type of door for their homes, both for its elegance and practicality.
#1 Mediterranean Black Front Door with Glass Ideas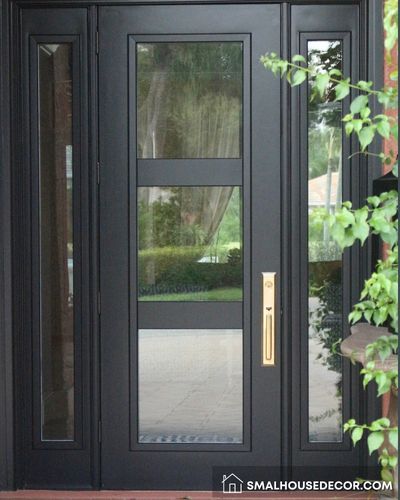 Give your home a stylish and inviting touch with a modern Mediterranean door! This eye-catching black front door with glass, upgraded with a glinting gold handle, will draw the attention of all your visitors. Its sturdy steel construction ensures that you're choosing a door that will last for years to come!
Reminiscent of days spent strolling the cobblestone streets of Europe and taking in the rich culture, this classic and modern style is sure to have guests in awe. Bring sophistication and security into your home today with a stylish modern Mediterranean door.
#2 Modern Cottage Exterior With Sidelights And Transom Window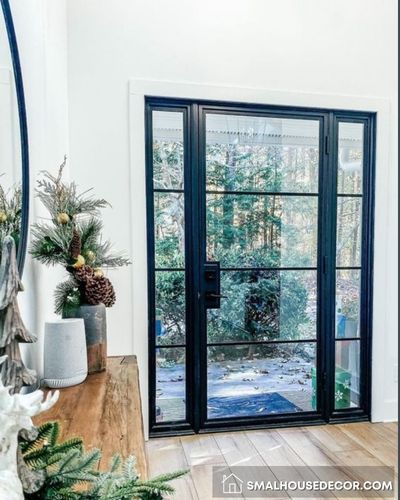 Black Front Doors with Glass have quickly become a classic addition to a home. Not only do they add charm and interest to the home, but they also maintain its open appearance while still providing privacy.
The Modern Cottage With Sidelights and Transom Window are made of strong steel and contemporary glass, both designed and made in the USA. It comes in multiple color powder coatings so you can choose your perfect combination that'll match your home.
Last but not least, The bottom of the sidelights will be aligned with the bottom of the door, making sure that there is no break on clean lines between them. Black Front Doors with Glass definitely bring a modern twist to any classic home. This stylish door comes at an accessible price of $4,675, making it a budget-friendly option for all homeowners.
#3 Pinky's Iron Doors Air 5 with sidelights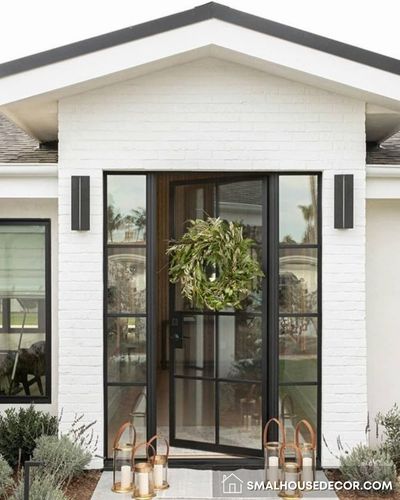 Are you looking to make a statement with your front door? If so, Pinky's Iron Doors Air 5 steel single door is a perfect choice.
This steel single door features four clean lines that come together to create the perfect modern look. Pinky's Iron Doors Air Collection offers a range of sleek and simple steel windows and doors that are perfect for contemporary and minimalistic homes.
With its streamlined design and unique hardware, you'll be proud to have this Black Front Door with Glass in your home – all at an affordable $8,468 price! Don't forget to decorate it with a front door wreath, such as the ones available at HeftyBerry.
#4 French Black Front Door with Glass Ideas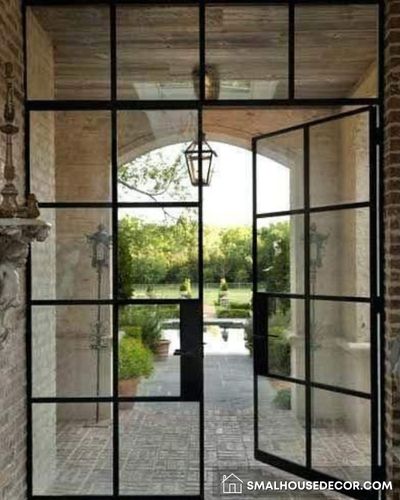 Black front doors with glass are the perfect way to bring beauty and flair to your home. The 8-lite pane and 4-lite transom's design creates an irresistible entrance that will be sure to make a statement. Plus, wrought iron is incredibly strong, meaning you won't have to worry about intruders getting in or ruining your lovely door.
Not only does it look fantastic, but it also allows for maximum light to enter the house, making any room it is featured in feel bright and cheerful. Black front doors with glass do more than just revamp your doorway – they also create an incredible first impression for when guests come by as well as potential buyers if you ever decide to sell your house!
Also Read: 12 Black Gutters on House Ideas: Make Your House Stand Out!
3 Modern Black Front Door Ideas
Modern black front door ideas can be a great way to bring some bold and dynamic style to your home. The sleek lines of contemporary design create an eye-catching look that can turn heads.
Whether you choose to go with a classic black steel or wooden door, adding intricate designs and geometric shapes can take your modern black front door ideas to the next level.
For a truly modern look, consider adding frosted glass panes or patterned metalwork for added texture and visual interest.
#5 Luxury and Attractive Black Wooden Door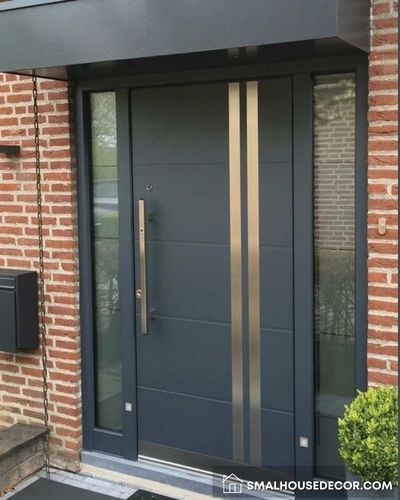 For modern style with timeless functionality, you can't beat a luxurious and attractive black wooden door. Boasting two vertical gold stripes and a contemporary look, this modern black front door instantly adds value to any home or office.
Whether you are looking for an attractive entrance or a luxurious addition to your property, there is no doubt that this eye-catching piece radiates class, elegance, and modern design with every gaze.
Perfect for modern homes and high-end commercial spaces alike, its sleek silhouette will take any entrance space up a notch in both style and stature.
#6 Modern Black Door with exquisite Brubeck door pull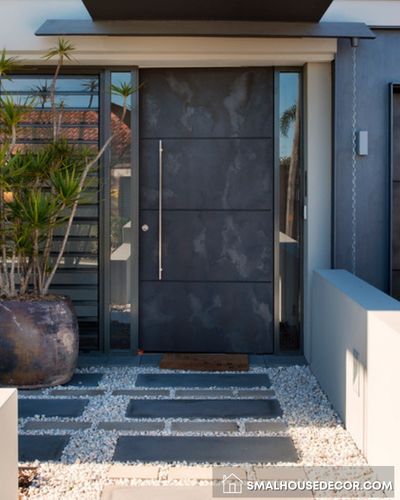 The modern black front door is one of the hottest trends in contemporary design. With its smooth, bold look, this style makes for a statement piece to which no other can compare. This modern aesthetic truly takes on a new level when combined with the mid-century modern allure of the exquisite Brubeck door pull.
This highly sought after combo has proven to be an incredibly popular choice among modern home design fans, making it an absolute must have for anyone looking to create a modern yet timeless entrance into their home.
#7 One Pivot Modern Steel Black Front Door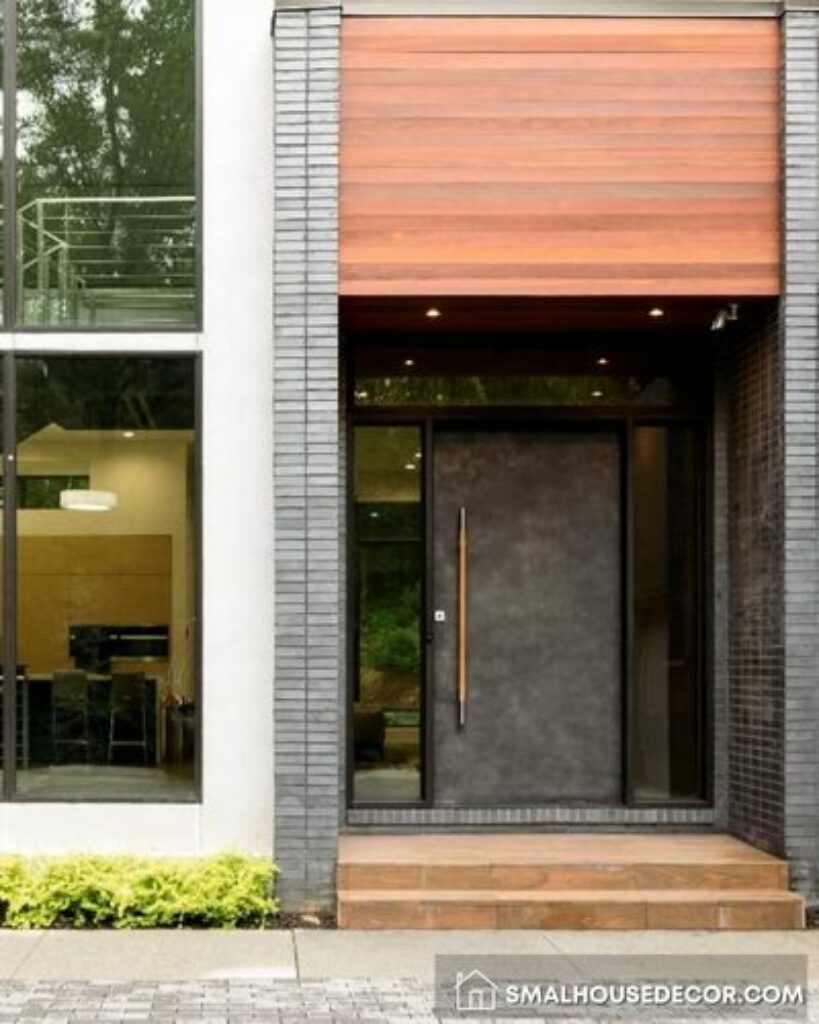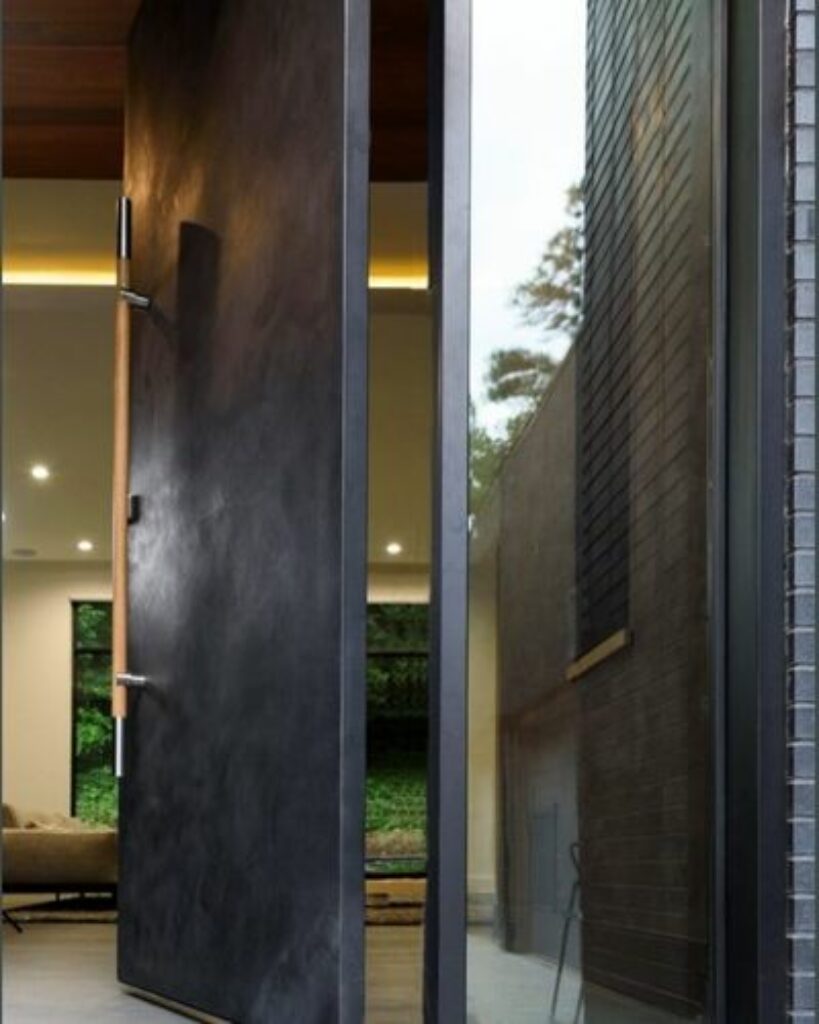 Once inside, modernity continues with the modern black front door. This solid steel door is the perfect fit for the rest of the house made up of clean lines and solid blocks of color. There's a feeling of protection that comes from it, almost as if this single pivot door will protect you from all that's outside.
The door instantly evokes a sense of modern sophistication and establishes a strong presence that can't be ignored. Not only does it instantly capture people's attention when entering the home, but it also serves as an extra level of security for the homeowner – providing peace of mind each time someone passes through the doorway.
#8 Pivot Black Front Door with Geometrical Design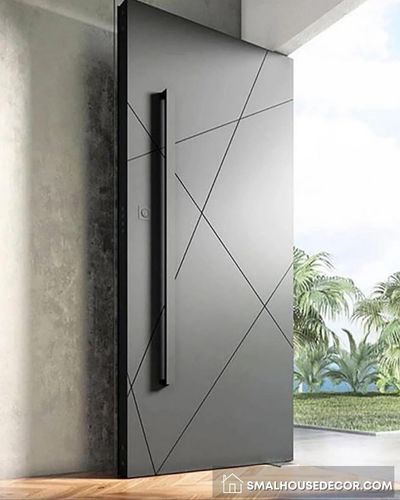 A modern black front door with a geometrical design is the perfect way to add a modern touch to any entrance. Installing this stylish door will instantly upgrade your home, making it look modern, fresh and inviting.
Not only will it enhance your home's exterior style, but also serve as an eye-catching focal point when you first approach the entrance. Made of quality materials such as steel and glass, the modern black front door with a geometrical design promises long-term reliability and durability. With its one-of-a-kind design added to your entryway, you won't regret purchasing this beautiful pivot styled door.
3 Farmhouse Black Front Door Ideas
Farmhouse black front doors can bring a timeless charm to your home while also providing an element of security. A farmhouse-style door often features black paint with a touch of rustic detailing, such as exposed hinges and distressed wood.
This type of door can add a sense of character to your home and provide a warm welcome for friends and family. Consider adding glass panes or decorative hardware to further enhance the look.
#9 Simple Farmhouse Black Front Door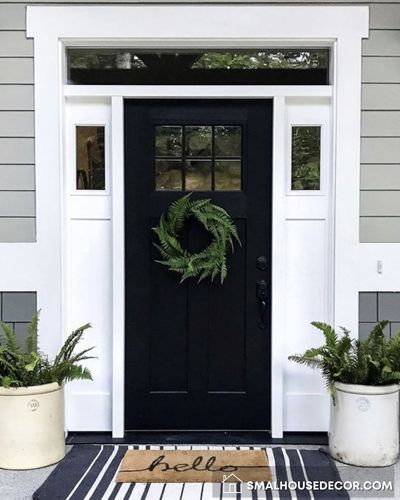 A farmhouse black front door is a classic and stylish look that never goes out of style. The minimalistic lines give it a timeless feel, while the rustic accessories like crocks take the chic look up a notch. The farmhouse door wreath decorated with ferns adds an extra pop of color and texture to complete the picture-perfect farmhouse entryway.
We can't get enough of this beautiful combination of understated elegance — it's definitely one to consider when styling your home!
#10 Black Farmhouse Front Door With Glass Between Black Sconces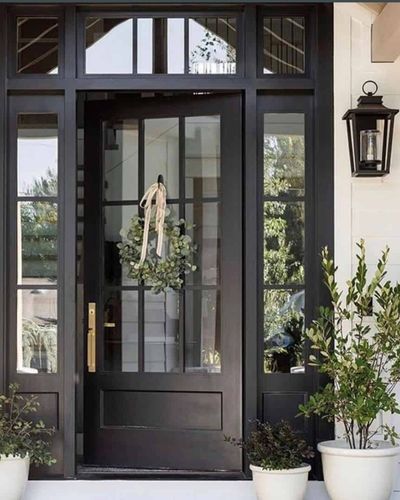 As you approach the farmhouse, you can't help but admire the carefully-styled exterior. Black sconces hang on either side of the farmhouse's glossy black front door, making it stand out against the white wall of the building.
The green wreath adds a touch of color to draw attention to the glass in the center of the door. White flowers in pots adorn either side, completing this inviting entryway and providing a beautiful backdrop contrast to showcase how special this farmhouse truly is.
#11 Black Farmhouse Double Door
The farmhouse black front door stands boldly with its two dazzling double doors covered in metallic accents and perfectly designed to ensure privacy. A single topiary sits gracefully to the side, embellished with decorative flowering plants that form a layered look about it.
There's something so captivating about such gorgeous double doors, you can almost feel their timeless power as they serve as a symbol of entryway into a whole different world.
3 Industrial Black Front Door Ideas
Industrial black front doors can be a great way to bring a modern, edgy look to any home. This style often features heavy metals such as steel or iron with simple lines and minimal detailing.
These industrial black front door ideas are perfect for creating a unique and stylish entrance. Consider pairing your black door with industrial light fixtures or a statement-making mailbox for an added touch of style.
These ideas are sure to create a grand entrance to your home that will turn heads and stand out in the neighborhood.
#12 Industrial Black Front Door Ideas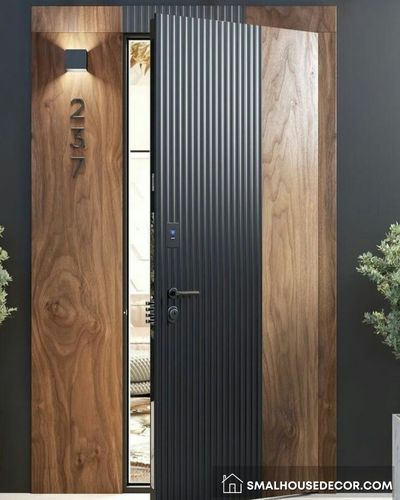 Are you looking to give your industrial Black Front Door a unique twist? With a corrugated metal door style, you can set your front door apart from any other. Not only will this industrial look add an edgy and modern note to the area, but it has some other advantages too.
Corrugated metal doors are strong and weather-resistant, making them ideal for outdoor spaces. To add an elegant feel, consider pairing the industrial look with a walnut door panel. This combination gives an industrial feel with a touch of luxury in classic and sophisticated tones. Go ahead and make your industrial Black Front Door stand out even more with a corrugated metal door style and walnut panel!
#13 Container Black Front Door Ideas
How cool would it be to have a shipping container sliding door as your industrial themed front door? It's the perfect solution if you not only want an industrial look but also don't have enough space outside your home for a swinging door.
The best part is that these doors come in a variety of colors and industrial designs, so you can tailor the design to exactly match the look you're going for. Whether you're renovating an industrial style building or just adding a modern edge to your home, shipping container sliding doors are definitely worth considering!
#14 Custom Steel Slab Door with Rivets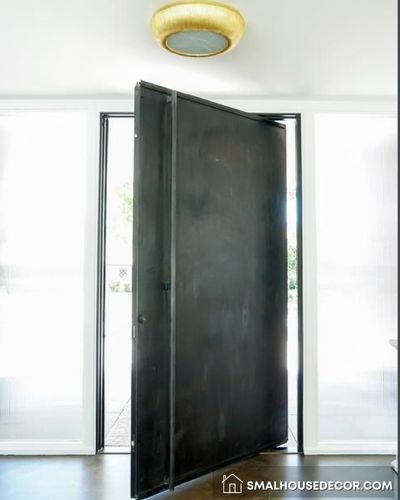 If you want to create an industrial-look design, then consider installing a black steel slab door with rivets! Not only is this style eye-catching, but it also gives off a powerful statement as soon as you walk in.
With industrial black front door ideas, you can create something unique and bold for your home that looks straight out of the pages of a professional design magazine. Installing one of these industrial doors will help make a lasting impression on visitors and give your home the modern edge that you've been dreaming about for years.
#15 Creative Black Front Door Ideas
Adding creative Black Front Door ideas is a great way to make a statement on your home. A modern and geometric Black Front Door can give any modern or contemporary home an added sense of style. Installing an oversized, sculptural front door will not only be visually appealing but also create a bold entrance.
Whether you opt for a rustic design or modern look, embracing black with creative flair will bring eye catching appeal while transitioning your ordinary home into something extraordinary.
THE BEST BLACK PAINT FOR DOORS
If you are looking for industrial black front door ideas, there are several amazing paints that can offer a beautiful and timeless look.
Some great options include Black Magic and Tricorn Black, both by Sherwin Williams, Soot and Iron Mountain by Benjamin Moore, French Beret also by Benjamin Moore, Dark Kettle Black from Valspar, or Onyx by Benjamin Moore.
Here is a table showing the color hex codes for the mentioned paint colors:
| | |
| --- | --- |
| Sherwin-Williams Black Magic – 6991 | #323132 |
| Sherwin-Williams Tricorn Black – 6258 | #2f2f30 |
| Benjamin Moore Soot / 2129-20 | #373c41 |
| Benjamin Moore Iron Mountain / 2134-30 | #575553 |
| Benjamin Moore French Beret / 1610 | #4c4f52 |
| Valspar Paint Dark Kettle Black | #474747 |
| Benjamin Moore Onyx / 2133-10 | #353434 |
With so many options available to pick the perfect industrial black color for your door you are sure to find something that speaks to your style.
Also Read: 12 Perfect Colors That Go Well with Burgundy
Final Words
No matter what look you're going for, there is sure to be a black front door that fits your style. These 15 black front door ideas are sure to inspire your next project. With so many options, you'll be sure to find a look that you love!