Moving a refrigerator can seem like an overwhelming task at first, but with the right tools and a little know-how, it's quite feasible.
Whether you're moving your refrigerator to a new home or just from one room to another, you'll want to follow these tips so that you don't break your back in the process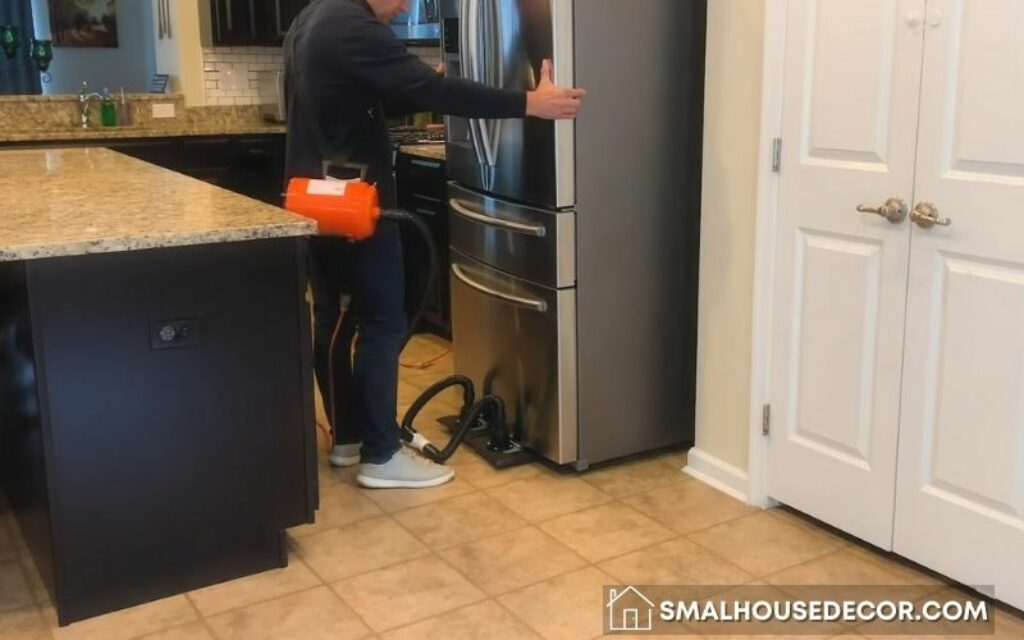 Common Reason Why You Need to Move Your Refrigerator
1. Moving to a new home
2. Upgrading your kitchen
3. Moving a refrigerator from one room to another
4. New landscape design changes
5. When you need more space in an existing fridge
6. Renovating or remodeling your kitchen
7. Swapping out old appliances for new ones
How to Prepare Your Refrigerator for Moving 
Before attempting to move your fridge, make sure it's ready by following these steps: 
• Empty out any food that's still inside and discard it properly. It's best if this is done at least 24 hours before moving day so that there isn't any liquid left in the fridge that could spill out during transit. 
• Unplug your refrigerator and turn off its water supply (if applicable). This will prevent any damage or accidents from occurring while you're moving it.  
• Clean out any dirt or dust from inside the fridge so that it doesn't get stuck on other items during transport.  
• Secure all of the shelves and drawers inside of your refrigerator with tape so that they don't come loose or fall out while being moved.  
• Place some packing material around the outside of your refrigerator for added protection during transport. 
Once everything is ready to go, it's time to move! Here's how:  
What's The Easiest Way To Move The Fridge?
Moving a refrigerator is no easy task, so it's important to be prepared and have the right tools when doing so. Specialized straps and dollies can help secure the fridge in place, yet still allow it to move freely with minimal effort and power.
Other useful pieces of equipment for moving a fridge include safety gloves to protect your hands and furniture sliders which will minimize damage to your flooring.
By organizing the necessary tools or toolsets and following the proper steps, you can make sure that moving your refrigerator is quick, safe, and efficient.
Discover our top-rated tools for safely and securely moving your refrigerator.
Also Read: Quick & Easy: How to Reset Whirlpool Ice Maker
SpaceKeeper
Moving a fridge using SpaceKeeper is incredibly easy and stress-free. The furniture dolly has been designed with an adjustable telescopic base – it can be adjusted both vertically and horizontally to provide the perfect fit for any heavy appliance.
Perfectly suited for fridges of all sizes, this amazing invention has adjustable lengths from 17" to 28″, so you don't have to worry about its ability to handle
the weight.
No complicated installation steps or tools are required to use SpaceKeeper. Simply place the dolly under the fridge and press down the brakes on both ends to keep it steady if not in use.
To move the fridge, simply raise the brakes and move it smoothly with the help of the 24 upgraded small wheels.
SpaceKeeper is your guardian angel when it comes to moving heavy fridges! It's built tough with a high-quality metal material that can easily bear up to 660 lbs, and its anti-slip design saves you from vibration damage.
Plus this genius invention has the bonus of a 1.6″ height base which defends against corrosion and rust – great for those long moves!
And what could be better than one thoughtful solution? How about two; SpaceKeeper helps organize while also taking minimal storage space when not in use – making life easier, one step at a time.
Forearm Forklift 2-Person Lifting and Moving Straps
One piece of equipment that is becoming increasingly popular and even best-selling on Amazon is the Forearm Forklift 2-Person Lifting and Moving Straps.
These straps are designed to help you move heavy items such as refrigerators or large furniture with another person while safely distributing the weight among both individuals.
The straps are easily adjustable so they will fit any sized fridge, plus they come with padded hooks to avoid scratches and damage to your property that may occur during transportation. With the Forearm Forklift, making your next move with a refrigerator can be done quickly and effortlessly!
Standard Appliance Mover (AM2200)
The Standard Appliance Mover (AM2200) allows for an effortless and safe way to move large appliances, like refrigerators, for both residential and commercial settings.
This tool simplifies the process with multiple convenient features such as adjustable footplates, snap-in connecting pins with safety locks, solid steel bar handles, and heavy-duty puncture-proof wheels to make moving easier.
With the added security of this effective device, you can rest assured knowing your refrigerator will safely make it to its final destination. Make sure you have the right tools when moving your refrigerator by utilizing the AM2200 appliance mover today.
There are youtube videos available that demonstrate how to use the moving equipment properly.
Also Read: How to Easily Force Defrost Your Samsung Refrigerator in 2023
How to Move a Refrigerator Without Tools
If you don't have tools available, or if you want to try moving a fridge without them, there are still ways to do it.
First, make sure the contents of your refrigerator are secured and will not spill while in transit.
Secondly, place plywood on the floor underneath your fridge so that its bottom is protected from damage.
Thirdly, have two or more people slide the refrigerator onto the plywood by pushing from the side. This should be done slowly and carefully to prevent any damage.
Finally, once you have moved it to its new location, make sure that is level and stable before plugging in your fridge again.
Some Great Tips!
Moving a French Door Refrigerator Upstairs
Moving a large French door refrigerator up a winding stairwell can be daunting. The sheer size and weight of the appliance seem to make the task impossible.
Fortunately, youtube videos such as one recently put out by Dallas-based movers show that it is possible with some planning and a few helping hands.
In this video, a team of professionals demonstrates the proper technique for lifting and maneuvering the massive refrigerator safely up each twist and turn of the stairs without damaging property or injuring those involved.
In addition to being informative and helpful, watching the youtube video can be an entertaining way to witness how those challenges are surmounted.
Final Words
Moving a refrigerator can be difficult and stressful, but with the right tools and help from friends or family, it doesn't have to be. With these tips and products, you will find moving your fridge a breeze!
Good luck with your move!