A new trend in sheds is to make them into multi-purpose spaces where they can double as storage areas, outdoor kitchens, fire pits, or even guest rooms. They're also becoming popular additions to backyards because they offer shelter from harsh weather conditions and provide an attractive focal point.
You'll find plenty of inspiration online, including images of stylish sheds, DIY plans, and videos showing how to build one yourself. Once you've decided on a design, start gathering supplies. Make sure you have enough space to work comfortably and remember to account for storage space inside the structure. Here are the top 10 most trendy shed designs of all time: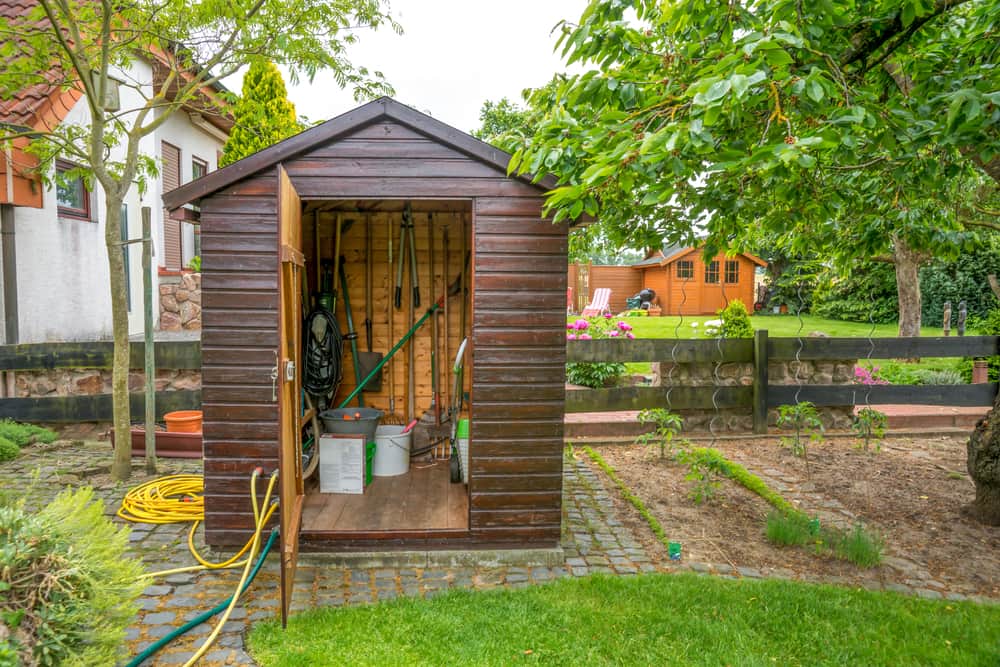 1. Vintage Cottage She Shed
Vintage Cottage Shed is an ideal space for relaxation, contemplation, and creativity—a small cottage on wheels. With a cozy interior, it's perfect for relaxing, reading, painting, crafting, and entertaining guests.
On Instagram, lovely images show that the cottage is used for various purposes, including serving as a studio, a retreat, showcasing vintage pottery, and entertaining visitors. It also houses a collection of antique furniture, a hanging crystal chandelier, flower pots, and a stained glass wall. You can consult one of your local shed designers, such Carport builders, to build you a bespoke shed.
2. Urban Greenhouse Shelter
Since big cities have limited outdoor space, everyone knows you must take advantage of vertical houses! This design has an open frame structure that provides shelter for an urban garden storage area on the ground floor.
An industrial staircase was constructed on-site, which leads to a 2nd floor covered in metal grid mesh. The upper platform is the ideal location for containers that need more light. It's also a great vantage point to view the city during the daytime or nighttime.
3. Vintage Shed trailer
This is a small, mid-size aluminum travel trailer from roughly the1950s to the 1970s. Some are shiny and new, others are old and worn, but they all share one thing:
They're fun. And if you're an RV enthusiast, you can probably relate. Whether you're looking for something to haul your kids around town or just a place to kick back and relax after work, these vintage trailers offer plenty of space for entertaining and relaxing.
4. Prefab Box
It's a modern, simple, straightforward design that can be used as a studio or different things. You can group modules to create bigger spaces or use them individually. They're designed to mimic natural geometry subtly.
5. Saltbox
The term "Saltbox" refers to the design of a simple single-story roofed structure. These are often found in rural areas where space is limited. They are typically wood, although some modern designs use metal framing.
In the 16th century, families added a small one-story addition to the rear of the original building, making what we know today as the "Saltbox." In the United States, they became popular among farmers because they could be built quickly and cheaply. Today, there are many different styles of Saltboxes, including gable, hip, and gambrel roofs.
7. Shed With a Deck
This modern shed is built using galvanized metal stanchion posts, stainless-steel wire, and a hardwood cap. This shed has a slatted wooden deck, clerestory windows, and a pitched roof.
8. Sewing Room
The sewing room is a place to create the sheds, wine rooms, and art rooms of meditation retreats. This shed is used as a sewing room and private escape.
When designing studio and hobby sheds, Ensure enough room for shelves, cabinets, and wiring so you can use them properly.
9. Playroom Shed
A playroom shed can function as a playroom for kids, but if they grow up and leave the house, you might want to turn it into a storage shed. Or, if you're lucky enough to have young grandkids who visit often, you could use it as a playroom. And when your children outgrow the playroom, you can convert it into a meditation room.
10. Tool Shed
Tool sheds are perfect for storing power tools, gardening equipment, lawn mowers, snow blowers, and other large items. This shed will help keep your garage warmer if you live in a cold climate. A tool shed should be located close to your home, so you don't have to carry heavy objects. Make sure you buy a tool shed with a door open outward for easy access to more oversized items.
Autobiography
Jim Pulman has extensive knowledge and experience in Home Building, Construction, and Design. He writes articles in his free time and partners with content creators to share his expertise with the online community