There are many ways to convert a cargo trailer into a camper. Some people choose to do it themselves, while others hire professional companies to do the work for them. No matter which route you choose, there are a few things that you should keep in mind during your project.
This article will give you some great cargo trailer camper conversion ideas to get you started.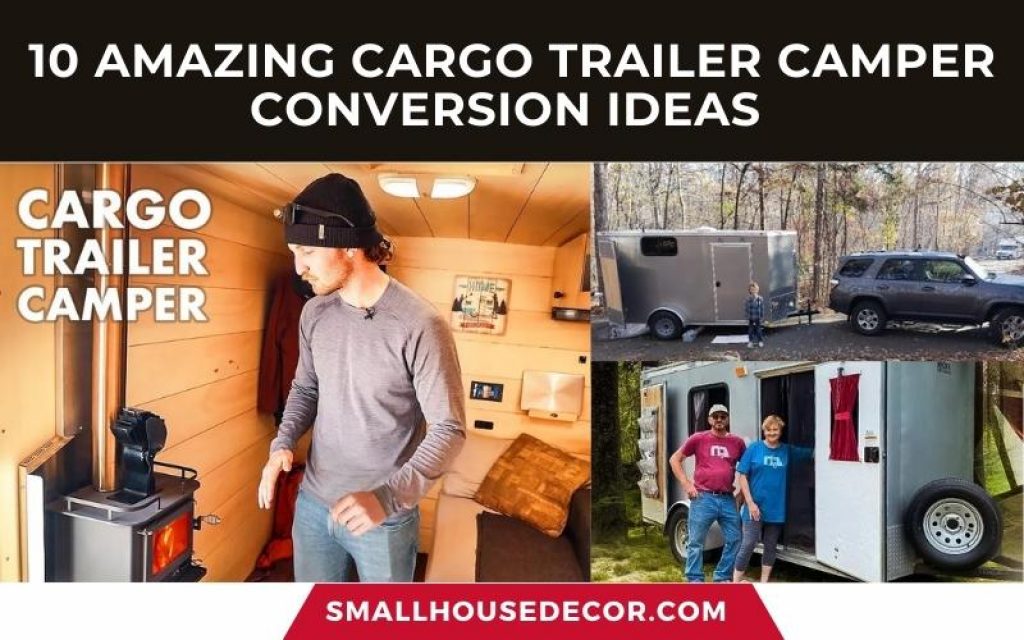 Can You Convert a Cargo Trailer Into a Camper? 
Yes, you can convert a cargo trailer into a camper. The most important thing to consider is how you will use the space inside the trailer. Will you be using it for sleeping, cooking, or both?
Once you have a good idea of how you want to use the space, you can start planning your conversion.
Are you a lover of hard enamel pins or someone who enjoys collecting and creating art? Whether it's an honor you've received or a pin you designed yourself, use them to decorate your room and make it unique.
Solutions are simple, ranging from simple hanging fabrics to fabrics with storage cabinets, beautiful wooden boxes with special frames, and plexiglass or glass screens. You show others your Custom Enamel Pins on EnamelPins.com, let your guests get to know you better, and fill your room with art.
The Best Cargo Trailer Camper Conversion Ideas
These are just a few cargo trailer camper conversion ideas to get you started. Use your imagination and creativity to come up with a layout that's perfect for you. With a little hard work, you can turn your cargo trailer into the camper of your dreams.
6×12 Cargo Trailer Conversion into Stealth Off-Grid Camper
The trailer in the video is a Lightning single axle, all-aluminum 12×6 cargo trailer. The total cost of the DIY conversion project was approximately $16,000 CAD. 
For years, Cedric Yves Denis has been living the nomadic lifestyle of a freeskier, traveling to different mountains around the world in search of the perfect powder.
A few years ago, he decided to take his nomadic lifestyle one step further by converting a cargo trailer into an off-grid camper. The interior of the camper is simple and functional, with a converting couch bed, a wood stove, a spacious kitchen, a removable table, and loads of storage.
With his camper, Cedric can park and live almost anywhere in the world, making it the perfect basecamp for his free skiing adventures.
6X12 Cargo Trailer Camper Built for under $5000
You've seen them all over the place. Those big, roomy cargo trailers that people use to haul around their stuff. But have you ever wondered if you could use one of those trailers to build your camper?
Well, as it turns out, you can. And, what's even better, is that you can do it for under $5000. In this video, the YouTube channel 'Pete P' takes us through the process of building a 6X12 cargo trailer camper.
Tips: Short trailers tend to swing wide when making turns, which can be dangerous if you're not careful. That's why we recommend using trailer brakes on small trailers like this one.
Trailer brakes will help keep the trailer going straight, even when making sharp turns. The last thing you want is for your cargo trailer to tip over, so it's better to be safe than sorry.
Plus, it's always a good idea to err on the side of caution when it comes to safety. So if you're planning on doing any towing with your cargo trailer, make sure you equip it with trailer brakes.
Enclosed Trailer Camper Conversion
Rick and Sharon are self-described "weekend warriors." They love to get away from it all, but they don't like the hassle of setting up and taking down a traditional camping setup.
That's why they decided to convert a cargo trailer into a camper. The process was surprisingly simple. They started with a 6x12x6 cargo trailer and outfitted it with basic amenities like a bed, sink, and stove. They also added a few luxuries, like a small fridge and a television.
5×8 Cargo Trailer Camper Conversion
Looking to convert your cargo trailer into an RV? Here's a great example of what you can do! This 5×8 cargo trailer has been converted into a cozy little RV, complete with a convertible dinette bed, an exhaust fan, a heater, a sink, and a stove. The entire interior is pine-clad, giving it a warm and inviting feeling. Plus, all of the necessary amenities are there, so you can hit the road in style!
This camper is perfect for those who love to camp but also want to be able to enjoy some of the comforts of home. It features LED lighting and a window on each side, making it bright and airy inside.
The camper is also off-grid capable, meaning that it can be powered by a portable solar panel or generator. This makes it perfect for those who want to camp in remote locations.
The 5×8 Cargo Trailer camper is also big enough to comfortably sleep two people, making it a great option for couples or small families. Whether you're looking for a weekend getaway or a longer camping trip, this camper will make your experience more enjoyable.
Best Cargo Trailer Toy Hauler Conversion
Looking to convert a cargo trailer into a toy hauler? Check out this video for some inspiration. This particular build costs around $14,000 and features 800w of solar panels, making it ideal for those who enjoy spending time outdoors.
A cargo trailer conversion toy hauler is a great way to enjoy the outdoors with all the comforts of home. They are built to haul your toys, but they also have all the amenities you need to relax and enjoy your time away from home.
This camper has a kitchen area with a stove and sink, as well as a television and microwave. The best part of these trailers is the RV drop-down bed. This allows you to sleep comfortably inside the trailer without having to set up a tent. Whether you want to camp in style or just use it for extra storage, a cargo trailer conversion toy hauler is a great investment.
With some careful planning and attention to detail, you can have your very own toy hauler that will provide years of enjoyment. So what are you waiting for? Get started on your build today!
$ 7,200 Cargo Trailer Camper Conversion with Bathroom
This cargo trailer camper is truly one-of-a-kind. What sets it apart is its unique cabin vibe, which is created by the 7×14 Anvil cargo trailer that is 7 ft tall.
This gives the camper a lot of extra space and makes it feel much more like a home than a traditional RV. Additionally, the furniture and accessories in this camper are all from Ikea, which gives it a sleek and modern look.
One of the best features of this camper is the shower, which allows you to have all the comforts of home while on the road. If you're looking for a unique and stylish RV, this cargo trailer camper is worth checking out.
The total cost is $7200, with around $3200 for materials. It also weighs 2920 lbs, making it a great option for those looking for a lightweight option.
Also Read: Blue Vinyl Tiny Trailer House Has All Comfort
Off-Road Enclosed Trailer Conversion
For the adventurer who wants to be self-sufficient no matter where they go, an off-road cargo trailer conversion is the way to go.
These trailers are fully outfitted with everything you need to live comfortably on the road, including 200ah of lithium batteries, 400 watts of solar, hot showers, a full kitchen, and a big refrigerator.
They're also built to withstand any terrain, so you can take them anywhere your heart desires. Whether you're looking to explore the country or just escape the hustle and bustle of everyday life, an off-road cargo trailer conversion is the perfect solution.
$55,000 2 Kilowatt Cargo Trailer Conversion
If you're looking for a luxurious and practical way to travel, then you need to check out this 2 Kilowatt Cargo Trailer Conversion. This stunning trailer has been transformed into a comfortable living space, complete with a crypt bed area, hidden toilets, and a washing machine.
Plus, the surround sound system means that you can enjoy your favorite music anywhere you go. And the best part is that the total cost of this conversion is just $55,000.
That's a small price to pay for the ultimate in mobile luxury. So if you're looking for a new way to travel, be sure to check out this 2 Kilowatt Cargo Trailer Conversion. You won't be disappointed.
7×12 Modern Cargo Trailer Conversion
You don't need a fancy RV to enjoy the great outdoors. This converted cargo trailer provides all the comforts of home in a compact package. The walls and ceiling are lined with wood paneling, giving the interior a cozy, cabin-like feel.
The main living area features a couch that doubles as a bed, along with a large countertop and sink. The dinette area converts into a second bed, making this trailer perfect for families or groups of friends.
There's even a Thetford toilet in this cargo trailer, and a diesel heater to keep it warm in the winter. This video provides a tour of the finished product, as well as some tips on how to complete your cargo trailer conversion.
Solo Female Minimalist Converts Trailer
Lex & Riot are living proof that you don't need a lot of stuff to be happy. As a solo female traveler, Lex has embraced the nomadic lifestyle and has been on the road for several years.
During that time, she has converted an All-Terrain Cargo Trailer into a Tiny Home on Wheels, complete with all the essentials for comfortable living. While her living space may be small, it allows her to pursue her passion for adventure and travel.
And as she regularly documents on her popular YouTube channel, Lex & Riot, these experiences are far more valuable than material possessions. For anyone who feels burdened by their stuff, Lex & Riot offers an inspiring example of how to live a simpler, happier life.
How to Convert a Cargo Trailer Into a Camper
If you're planning on converting a cargo trailer into a camper, there are a few things that you need to keep in mind.
First, you need to decide what kind of camper you want.
There are two main types: a pop-up camper and a fifth-wheel camper. Pop-up campers are the most popular type of camper. They're easy to tow and set up, and they don't require any special equipment. Fifth-wheel campers are a bit more difficult to tow, but they offer more space and amenities.
Once you've decided on the type of camper you want, you need to choose a design. There are many different ways to design a cargo trailer camper, so take your time and look at all of your options. You can find plenty of inspiration online or in magazines.
You also need to decide what kind of layout you want for your camper. The layout will determine how much space you have and what kind of furniture you can put inside.
Gather the materials and supplies.
Once you have a design in mind, you need to gather the materials and supplies that you'll need for the project. This includes things like insulation, plywood, and flooring. You can usually find everything you need at your local home improvement store.
Start the conversion process.
Now it's time to start the actual conversion process. You need to install the insulation. This is one of the most important parts of the conversion, so don't skimp on this step. Use high-quality insulation that will keep your camper warm in the winter and cool in the summer.
After the insulation is installed, you can start working on the walls. You can use paneling, drywall, or even paint to finish the walls. Choose a material that's easy to clean and that will resist moisture.
Once the walls are finished, you can move on to the ceiling. You can install a dropped ceiling or use regular ceiling tiles. Choose a ceiling that's easy to clean and that won't sag over time.
The last step is to install the flooring. You can use carpet, tile, linoleum, or any other type of flooring you like. Just make sure it's durable and easy to clean.
Take your time and be careful, and you'll end up with a camper that you're proud of.
Converting a cargo trailer into a camper is a great way to save money on accommodation while you're traveling. With a little bit of work, you can have a camper that's comfortable and stylish. Use these ideas to get started on your project.
Free Cargo Trailer Conversion Plans
Looking to convert a cargo trailer into a camper on a budget? There are plenty of free plans available online that can help you do just that.
With a little elbow grease and some creative thinking, you can easily turn a cargo trailer into a comfortable and functional home away from home. Here are just a few of the many free cargo trailer conversion plans available online:
• Instructables: If you're looking for something more elaborate, Instructables offers detailed plans for building a luxurious camper van complete with all the bells and whistles.
https://www.instructables.com/Trailer-Into-Simple-Camper/
• Pinterest: For a more simplistic approach, check out this Pinterest board which features several different cargo trailer conversion ideas.
With so many free resources available, there's no excuse not to try your hand at cargo trailer conversion. With patience and some hard work, you can easily create the camper of your dreams without breaking the bank.
FAQs
Is a Converted Cargo Trailer Welcome in RV Parks? 
Yes, most RV parks will allow you to park your converted cargo trailer. However, When deciding if a converted cargo trailer is welcome in RV parks, it is important to understand that these parks are designed for motorhomes and travel trailers.
This does not mean that converted vans are not allowed, but they may not be as common. It is always best to call ahead to the RV park to ask about their policies on converted vans. In most cases, the RV park will be happy to accommodate you, but it is always best to be prepared.
In addition, it is important to understand that converted vans may not have all the same amenities as an RV, so you may have to sacrifice some of the comforts of home while on your trip.
Is a cargo trailer considered an RV?
No, Basically, if you need a truck to tow it, it's a trailer. When it comes to hitches, there are two general categories: trailers and RVs. RVs are self-contained units that can be driven from point A to point B.
In contrast, trailers must be towed by another vehicle, such as a car, truck, or SUV. Cargo trailers fall into the latter category. These trailers are designed for hauling larger items, such as furniture or sports equipment.
Is it safe to sleep in a cargo trailer?
When it comes to safety, there are many risks associated with sleeping in a cargo trailer. Most troop trailers do not have adequate ventilation, which can lead to asphyxiation
https://filestore.scouting.org/filestore/HealthSafety/pdf/hsnewsletterfall16.pdf
In addition, the close quarters of a cargo trailer can create a fire hazard if proper precautions are not taken. For these reasons, it is generally not recommended to sleep in a cargo trailer.
However, if you do choose to do so, be sure to open the doors and windows for ventilation and take extra care to avoid any potential fire hazards.
Is it cheaper to convert a cargo trailer into a camper?
If you're considering a cargo trailer to camper conversion, it's important to know the approximate cost. For most conversions, you're looking at between $5,000 and USD 15,000 total for the trailer and build.
This will, of course, vary depending on the design and amenities you are looking for and how much you want to do yourself compared to getting professionally installed.
However, even if you go with a basic setup, you can still expect to spend several thousand dollars on the project. If you're handy and have some experience with carpentry or electrical work, you may be able to save some money by doing some of the work yourself.
However, it's important to factor in the cost of materials and any special equipment you may need to rent or purchase. In addition, it's worth considering the time investment required to complete the project.
If you're short on time or simply not interested in taking on a major DIY project, hiring a professional may be the best option.
Overall, the cost of a cargo trailer to camper conversion can vary widely depending on your needs and preferences. However, it's important to have a realistic expectation of the costs before getting started.
Final Words
A cargo trailer camper conversion can be a great way to save money and create the perfect space for your next adventure. However, it's important to understand the risks and costs associated with such a project before getting started.
Be sure to do your research and plan carefully to ensure a successful and safe conversion. Most importantly, have fun and enjoy the process!