The scent and glow of a candle can be welcoming, and it's tempting to let them burn for hours. But did you know that many candles produce a sooty residue that can build up on your walls and decor? 
You might have heard of wax melts before, but you don't see why people prefer them to candles. Let's take a look at wax melts vs candles and the pros and cons of each, so you know which is right for your home.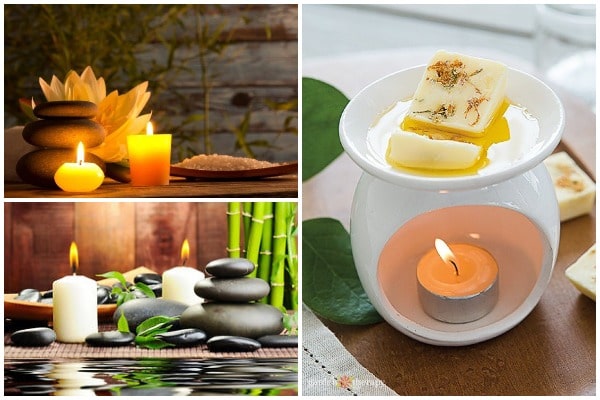 Wax Melts Vs. Candles
To see what's right for your home, let's compare the strengths and weaknesses of wax melts vs. candles.
Wax Melts vs Candles: Which Is Better for Your Home?
What is a candle?
Candles contain an ignitable wick in wax. For most scented candles, the wax is paraffin. Candles emit scents when the wax burns and vaporizes, combining with oxygen to fuel a constant flame.
Pros:
Cozy, warm glow creates an ambiance

Easy to use and transport

Very noticeable aroma that lasts until the wax is gone

Easy to find in stores

An easy go-to gift 

Decorative containers can match your room

Significance in history and various celebrations

Good for power outages
Cons
Open flames are a fire hazard

You can't leave them unattended

Parrafin candles can't be burned for long times

Some candles burn away quickly

Can be expensive, especially if you go through a lot
Candles are really popular with every generation. There's something calming about their glow and scent. When you gaze at a candle's flame, it's easy to get lost thinking about how people thousands of years ago were also mesmerized by the flickering flame.
On the downside, as much as you want the scent to last forever, burning them all day isn't practical. You don't want to leave a candle unattended since even a 12 oz paraffin candle can burn36-45 hours. Another downside of frequent candle use is that some candles can produce soot particles that can aggravate your lungs.
Also Read: Interesting Facts About Tealight Candles You Probably Didn't Know Before
Pros and Cons of Wax Melts
What are wax melts?
Wax melts are wickless pieces of wax. You put them in a warmer, and as they melt, their essential oils become more fragrant and fill the room. The best wax melts such as Little Light Melts are made of a blend of soy and minerals. 
Pros
Can be used all-day

Warmers can be electric and flame-free

Warmers can make good night-lights

Can use in dorms/places where candles are banned

Can use tea-lights, which are soot-free 

Less expensive than candles

You can control the scent levels by controlling the wax amount/heat 

You can pick a warmer that matches your decor

A more interesting gift
Cons
Wax can get messy if spilled

Electric warmers need an electric source

Don't provide as much light

Need tealight warmers to get the most scent 

Aren't as traditional or "romantic"
You can heat wax melts in electric warmers that use a specific light bulb to warm them, or warmers in which you place a tealight candle. Tealight candles are affordable, usually made of soy, and only burn for 4-5 hours.
Because there's heat involved, you'll still want to supervise pets or young children around wax melts.
Also Read: 5 Stunning Wedding Lighting Ideas You Must See
Wax Melts – A Fun Way to Customize Your Home
When it comes to wax melts vs. candles, the benefits of wax melts rise above. There are many warmers available to match your color scheme or style. They come in seasonal varieties as well, so they never get old.
Wax melts are perfect for smaller spaces because they don't produce soot or as much heat. For more home tips for decorating small spaces, check out our website.