What Type of HVAC System Is Best for a Tiny House?
No matter the size of your home, an HVAC system is essential to ensure a comfortable and healthy living experience. Nearly 100 million homes have an AC unit, and nearly every home has some type of heating system. 
In a Small House (less than 1,000 square feet) or a Tiny House (less than 600 square feet), heating and cooling are necessary, but the methods are a bit more specialized. This article will describe some of the popular and effective options for keeping your tiny house comfortable year-round.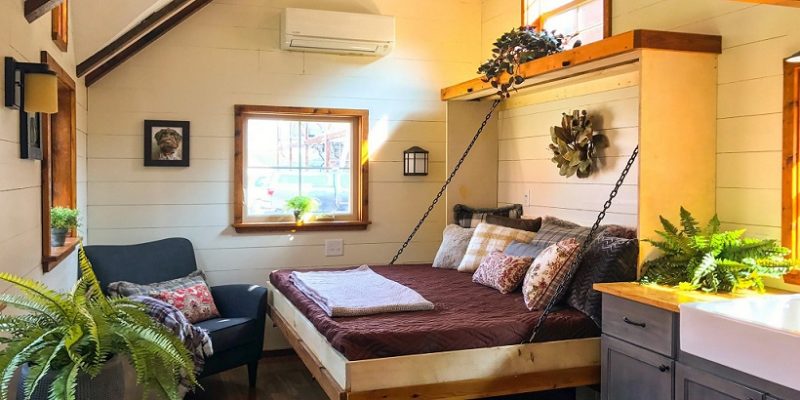 What Is an HVAC System?
HVAC stands for Heating, Ventilation, and Air Conditioning. It is a closed system that manages the airflow in your home to provide ventilation. It also heats or cools the air to make the living space comfortable. You will need an HVAC tech to repair or upgrade or install your HVAC system.
But do check your HVAC contractor's license to avoid fraud. And if you are yourself an HVAC tech and in need of a license, check Licensing Requirements for HVAC Technicians and Mechanics here
What HVAC Options Are Available for a Tiny House?
A traditional HVAC system with a large heating and cooling unit outside and a massive ductwork network inside is impractical for a tiny house. Some tiny house owners use fans for passive cooling or a wood stove or an envi heater to warm up their home. These are good options for most tiny homes, but they aren't the most effective or efficient. Because of this, it's essential to find the perfect HVAC system to gain more benefits
The Mini Split System
The most efficient and effective way to heat and cool your tiny home is with a mini-split system. A mini-split ac system is quiet, efficient, and space-saving. It provides both heating and cooling, so you only have to use a single method to keep your home comfortable throughout the year.
Generally, a mini split system can be best for a tiny house due to the following reasons:
It's a modern heating and cooling system that's easy to install even for those properties with tiny spaces. Consequently, you can make more savings on the installation project. 
It's energy-efficient because it has the ability to regulate the air in the specific room where the HVAC system is installed. 
It's flexible because it comes in small, compact sizes. Regardless of how tiny your house is, a mini split system can be an excellent solution to your HVAC needs. 
It's easy to maintain due to its compact design. As a result, you can save more money on maintenance costs in the long run. 
How Does It Work?
A mini-split system combines a small compressor/condenser unit outside your house with an internal air handler to blow warm or cool air inside the home. Connecting the two parts is a single length of conduit that provides power, refrigerant, and drainage. There is no extensive ductwork required or additional vents installed in your home. 
You can set the temperature on your unit with a thermostat just like with traditional HVAC systems. And if you want to add a second air handler to control the airflow and temperature upstairs, that is an option, too. 
Is This a DIY Project?
Some tiny homeowners like to install a mini-split system as a DIY project, but that isn't the best course for everyone. There is a certain degree of complexity to the install. It's best to consider working with an HVAC company to identify the right system for your tiny house and install it properly.
Although a DIY approach to installation can be possible, professional assistance can still be the best way to address your HVAC needs. Generally, you will need an HVAC tech to repair or upgrade or install your HVAC system.
Since they have the experience and skills, they can handle a repair or installation project more efficiently. Consequently, it can give you peace of mind because you know your HVAC project is in safe hands.
Cost to Install HVAC
The cost of installing a HVAC can vary depending on the size of your home, the type of system you choose, and the number of units you need.
If you are considering installing a mini-split system as a DIY project, it is important to consult with a professional to ensure that you are properly trained and have all the necessary tools and equipment.
In addition, it is important to carefully read the instructions provided by the manufacturer to avoid damaging the unit or voiding your warranty. With proper planning and preparation, installing a mini-split system can be a rewarding DIY project.
Also Read: 11 Space-Saving DIY Pallet Bar Ideas
Stay Cool (and Warm)
Tiny houses are gaining popularity. There are more than 10,000 tiny homes in the USA alone. People love them because they are affordable, energy-efficient, and highly customizable to specific needs.
Making sure your tiny home is comfortable all year long can be a challenge. Depending on the climate, you might need more than open windows and space heaters. An HVAC system specifically designed for a tiny home can make your living experience safer and more enjoyable. This is where a mini split system enters the picture
To learn more about tiny homes and ways to embrace the tiny house lifestyle,  keep the information mentioned above and explore the rest of our site.