Aesthetic showers are all the rage these days. Not only do they provide a luxurious bathing experience, but they can also add a touch of elegance and sophistication to any bathroom.
If you're thinking of upgrading your shower, or if you're just looking for some inspiration, then check out these 22 amazing stand-up shower ideas.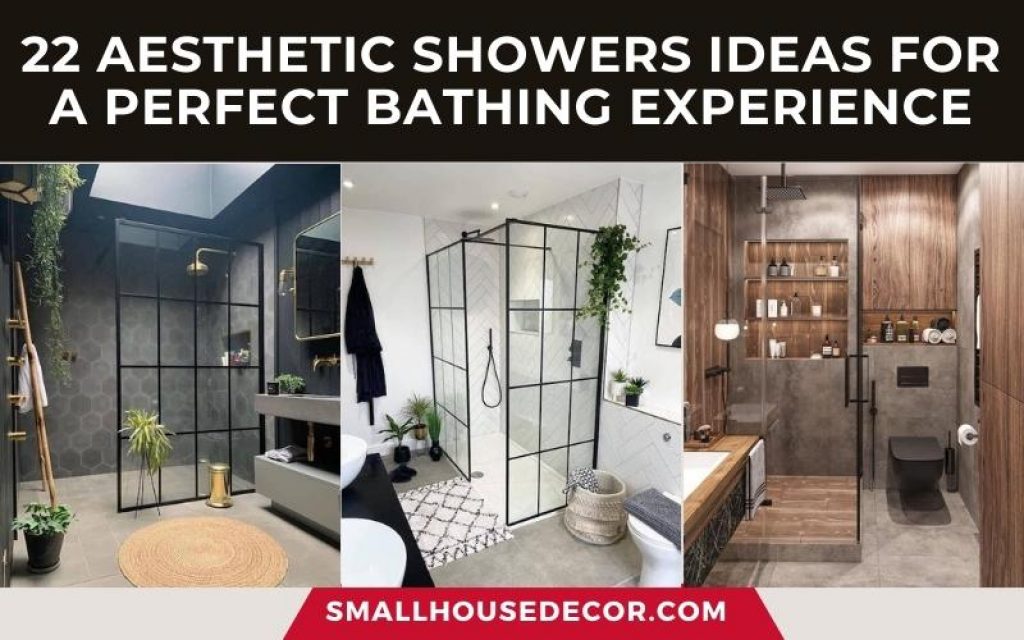 Dark Aesthetic Showers Ideas
A lot of people think that a dark shower is not a good idea but it can be quite stunning. A dark shower can go two ways, either really bold or really glam.
One way to achieve these looks is by incorporating PVC shower panels in a deep hue like carbon stone or lava concrete. These materials add a touch of sophistication and modernity to your bathroom while creating a visually striking and luxurious shower space.
If you want to make a statement then a dark shower is the way to go, however, if you want something a little more Grecian then golden fixtures are perfect.
A golden fixture in a shower can add an element of luxury and it can also make the space look brighter and more open.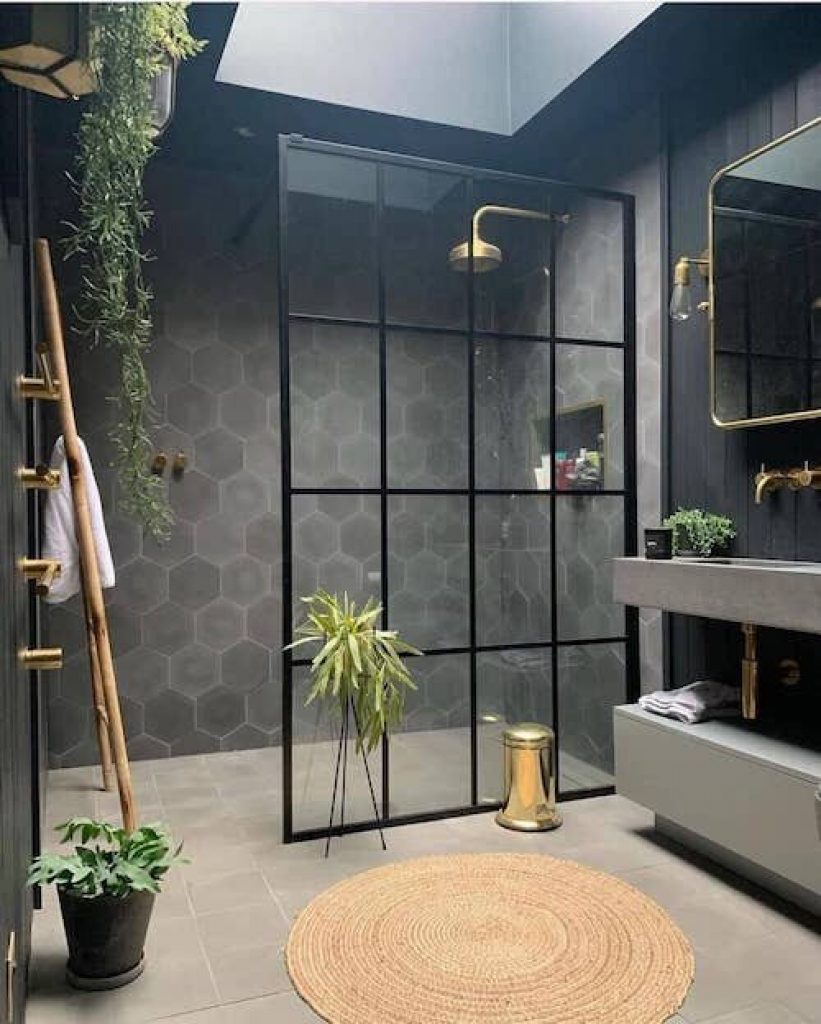 If you have a small bathroom then this is the way to go as it will reflect light and make the space appear larger. A golden fixture against a white backdrop is also extremely chic and classic.
White Aesthetic Showers Ideas
Aesthetics is defined as "concerning the nature of beauty, art, or taste." A well-designed shower should be aesthetically pleasing as well as functional. There are many ways to incorporate aesthetic elements into a shower design.
One popular option is to use white tiles. White tile can create a clean and bright look that is perfect for a spa-like experience. Another option is to use glass shower doors. Glass doors can help to create an open and airy feel while still providing privacy.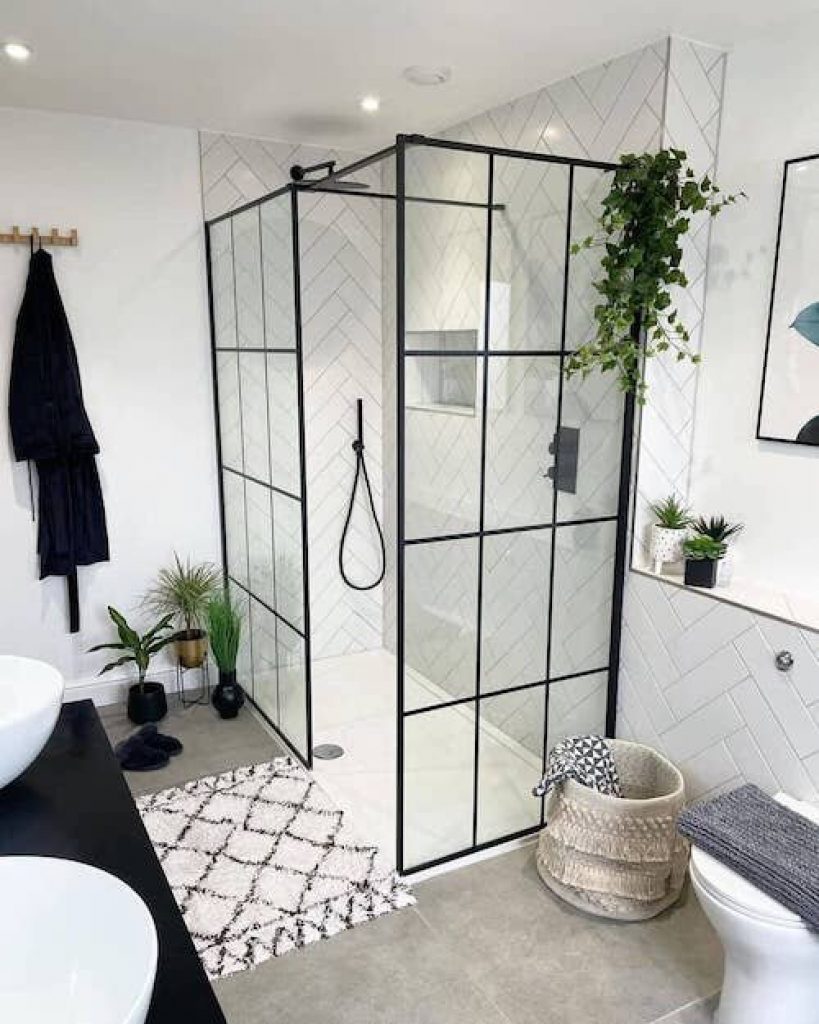 Consider adding some plants or flowers to your shower design. Plants can add color and life to any space, and they can also help to purify the air. A few well-chosen plants can make a big difference in the overall look and feel of your shower.
When planning a new shower, there are many factors to consider, such as layout, tile selection, and fixtures. However, one of the most important choices you will make is the type of shower enclosure you select.
There are many different styles of enclosures on the market today, from traditional framed showers to sleek frameless models.
Wooden Aesthetic Showers Ideas
If you're looking for something a little different, then why not try a wooden shower? Wooden showers are becoming increasingly popular, and it's easy to see why. They add a natural element to any bathroom and they can also be quite striking.
A wooden shower can be created using a variety of different woods, including cedar, teak, and mahogany. If you're looking for a more rustic look, then consider using reclaimed wood. Reclaimed wood has a unique patina that can add character and charm to any space.
When choosing fixtures for a wooden shower, it's important to select pieces that compliment the wood. For example, a brass faucet would look great against dark wood, such as mahogany.
Alternatively, a chrome fixture would be a good choice for a lighter wood, such as cedar.
Mosaic Aesthetic Showers Ideas
Mosaic tiles come in a wide variety of colors, sizes, and shapes, which means they can be used to create a variety of different looks.
Mosaic tiles can be used to create a variety of different designs, from simple and elegant to bold and dramatic. If you're looking for a more subtle look, then consider using white or light-colored mosaic tiles. For a more dramatic look, try using brighter colors or patterns.
Consider animal patterned mosaic tiles for a fun and unique look. These tiles can add a touch of whimsy to any space and they're also quite eye-catching. If you're looking for something a little more understated, then consider using geometric patterned mosaic tiles.
Scale is another important consideration when using mosaic tiles. Smaller mosaic tiles can be used to create a more delicate look, while larger tiles will make a bolder statement.
Wallpaper Aesthetic Showers Ideas
Another option for creating an aesthetic shower is to use wallpaper. Wallpaper comes in a wide variety of colors, patterns, and styles, which means it's easy to find something that compliments your existing décor.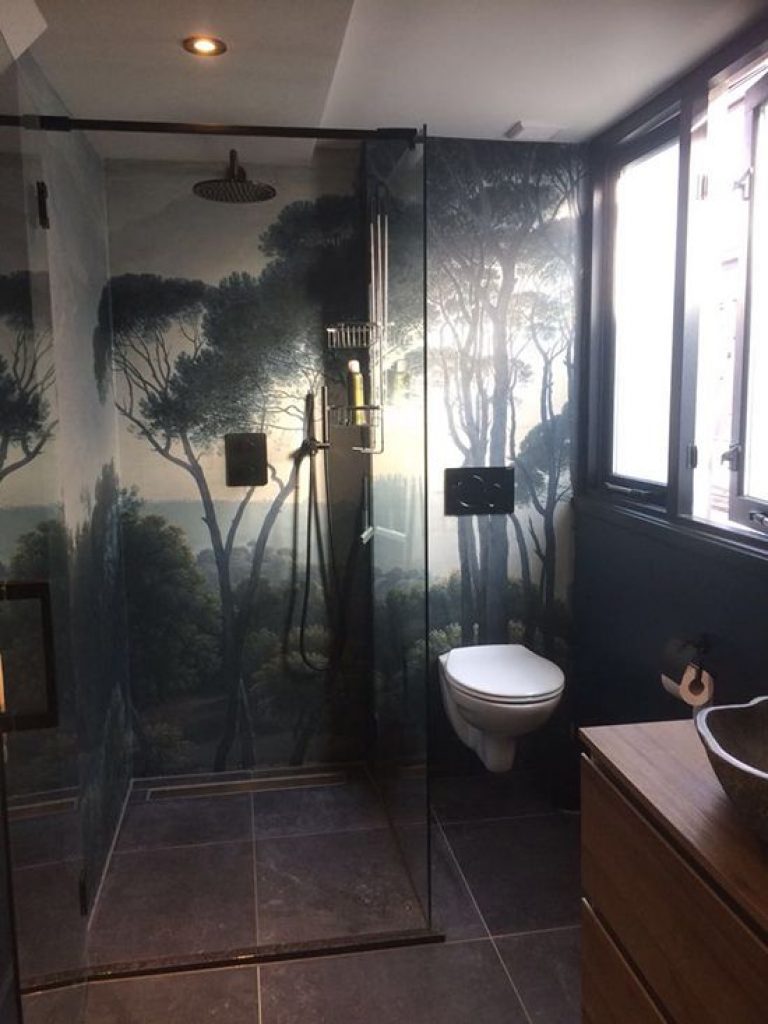 Use wallpaper that is meant to get wet like the one in the above picture This jungle-inspired wallpaper is perfect for creating an exotic look in your bathroom.
This floral wallpaper for the bathroom is a great way to add a touch of femininity to any space. The dual-tone colors of this wallpaper also make it perfect for creating a cohesive look that ties the whole room together.
Industrial Aesthetic Showers Ideas
For a more masculine look, try using industrial-style fixtures in your shower. This includes items such as exposed pipes, metal shelves, and concrete floors.
An industrial shower can be a great way to add character and charm to any space. It's also important to remember that an industrial shower doesn't have to be cold or sterile. You can still add warmth to the space by using softer materials, such as wood or tile.
Aesthetic Showers With Skylight
If you have the opportunity, consider adding a skylight to your shower. Skylights are a great way to let natural light into the space and they can also help to create a more open and airy feel.
When designing a skylight shower, it's important to consider the angle of the sun. You'll want to make sure that the skylight is positioned in such a way that it won't be directly in the path of the sun's rays.
You should also consider adding a fan to your skylight shower. This will help to circulate air and keep the space from feeling too stuffy.
Natural Aesthetic Showers Ideas
There's something about showering in nature that just feels refreshing and invigorating. Maybe it's the sound of the water cascading over the rocks or the scent of the woods that surrounds you.
Whatever the reason, natural showers are a great way to add a little bit of luxury to your life. If you're looking for some inspiration, here are a few ideas to get you started.
For a more natural look, consider using stone or wood in your shower. Stone can be used on the floor or walls to create a rustic look, while wood can be used for shelves or benches.
One popular option is to use plants as decoration. This can be anything from hanging ivy from the ceiling to placing potted plants around the perimeter of the shower. Not only do plants add a touch of greenery, but they can also help to purify the air.
Another way to bring the outdoors inside is to use a glass shower door. This way, you can still see the natural surroundings while you're showering.
Tropical Aesthetic Showers Ideas
A tropical shower is one of the most refreshing and rejuvenating experiences you can have.
The warm water cascading over your body, the exotic aromas wafting through the air, and the lush vegetation surrounding you all combine to create a truly unique experience.
If you're looking to add a touch of paradise to your home, here are some ideas for creating a tropical shower.
For an added dose of luxury, install a rainfall shower head. These can be found relatively cheaply online or at your local hardware store.
Tropical plants are a must-have in any tropical shower. Not only do they add an element of visual interest, but many of them also have beneficial properties for the skin.
Monstera, for example, is known for its soothing and healing properties. philodendron is another popular choice, as it helps to purify the air and prevent mildew growth.
Also Read: 23 Tropical and Natural Outdoor Shower Ideas 2022
How do I Make My Shower Look Aesthetic?
How do I Make My Shower Look Aesthetic?
The following are some of the steps you can take to make your shower look more aesthetic:
1. Consider the overall design of the space. This includes things like the color scheme, the materials used, and the layout of the room.
2. You should also think about how you can add personal touches to the space. This can be anything from hanging art on the walls to adding plants or candles.
3. Combine bathroom fixtures with different colors, finishes and shapes to create an aesthetic look.
4. Use rugs or mats in the shower to add color and texture.
5. Consider adding a skylight or a glass shower door to let natural light into the space.
6. Add plants or flowers to the space to add a touch of nature.
7. Use scented soaps, shampoos, and candles to create a relaxing atmosphere.
8. Hang towels from hooks or shelves instead of leaving them on the floor.
9. Store toiletries in baskets or bins instead of leaving them out in the open.
10. Keep the space clean and clutter-free to create a feeling of calm.
Final Words
There you have it! These are just a few ideas for creating an aesthetic shower in your home.
Whether you're looking for a luxurious experience or something more natural, there's an option out there for you. So, what are you waiting for? Get started on your dream shower today!
If you have any questions or need some help getting started, feel free to contact me and I'll be happy to assist you.
Reference: