Ready to spice up your backyard this summer?
These outdoor shower design ideas are perfect for anyone who wants to enjoy a tropical or natural oasis in their backyard. With so many different options to choose from, you're sure to find the perfect one for your home.
Imagine yourself taking a refreshing shower under the sun or stars – it's an experience you won't want to miss. These outdoor showers are perfect for any time of year, and they add value and style to any property.
Outdoor Shower Ideas 2022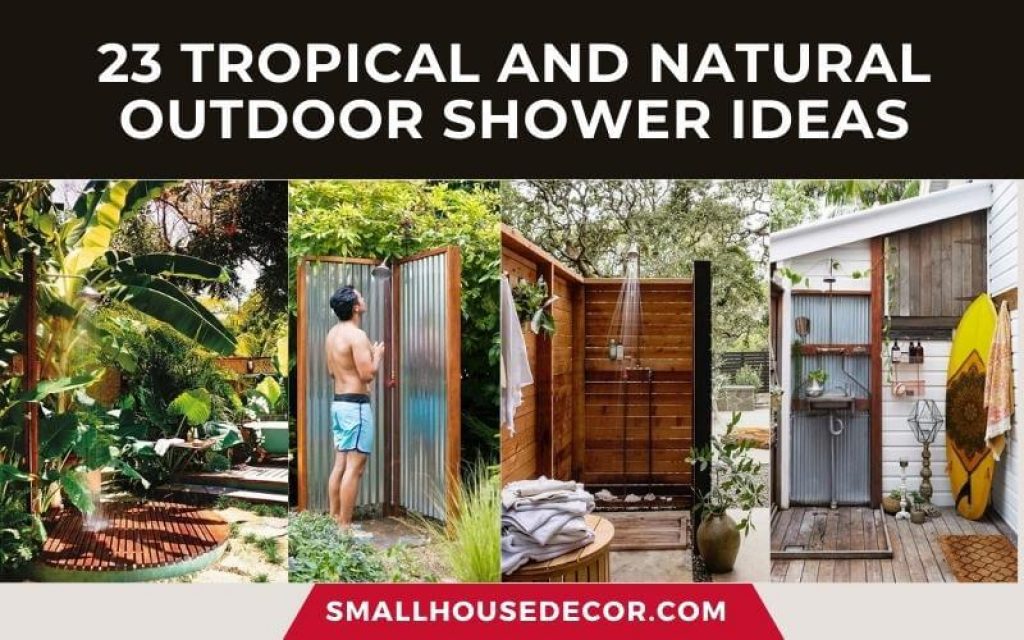 There are a few things to consider when planning an outdoor shower, such as privacy and water supply. If you're worried about prying eyes, you can tuck your outdoor shower away on the side of the house or behind some foliage.
As for water supply, you'll need to make sure your outdoor shower is connected to a water line. You can also collect rainwater in a barrel and use that to fill your outdoor shower.
Once you've sorted out the logistics, it's time to start thinking about design. To create a truly unique space, try incorporating some natural elements into your outdoor shower.
For example, you could build a wood wall and add some plants for privacy and decoration. Or, if you want something really unique, consider using recycled materials like old doors or windows to create walls or partitions. Get creative and have fun with it!
If you're considering installing an outdoor shower, there are a few things to keep in mind.
First, you'll need to choose a location that gets plenty of sun and has good drainage.
Second, you'll need to decide on a design that fits your style.
Backyard Outdoor Shower Ideas
With summer comes the heat, and with the heat comes the need to cool off. One great way to do this is by taking a dip in a pool or lake.
But another refreshing option is to install an outdoor shower. An outdoor shower is a great way to enjoy the outdoors and get clean at the same time.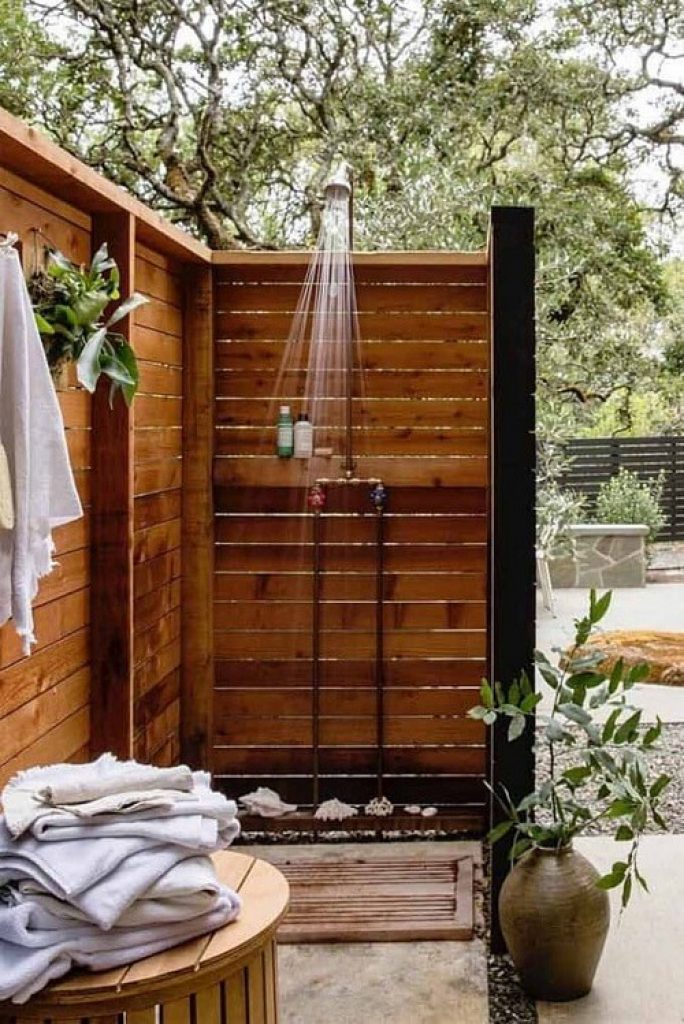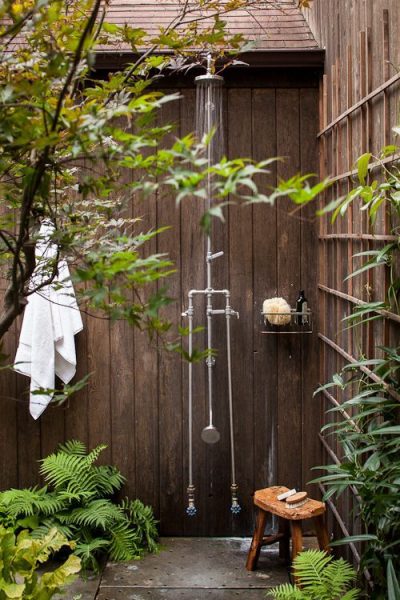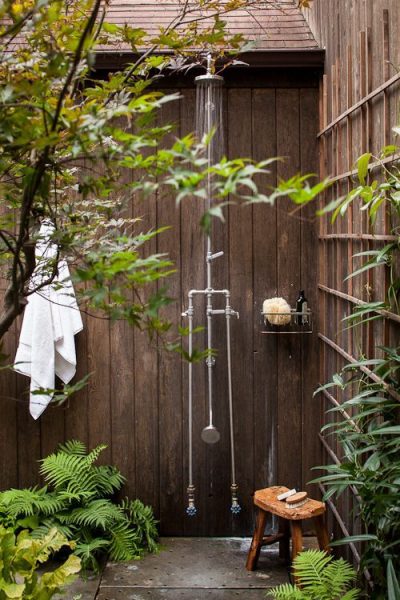 Best of all, outdoor showers can be built for relatively little money. For example, the shower in the above picture costs less than $200 to build. To build this shower, simply add a shower fixture to an empty corner in your backyard, and you're all set.
Then, surround the shower with potted plants or privacy screens to create an oasis-like atmosphere. Add a few hook for towels and soap wall-mount basket, and you're ready to enjoy your new outdoor shower.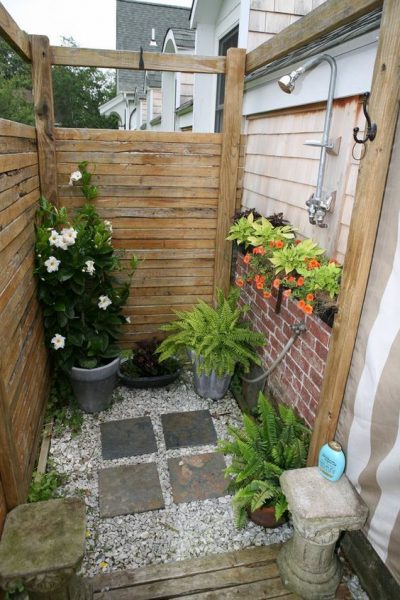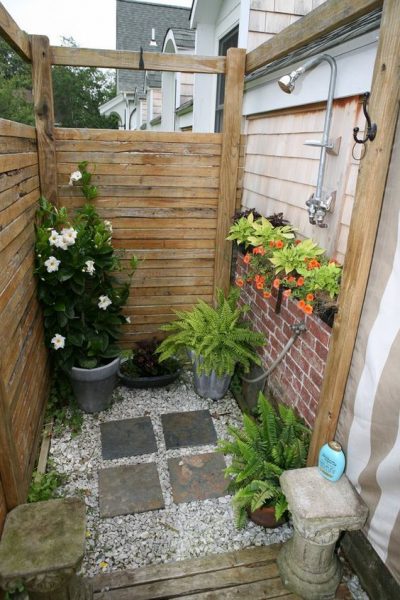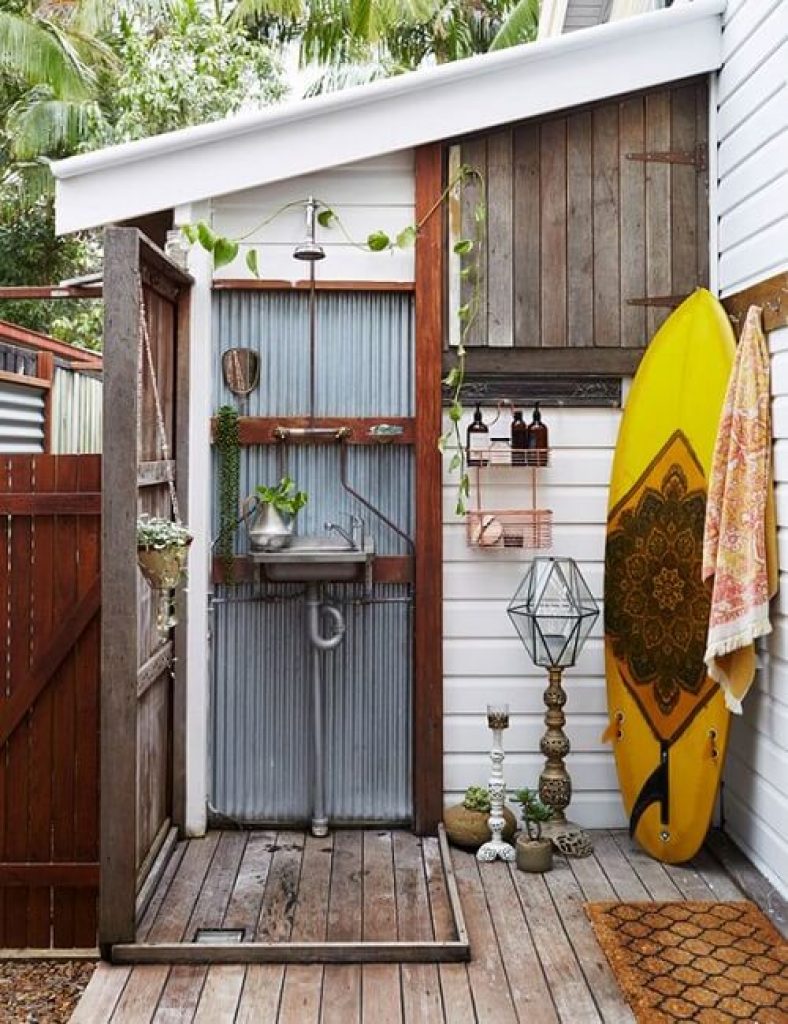 If you're lucky enough to have a backyard with easy access to the beach, then you'll want to take advantage of it by installing an outdoor shower.
When planning your backyard beach shower, be sure to choose a location that is close to an outdoor faucet and has good drainage. Also, consider installing a shower curtain or screen to provide some privacy. And don't forget the finishing touch: a surfboard ornament!
Outdoor Shower Enclosure Ideas
Outdoor shower enclosures can provide the perfect place to enjoy a refreshing shower while surrounded by nature. There are a variety of enclosure materials to choose from, including wood, bamboo, and even glass.
For a truly unique look, you could even grow vines on the walls of your enclosure. If privacy is a concern, consider adding privacy screens or shading the enclosure with plants.
Whatever material you choose, make sure it is durable and able to withstand the elements. With a little bit of planning, you can create an outdoor shower enclosure that is both stylish and functional.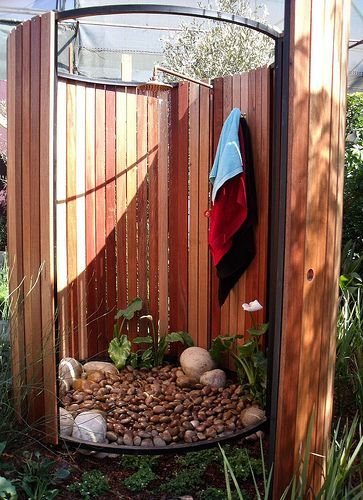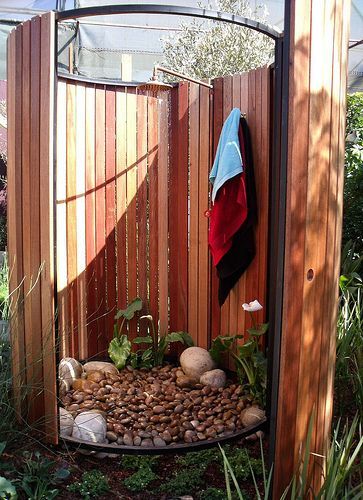 For a classic look, consider an elliptical design with a wooden sheet enclosure. This type of outdoor shower is both stylish and practical, and it's easy to maintain.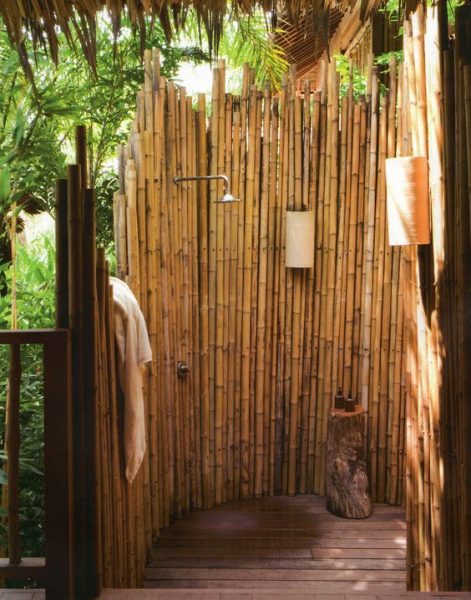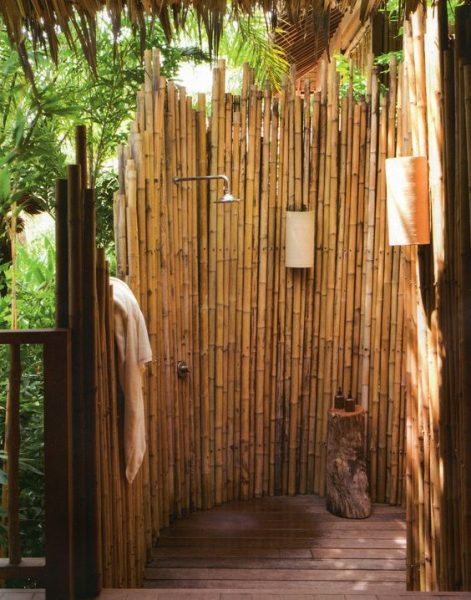 What better way to add a touch of luxury to your outdoor shower than with a bamboo enclosure? Bamboo is a strong, yet lightweight material that is perfect for creating an elegant and airy shower enclosure.
The natural beauty of bamboo will also add a soothing, spa-like atmosphere to your outdoor space. Plus, bamboo is environmentally friendly and sustainable, so you can feel good about using it in your shower enclosure.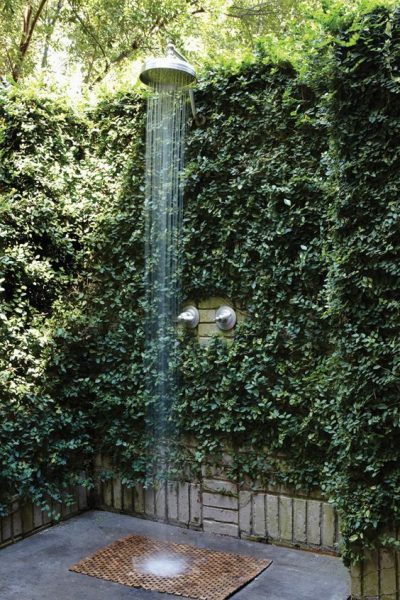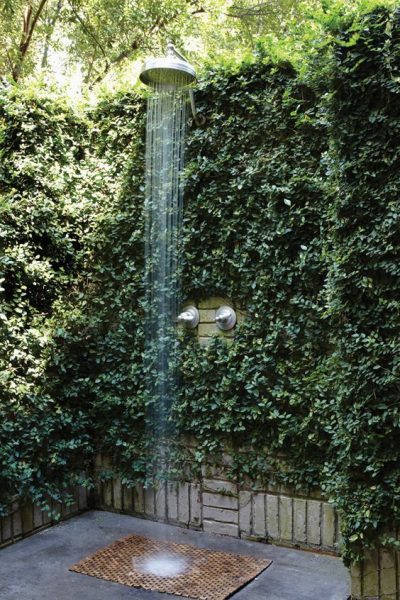 A vine plant on a wall can make a beautiful addition to an outdoor shower enclosure. Many types of vines are well suited to growing in such a confined space, and they can provide both privacy and decoration.
Vines also have the added benefit of helping to keep the shower area cool in hot weather. When choosing a vine plant for an outdoor shower enclosure, it is important to consider the amount of sun and shade the area receives.
Some vines require full sun, while others do better in partial shade. In addition, be sure to select a species that is appropriate for the climate in your area. With a little care and attention, a vine plant can thrive in an outdoor shower enclosure and provide years of enjoyment.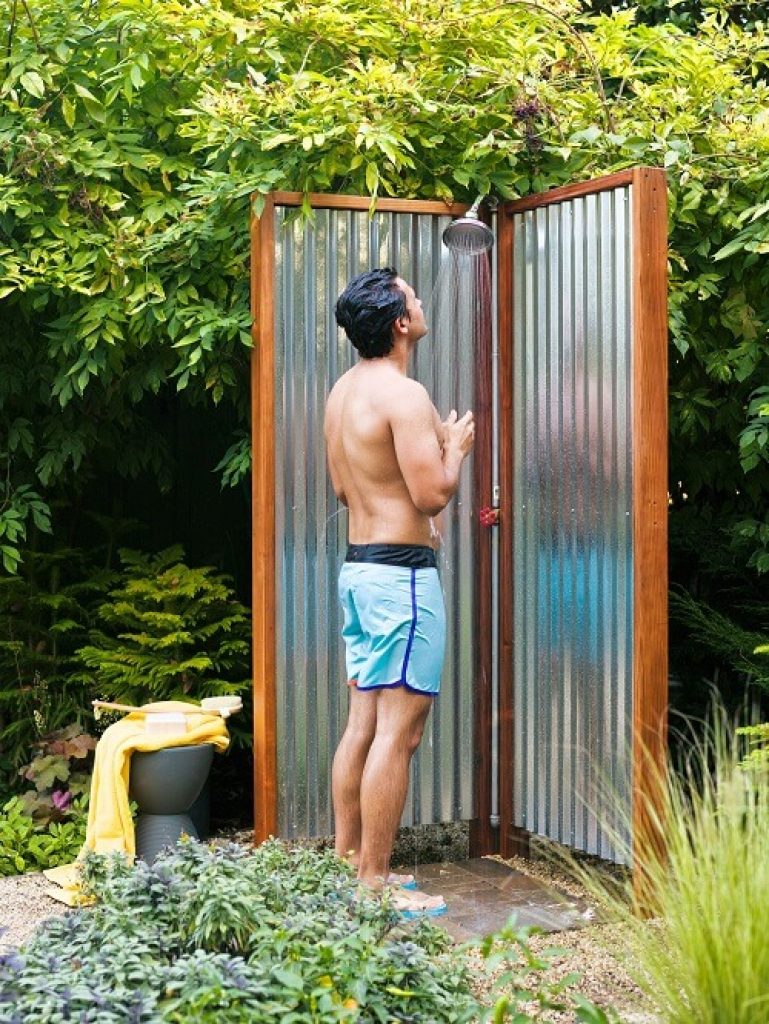 This type of enclosure is made from durable, weather-resistant material that will protect you from the elements while you shower.
It can also help to keep your backyard tidy by preventing leaves and other debris from blowing into your shower area.
In addition, a corrugated metal enclosure can provide privacy while you shower, giving you the peace of mind that you won't be on display for your neighbors.
Also Read: Impressive Bathroom Makeover Ideas You Can Take Inspiration From
Outdoor Stone Shower Ideas
An outdoor stone shower is a great way to add some luxury to your backyard. With a few simple materials, you can create a stunning shower that will make your backyard the envy of the neighborhood.
For the floor of your shower, choose a smooth stone like marble or granite. If you want a more natural look, flagstone is a good option.
For the walls, you can use brick, stone, or even tile. If you live in a warmer climate, you may want to consider using glass block to let in light while still providing privacy.
To complete the look, add some plants and flowers around the perimeter of the shower. A few ivy vines climbing up the walls will add a touch of sophistication, while potted ferns will create a lush oasis.
With a little bit of creativity, you can design an outdoor stone shower that is both beautiful and functional.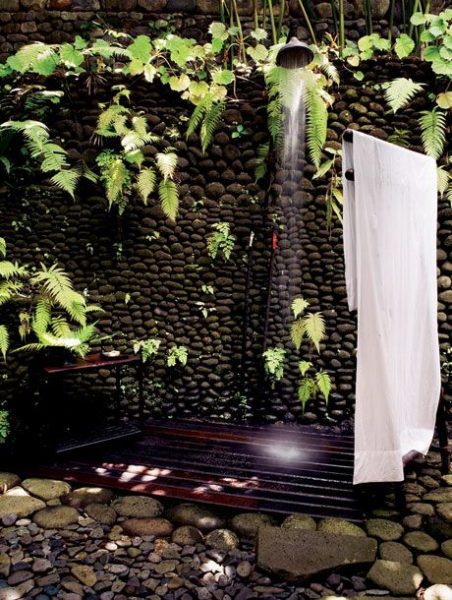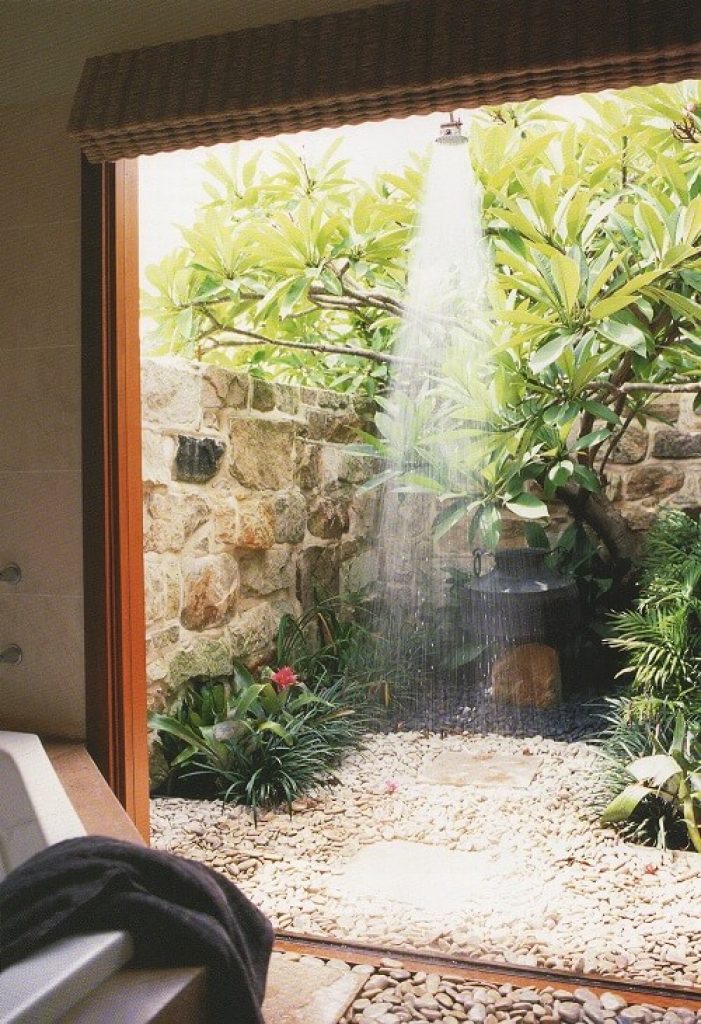 There's nothing quite like starting your day with a shower in the great outdoors. Not only does it give you a chance to enjoy the fresh air, but it can also be incredibly invigorating.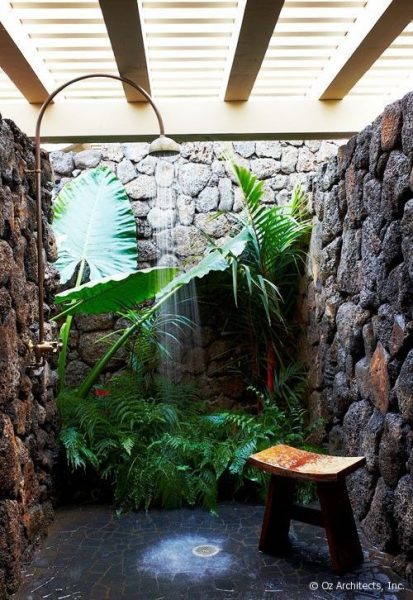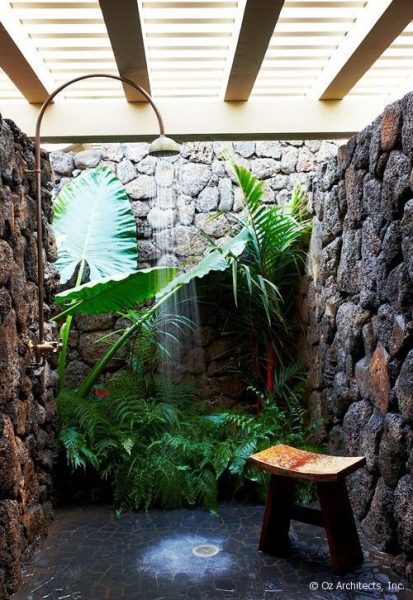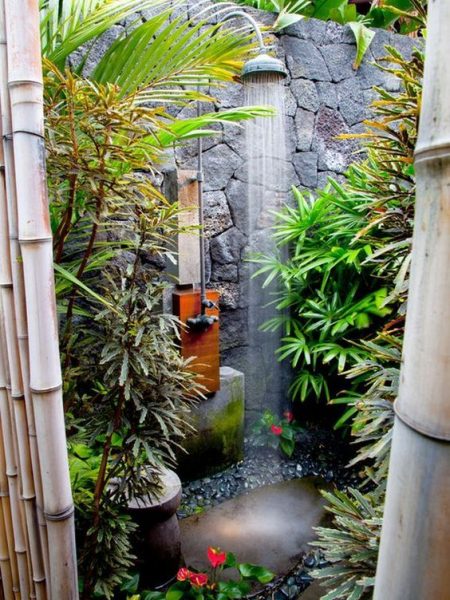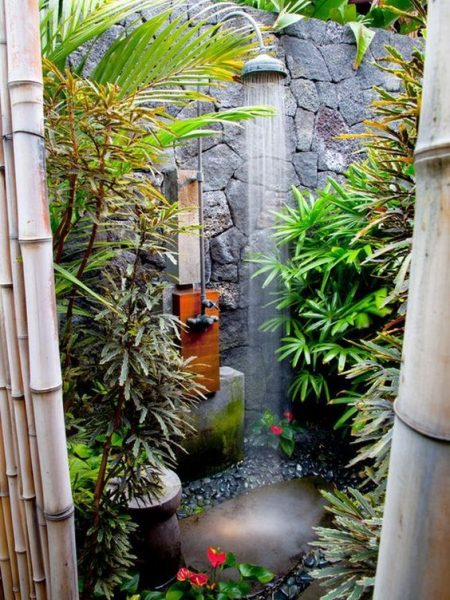 And if you're lucky enough to have an open-air shower, then you can really take advantage of your surroundings. For example, you could surround your shower with beautiful plants, creating a space that feels truly natural.
Or you could install a stone wall, which would add a touch of luxury. Whichever way you choose to go, an outdoor shower is sure to enhance your morning routine.
The tactile quality of those time, turning the old faucet and seize the hose while standing on a mix of stones, wood, fern and grass are thankfully hard to forget.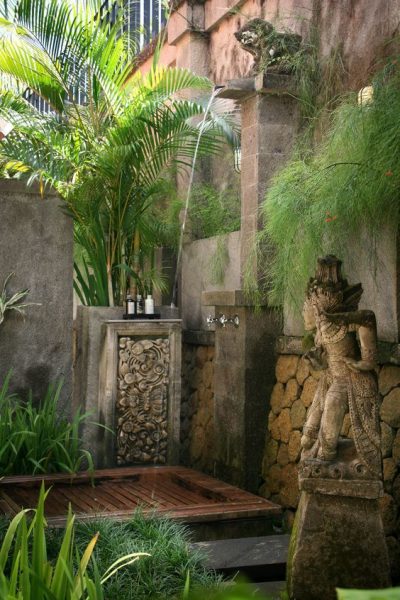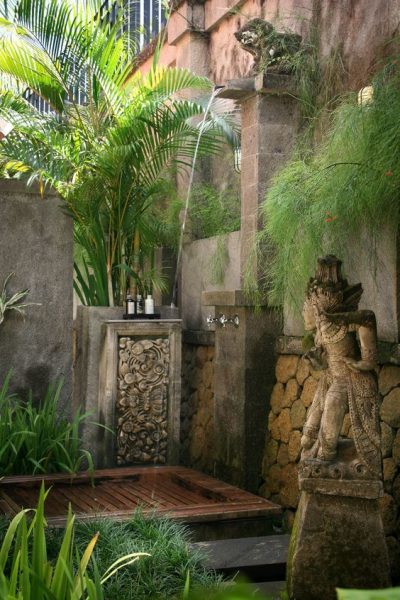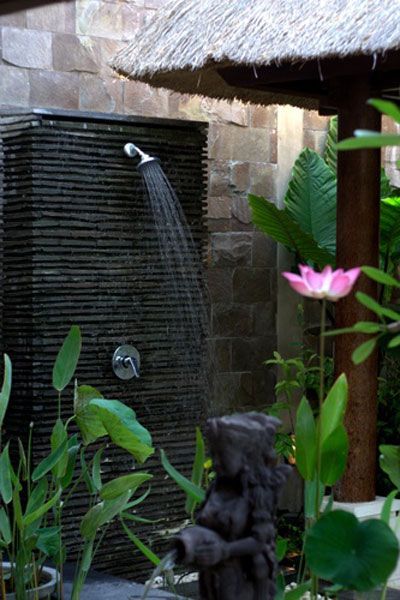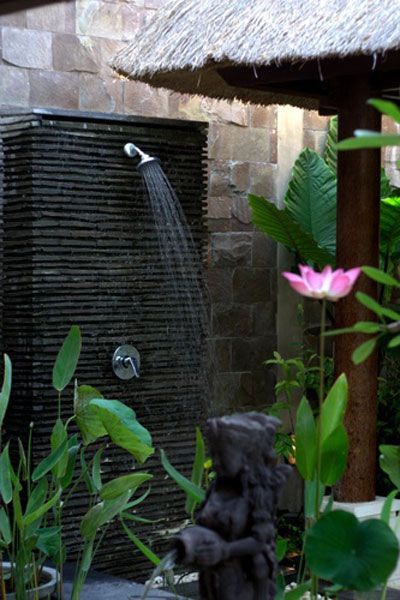 The stone outdoor shower with artistic sculpture can be used to create a luxurious and sophisticated look in any garden setting. They can also be used to add a touch of whimsy and fun.
Stone outdoor showers with artistic sculptures can be found in many different sizes, shapes, and colors. They can be used to create a wide range of looks, from subtle and elegant to bold and dramatic.
No matter what your personal style may be, there is a stone outdoor shower with artistic sculpture that will inspire you.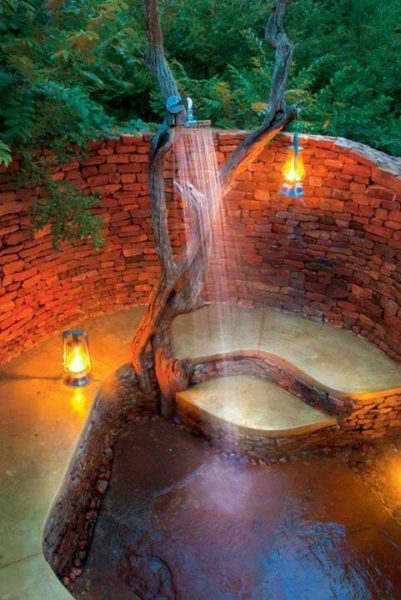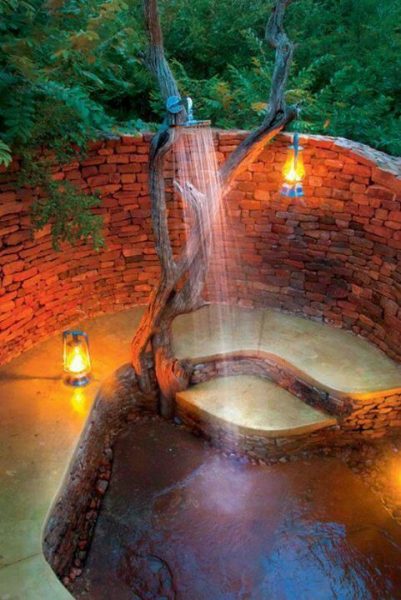 Stone outdoor showers are a popular choice for those who want an elegant look that will complement their landscaping.
There are many different ways to design a stone outdoor shower, from simple rock walls to more elaborate masonry work. If you're working with a limited budget, you can use inexpensive materials like river rocks or field stones.
For a more upscale look, consider using natural stone tiles or paving stones. warmed by oil lamps, your outdoor shower can become an exotic escape.
Add some privacy with plants or screens, and you'll have a relaxed oasis right in your own backyard.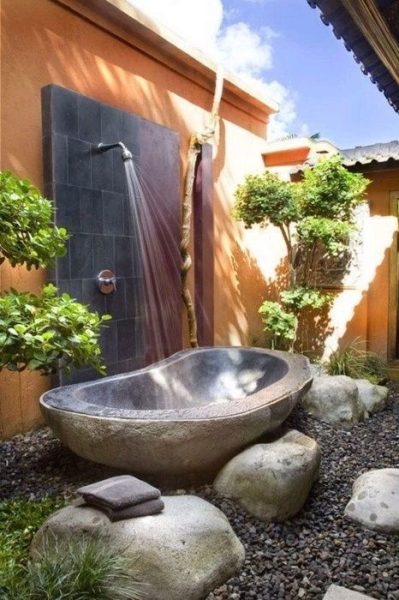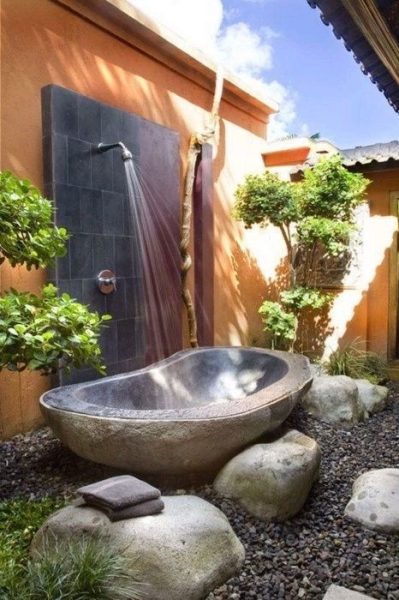 A common sight in Japan, outdoor baths and showers are also known as "soul cleansing" experiences. The idea is that by bathing in nature, you can wash away your stress and negative energy, leaving you feeling refreshed and rejuvenated.
While traditional Japanese baths are typically made of wood, many modern versions feature ornamental stone that adds a touch of luxury to these already idyllic retreats..
Whether you're envisioning a romantic getaway or a family-friendly oasis, incorporating ornamental stone into your outdoor bath or shower will create a truly one-of-a-kind space. Plus, it's easy to care for and maintain, so you can enjoy your retreat for years to come.
Also Read: 22 Aesthetic Showers Ideas for a Perfect Bathing Experience
Tropical Outdoor Shower Ideas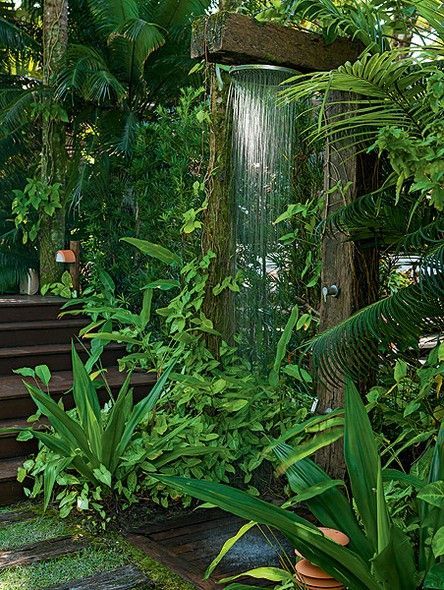 With a little bit of planning, you can easily turn your backyard into a rainforest oasis complete with a tropical outdoor shower.
First, you'll need to find the perfect spot for your shower. If you have a pool, that's ideal. Otherwise, any outdoor area that gets plenty of sun will work.
Once you've found the perfect spot, it's time to start planning your shower. A simple showerhead attached to a hose will suffice, but if you really want to go all out, install an actual shower stall complete with running water and drainage.
Then, add some plants and flowers around the perimeter of the shower to create a tropical vibe. Finally, hang some towels and robes nearby so you can relax and enjoy your new outdoor oasis.
You may also add a hardwood floor or pebbles to the collection for an additional tropical feel.
There's something special about tropical outdoor showers. They bring back memories of growing up in the tropics, bathing behind the Forest of trees. It also creates feelings of openness, warmth, freshness, and freedom.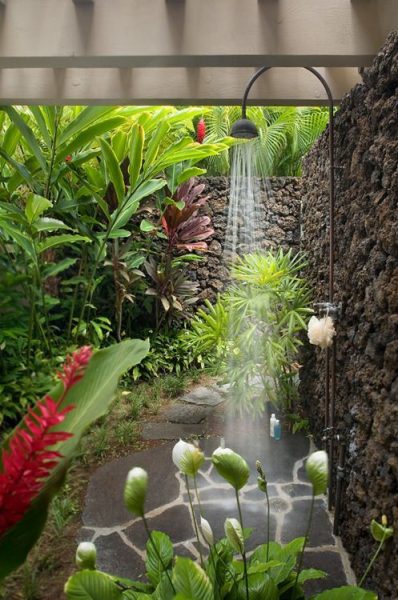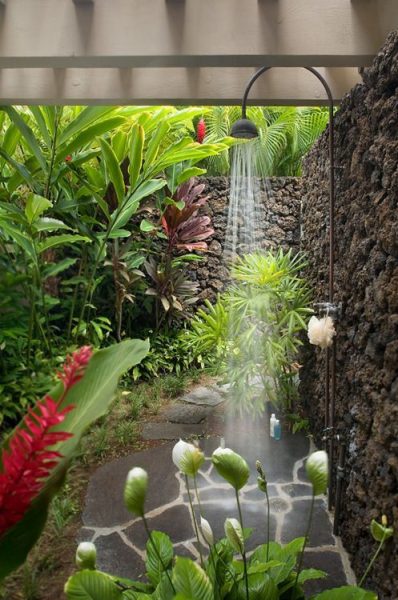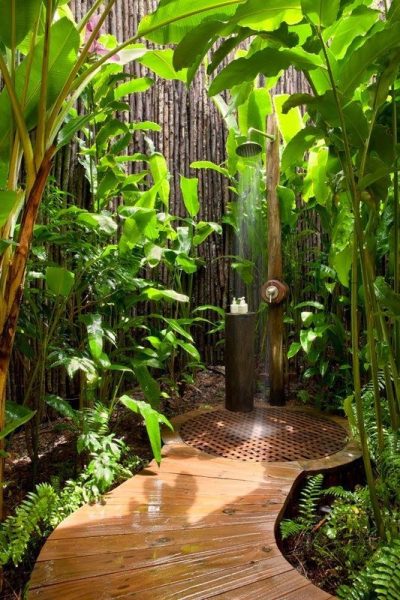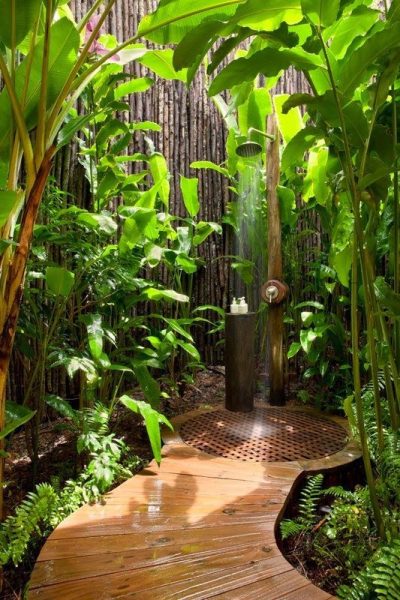 For many people, it is a place to escape the hustle and bustle of everyday life and relax in nature. It is also a place to connect with loved ones and create lasting memories.
Whether you are looking for a place to escape the heat of the day or just want to enjoy a refreshing shower under the stars, tropical outdoor showers are a great option.
Nature Outdoor Shower Design Ideas
There's something about being in nature that just makes you feel good. Maybe it's the fresh air, or the sound of the trees rustling in the breeze. Or maybe it's the opportunity to disconnect from technology and reconnect with yourself.
Whatever the reason, there's no denying that spending time outdoors can be good for both your body and your soul. And what better way to enjoy the outdoors than by taking shower in nature?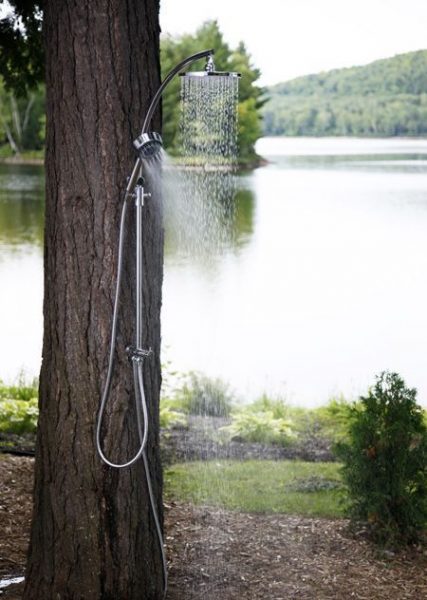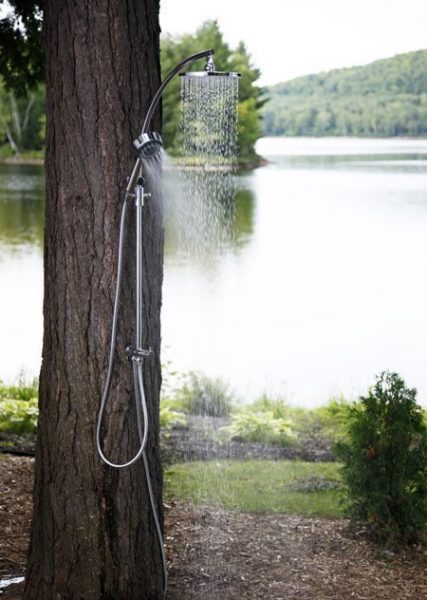 If you're lucky enough to have a cedar tree in your yard, you can take your outdoor shower to the next level by installing outdoor shower fixtures on the cedar tree
The natural aroma of cedar will help to soothe your soul, and the cool water will be a relief on a hot day. So, if you're looking for a way to beat the heat this summer, an outdoor shower might be just what you need.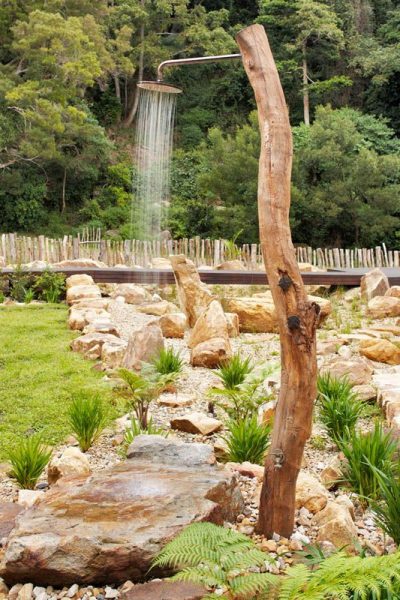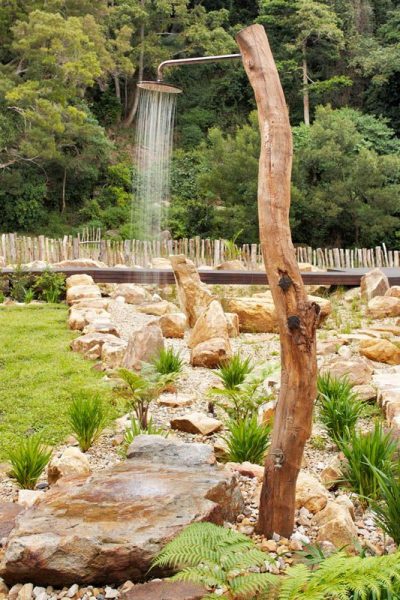 f you're looking for something truly unique, try placing your shower on a dead tree. This will add an element of interest to your yard and is sure to draw the eye of passersby.
Just be sure to use caution when routing the plumbing, as you don't want to damage the tree or cause it to fall over. With a little bit of planning, an outdoor shower can be a safe and stylish addition to your home.
Prefab Outdoor Shower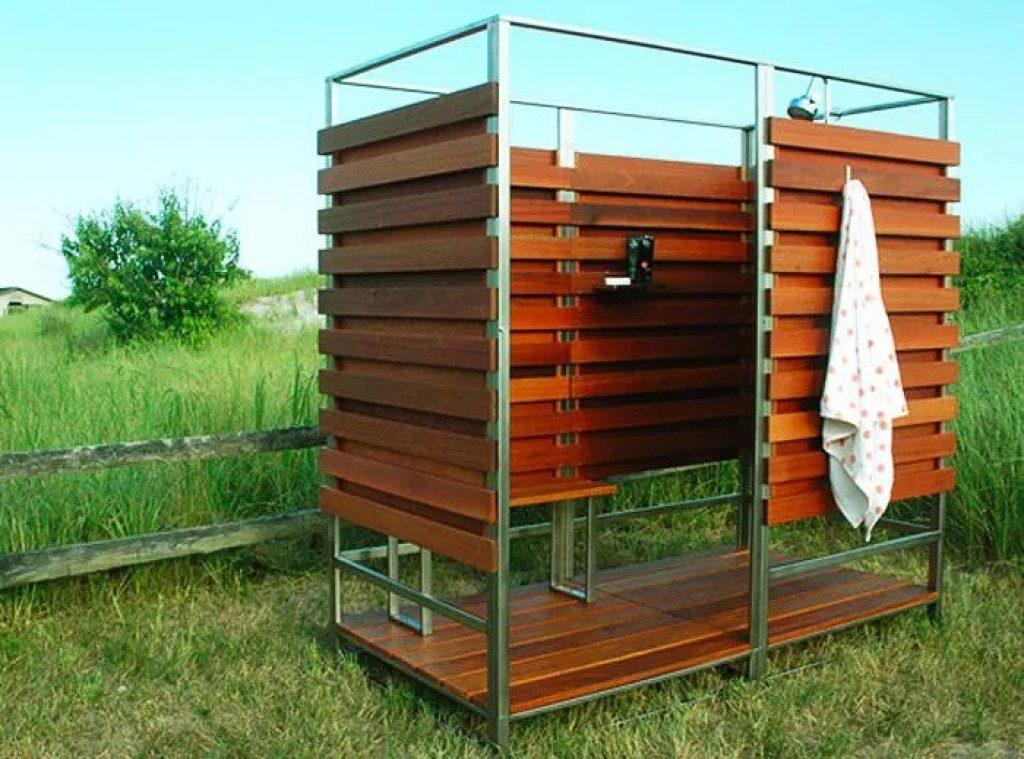 The outdoor shower by Oborain is truly a sight to behold. The sleek, minimalist design is both functional and visually arresting, and the shower can be placed on virtually any surface.
Prices start at $4,300 for a single stall without doors, but you can also opt for the Trio, which features three shower heads and costs $12,000.
The price tag is not for the faint of heart, but for those who are looking for a truly unique shower experience, the Oborain is well worth the investment.
Final Words
There you have it! These are just a few of the many outdoor shower design ideas out there. So, if you're looking to add a touch of luxury to your backyard this summer, consider installing an outdoor shower. You won't regret it!
If you have any questions, feel free to leave a comment below. We'll be happy to help you plan the perfect outdoor shower for your home.