Are you thinking of giving your bathroom a makeover this season? Are you at a loss on where to start? Then worry no more – here is an article featuring stunning ideas that will help provide the inspiration you need for transforming your bathroom from dull and outdated, to dazzling and modern.
Whether it's rearranging existing fixtures or implementing brand-new pieces, these magnificent examples are sure to give anyone looking for an upgrade some ideas about what can be done with their space.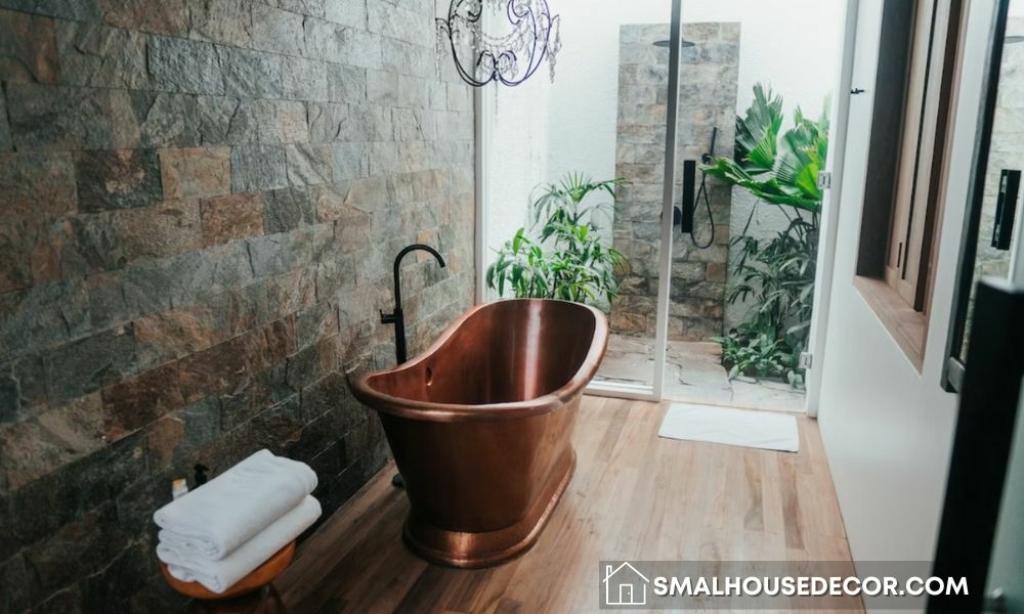 Replace Your Showerhead for a New Look
Revamp your bathroom with a simple upgrade – replace your showerhead to instantly give it a modern and luxurious look. A rain showerhead can provide a soothing and spa-like experience while a handheld showerhead offers convenience and flexibility. Both options can elevate your daily shower routine and provide a refreshing change to your bathroom décor.
With a wide range of styles and finishes available, it's easy to find a showerhead that matches your bathroom's design and personal tastes. Plus, installing a new showerhead is a hassle-free DIY project that can be done in just a few minutes.
It's time to say goodbye to your old, outdated showerhead and hello to a refreshing and rejuvenating upgrade.
Invest in New Tiles
Are you tired of your outdated bathroom design? Investing in new bathroom tiles can completely transform the look and feel of your space. Not only will it create a more organized appearance, but it will also add a touch of style and sophistication.
With a wide range of tile patterns to choose from, you can easily find a design that perfectly complements your taste and aesthetic. Plus, upgrading your bathroom with new tiles is a smart investment as it can increase the overall value of your home.
Install Double Vanity Sinks
Installing double vanity sinks can provide a practical and functional solution for couples who share a bathroom. Not only does it offer ample space for both individuals to get ready simultaneously, but also extra storage options to keep the bathroom clutter-free.
However, installing double vanity sinks requires careful planning and expert execution. It is important to consider the size of the bathroom and the plumbing requirements, as well as the type of material and style of vanity that complements the overall aesthetic of the bathroom.
By entrusting this task to a professional, you can ensure that your double vanity sink installation not only meets your practical needs but also enhances the overall appearance of your bathroom.
Also Read: 23 Tropical and Natural Outdoor Shower Ideas 2022
Choose Natural Elements
Creating a spa-like atmosphere in your bathroom can be achieved easily by incorporating natural elements. Wood, stone, or plants can instantly add a calming touch to your space, making it feel like your own personal oasis. Using natural materials not only adds aesthetic value but can also improve the air quality in your bathroom. These elements can help create a more relaxing and refreshing environment, perfect for unwinding after a long day.
By adding natural elements, including indoor plants and wooden accents, you can transform your bathroom into a space that not only looks beautiful but also feels tranquil and rejuvenating, especially in serene white and wood-themed bathrooms.
Update Your Lighting Fixtures
Updating your lighting fixtures is an easy and impactful way to add some personality to your bathroom décor. Whether you prefer a modern or classic style, there are plenty of stylish lighting options to choose from. You can even make your bathroom feel spa-like by adding soft, ambient lighting. Opt for fixtures with translucent shades or covered bulbs to achieve this effect. You can also use dimmers and motion sensors to further customize your lighting experience.
Reface Your Cabinets and Countertops
Finally, consider refacing your cabinets and countertops to give your bathroom a fresh, new look. Refinishing or replacing can transform the space, adding a touch of elegance and modernity to an otherwise outdated room.
Whether you're looking for a more traditional look or something more contemporary, refacing your cabinets and countertops can create the perfect ambiance. And the best part? It's a cost-effective solution that won't take up too much time or money.
Final Words
Taking on a bathroom makeover can be a daunting task, but setting yourself up for success with the right materials and resources can make it easier. Investing in quality materials such as new tile patterns, double vanity sinks, natural elements, and updated lighting fixtures will not only transform your bathroom's aesthetics but can also improve its functionality and give your home a touch of luxury. Updating and refacing cabinets and countertops is an affordable way to freshen up the look and feel of your bathroom without spending too much money in the process.
By following these impressive bathroom makeover ideas, you can create a luxurious spa-like atmosphere that you and your family can enjoy for years to come.