4 Ways to Decorate Your Home With Barn Doors
Your home is in desperate need of a facelift. It a feature that can create some visual interest in your interior design. Why not mix a little bit of country living into your interior design with hanging barn doors?
No, you don't have to live in a modern farmhouse to incorporate this design feature into your home. In fact, barn doors can be a great accent for many styles, from traditional to industrial to modern.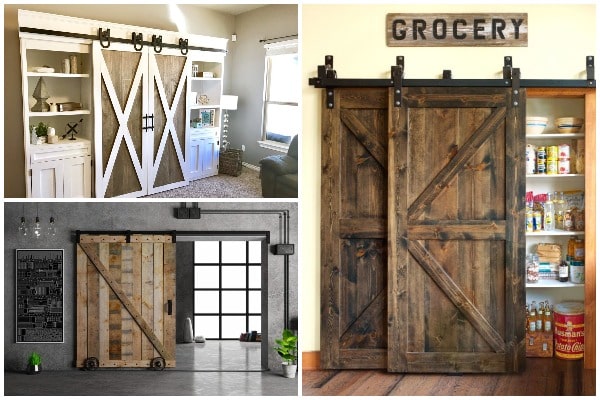 Here are four ways you can use barn doors in your home.
Slide to Reveal a Pantry
Forgo the traditional swinging doors for a kitchen pantry behind sliding barn doors. This is a great way to conceal shelves of food and make the pantry look like a planned part of the kitchen design.
Here's a fun design tip: Paint the door in chalkboard paint to create a place to leave notes to your family, schedule reminders, and grocery lists. During your home remodel, find ways to add a personal touch to your home decorations.
Hideaway Utility
Have a mudroom you want to hide or a storage space that's an eyesore? Use barn doors to conceal your utility space where you may hideaway bikes, tools, or muddy shoes.
You can also use barn doors to cover up your washer and dryer or other utility equipment. Barn doors are especially great if you're short on space. Get the magazine look and shop for barn style doors here.
Mini Doors on a Cabinet
The image of barn doors usually conjures full-sized doors hanging from the wall. But bard doors are a style that can come in all sizes. So if you're not ready to commit to a larger size, consider going mini.
Use mini doors as an alternative to cabinet doors in the kitchen or laundry room or on a side table in the living room. Hide cleaning products, trash cans, dishwashers, or a washer/dryer behind these doors.
Also Read: 4 Garage Door Maintenance Tips to Avoid Future Repairs
Add a Pop of Color
The farmhouse style has become popular in interior design. A clean, neutral color palette often characterizes farmhouse style. But that doesn't mean you have to stick to shades of whites, blacks, and tans.
Add a pop of color into your design with a sliding barn door. Treat this as home decor to create an eye-catching feature in your home.
Blues, greens, and reds always look great inside in a home design. But if you're looking for something different, try a shade of yellow, orange, or pink.
Mix a Bit of Country Living in Your Home
If you need a stunning feature to enhance your home design, then you should consider installing barn doors. You can use barn doors through the home from the bedroom to the kitchen.
Though the style is heavily inspired by country living, you can find the right barn doors fit that well in all interior designs. It's time to make your home look like the pages of a magazine.
Feeling inspired to transform your home? Share this with a friend and check out more home and design articles on the blog today.