In this modern age, we simply can't live without electricity. We use it in our everyday lives–lighting up our homes at night, powering up computers and other devices, and running domestic appliances such as TVs, fridges, and microwaves. 
This is why if you're experiencing any electrical issues at home, it's important to get it fixed right away. That said, your home's electrical system can be dangerous to handle on your own. Thus, it's often recommended to hire a professional electrician. 
However, not all so-called electricians have the same amount of skill and experience. Thus, it's imperative to do your homework to find the right professional for the job. Here are key questions to ask when talking to a potential electrician for hire.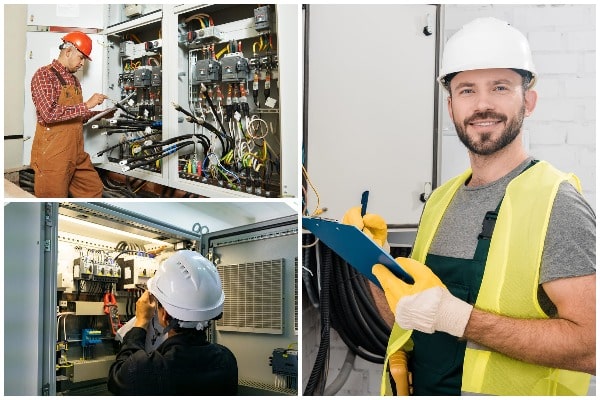 May I See Your License?
This may be a bit obvious, however, most people fail to ask this important question. Anyone can tell you that they're qualified, but being able to show you the visible proof is different. 
With the proper license, you can confirm that the electrician has the right certifications and training to work legally as an electrician. Also, make sure that they're licensed for the type of work you need.
You need to know that the electrician can perform the work up to code and has the necessary training to finish the job safely. Make sure to double-check the validity of their license. 
If you're hiring an electrical contractor, choose one with a crew of electricians that are certified and licensed. For instance, Southside Electrics has a team of licensed and well-trained Mornington Peninsula electricians. 
In general, electricians are required to be licensed in most localities and states. So, don't hire one who isn't properly licensed or can't show you their license. Furthermore, most electricians are also expected to have continuing education to help keep their knowledge and hands-on skills up to date with the latest industry requirements. 
Do You Have The Right Insurance?
Insurance is a must-have for any type of contractor working in your home. When repairs or changes are being made to your home or property, you want to ask your contractor if they have the necessary insurance, such as contractor professional liability insurance or worker's compensation insurance, to operate. 
With the right insurance, you're protected against any liabilities related to the job. If something goes wrong that causes damage to your home or an electrician gets injured while doing his job, you want to have that peace of mind that you won't be held responsible and that accidents are covered. The electrician's insurance company should cover this damage. 
So, if the electrician you're considering can't provide proof of insurance, don't hire them!
Do You Arrange For The Needed Permits?
In general, minor electrical projects don't always need a permit from your local building department.
However, for large-scale projects such as re-wiring or designing and installation of new wiring systems, your local building department will require you to get the necessary permit. 
In this case, you want to ask whether the electrician is open to getting the necessary permits where they need to before work is started. Take note that it's the job of an electrician to acquire the necessary permits and not yours. 
Do You Have A Specialty?
If you have a specific kind of electrical project that needs to be done, it's best to ask your electrician if they can handle it. For instance, does the electrician have experience in working on the electrical part of a smart system?
Make sure that you clarify what the electrician can and can't do and understand what his limitations are. If the electrician offers a specialty service, make sure to ask for samples of their previous work and any references to back it up. 
Can You Provide A Rough Estimate?
Hiring an electrician will cost you money. That said, you want to hire an electrician that you can afford. 
Always ask an electrician if they can provide even a rough estimate of how much the job will cost. That said, before asking, make sure to do your homework at fair prices for the job you want.
This way, you'll know if the electrician is offering a quotation that's too high or too cheap compared to others. Always look for someone with a competitive and fair price. 
Takeaway
If you find yourself needing some electrical work done, choosing the best electrician can make the difference between a quality job and one that endangers your family and your property.
Whether it's a minor repair of LED light fixtures or a large-scale new construction wiring design and installation, you need an electrician with enough experience and the necessary qualifications to do the job. 
So, don't be afraid to ask the above questions to ensure that you're hiring a reliable electrician for the job.