6 Practical Tips On Choosing A Qualified Arborist
Taking good care of the trees around your house adds beauty to your surroundings. If you think that your trees need some work to maintain their health and beauty, maybe it's time to look for a tree professional also known as an arborist to help you.
Finding an arborist can be a bit of a challenge, especially if you've never hired one before. You'll want to find someone who is qualified, experienced, and affordable yet makes sure that you have the best to do the job. There are several things to consider when hiring an expert who will help care for your trees and shrubs.
So, before you go sifting through arborist reports and maintenance services, read the following tips to help you find the best arborist in town.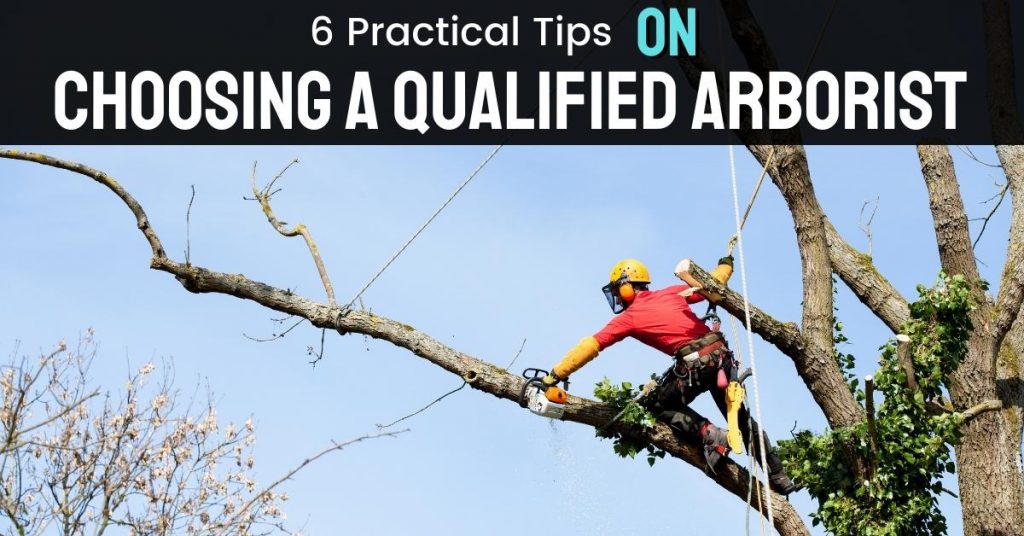 Look At Their Insurance And Certification
When looking into hiring an arborist, it's important to know if they have insurance coverage. The arborist that you'll hire should be insured. This ensures that if anything were ever damaged during their visit, then whoever caused it will be responsible for covering any costs associated with repairing the damage instead of passing those costs on to their clients. 
They should be certified by the International Society of Arboriculture or the National Arborist Association. This proves that they've been trained and certified in all aspects of their work: tree climbing, application of pesticides and herbicides, pruning techniques, and so on. It can also assure you that they know what they're doing.
Ask For Recommendations
Ask your friends, family, and neighbors if they have any recommendations. If you know anyone who has recently worked with a tree service company and had a positive experience, ask them for the name of their arborist or company.
Visit local home improvement stores and ask them for recommendations from employees who deal with trees regularly. Visit your local nursery and garden center; these professionals may be able to recommend an experienced arborist who has worked in their area before or whom they trust themselves because they have seen firsthand what kind of work quality this person provides over time.
Talk to landscape architects; sometimes there's no better way to get expert advice than from those who design landscapes professionally. They'll usually have plenty of suggestions when it comes to hiring someone specific like an arborist since they need one themselves every once in a while, too.
Look At The Company's Safety Record
A company's safety record is a good indicator of the kind of work they do and how they treat their customers, so it's important to look into this aspect when choosing an arborist. You can check for any complaints as well as any violations or accidents reported on their site. 
You can also search for lawsuits against them in your local court records and ask around to see if anyone has had a bad experience with that company before you hire them.
Check out the company's reputation and track record. You can do this by asking for references from individuals who have used their services in the past, or by checking out online reviews. If a company has an established reputation in your community as being reputable, that's another good sign.
Get Quotations From Multiple Sources
It's important to get quotations from different firms. After looking through their credentials, you then have to go through the specifics of the invoices. You're looking for the combination of services one firm can offer.
Their costs, skill set, experience, and level of professionalism are all important aspects of the invoice to be assessed. 
Be Cautious With Flyers And Cold-Callers
There are countless flyers and door-to-door arborists that will try and get you to contract with them. Whilst not all of them will be opportunists, a fair number of them will. Quite a few will be offering prices that are far below the market rate.
Reputable arborists have a lot of external costs and checks to consider such as insurance, licensing, and the maintenance of specialized equipment. Hence the reason why their market rate is set at what seems to be exorbitant prices at times.
Never Rush
Some companies will always be offering some discount or the other, don't allow these to distract you from making proper decisions. Make sure to revisit all the points above and when everything else lines up, then calmly contact the firm that you're most confident in.
Conclusion
If you're looking for a qualified arborist, hopefully, this article has helped you get started on your search. By finding someone who is insured, certified, and has an excellent safety record, you can rest assured that they will take care of your trees and shrubs like no one else can.