5 Reasons To Have Your Roof Inspected For Hail Damage
Some hail damage signs are more obvious like you get a dent in your car or a window gets broken. But, you may be unmindful of the unnoticeable damages caused due to hail as only trained eyes can spot them. And, after a hailstorm, it becomes pivotal to check for panels and roof shingles' damage. 
The effect of the damage depends on multiple factors: roof material, slope, age of the materials, wind direction, and speed. Hail can be destructive for your roof if it ends up causing roof leaks. 
Harm can be cosmetic or functional. But, cosmetic damage is more severe than it appears. Things like granule loss, punctures, and broken edges lead to severe complications, though they may look cosmetic. Here are five reasons you need to get your roof inspected after a hailstorm.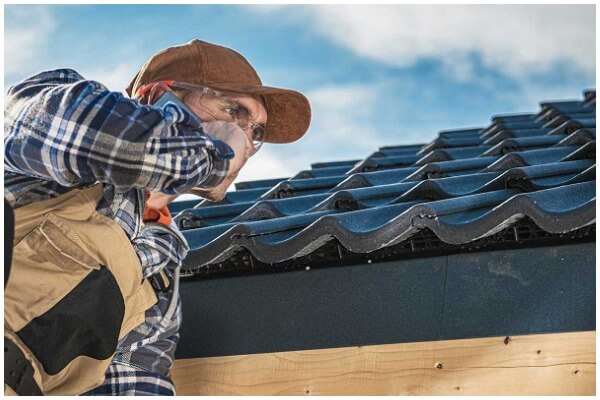 To analyze if the shingles have worn out. 
You must have experienced storms that may have blown a few shingles off your roof. But, in many cases, shingles remained intact after a hailstorm; later, a faulty roof caused trouble. Thus, we are sharing a few things that you need to check for identifying specific damage types.
A debilitated self-seal strip
Hail and strong winds can weaken your shingles' seal integrity. A worn-out shingle seal is what causes shingles to fly off, leaving the roof exposed to elements of nature. A damaged shingle has a permanently compromised integrity that can cause them to tear and cause severe leaks. 
Shattered Fiberglass mat 
A professional and trained roof contractor can detect broken fiberglass. It is slightly more complicated for you to identify the impacts of a hailstorm. For more information at https://www.atsroofingdenver.com/, regarding how cracks and tears are identified, visit the roofing services tab on the given link. 
Bare fiberglass mat
The hail impact can cause the shingles' surface to shatter and break free from the fiberglass mat at the bottom. 
Holes and cracks in the shingles
High winds and hard hail cause cracks by gripping the shingles. This thing can cause tears and exposure, leaving the roof with spots. And, if the meteorological department has predicted torrential weather in the coming days, then be sure that your roof will never be able to protect you.
Also Read: 7 Tips for Choosing the Right Roof Shingles Color
Loss of granule 
The sandpaper-like aspect of the shingles is a granule. When shingles lose granules, the asphalt coating on it gets exposed. Exposure leads to quickened aging. In this case, examining the downspouts and gutters is essential to check if granules have fallen off the shingles. 
Once weakened, the second impact can be catastrophic
Shingle roofs get bruised after a hailstorm. Even if you fail to notice any tangible "hail strike," a small round dent in your shingle can impair other shingles across the roof. Thus roof inspection is necessary. 
With assistance from a proficient roofer, you will save money. You will be protected from future leaks and will also not have to replace the roof before time. We recommend calling a hail damage roofer within 2-3 days after a squall. 
You do not need massive hailstones to damage a shingle roof severely. Even if there is a minor hit, moisture can penetrate beneath the shingle. Of course, there will not be any visible damage before your eyes, but a roofer can identify the worn-out waterproof membrane beneath the shingles. 
A full on-site inspection by teams will ensure that every element of the hail damage is examined. They will climb on your roof and check for damage in gutters, flashing shingles, and other areas. 
In less than an hour, the inspection will be complete. If any speck of damage is discovered, you will get an initial estimate concerning the roof repair. You do not have to agree to a complete repair right away, but you can always go through the "scope of work" proposed by the roofers.
Also Read: The Roof Is on Fire! 5 Main Things That Cause Roof Damage
To prevent physical harm. 
After a hailstorm, if you do not get an inspection done, there can be lichens, mold, and moss growths. These growths usually take place after a leak causes moisture to seep in. Thus, when you call professionals, they will identify the mold growth wearing protective gear. A thorough inspection ensures that you run physical harm risks.  
To fend off internal damage.
A hail damage inspection will ensure that professionals inspect not just the roof but vents encompassing the property. They will let you know if the ducts are in perfect working condition and are releasing air correctly. If not, they will fix the vents and save your house's internal environment. 
Also Read: Top 6 Factors to Consider When Picking a Roofing Contractor
 Conclusion
After any windstorm or hail, experienced, reputed, and professional roofers will offer roof inspection at free costs. They will inspect without charging a penny or any add-on services. Thus, contact the nearest roof inspectors if your roof has undergone a lot of impairment.
Keep in mind that roof repair, if avoided for the longest time, can get expensive and extensive. We hope you liked our blog and if there is anything you would like to share, please comment below.