Wall painting is a crucial part of interior décor that needs to be approached carefully. That alone means you need to know the colours and the painting design you want before embarking on any painting project in your home. And while going for the colours you love makes perfect sense, a little due diligence won't hurt if you want to get the best result.
For example, you have to assess the availability of natural light in your home to establish whether it'll interfere with your choice of paint. The painting design in mind also plays a key role in determining the colours you want. This will help you choose an interior wall paint that can draw more attention to your design ideas. Find out all about this in our below-shared tips.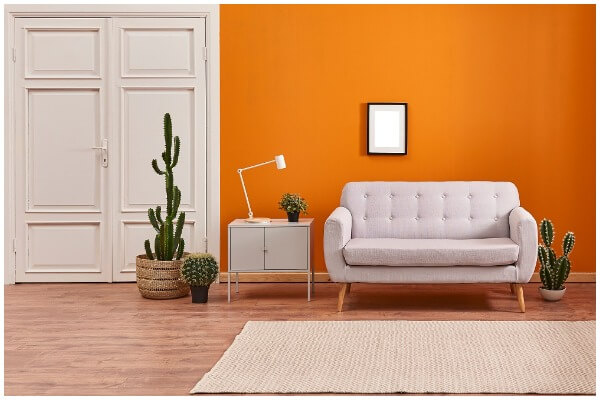 Before settling on interior wall paint, it's often advisable to buy testers in a few shades and paint a large enough area. This is even better when done on different walls and places to see whether it brings the best out of your walls. All these can be done on any wall, except for a white wall which in most cases will throw the colour off. 
This is just one of the primary preventive measures that will inform whether you're making the right choice. Luckily, most companies selling paint brands appreciate the need to test colours for your wall painting. While you'll incur an extra cost, it's worth spending on the testers to ascertain if that's the paint you need for your home.
Also Read: 6 Qualities to Look for When Hiring a Painter
Establish the Rooms Function before Picking any Colour
The rooms function is equally important when selecting a paint colour for the wall. For instance, the colours you'd want on a bedroom wall are different from what suits your office walls. So, before settling on any colour of choice, first, establish if it goes with the room's purpose and if it will inspire it.
Cool and bright colours are often recommended for bedrooms and living rooms. The colours are calm enough to help you relax.  The same applies to bathroom walls. For your office walls, you may want to go a bit extra by opting for shades of orange or pink. Depending on your motivation, find more inspiration from an expert interior painting contractor to help you decide on the right paint that'll elevate your living space.
Let the Room Size Guide You on the Colour Choice
For ages now, the size of the room has been a constant factor when deciding on the colours you want. Tiny spaces often go well with bright colours. The colours can also make long and narrow spaces feel much bigger and wider than they are. 
Warm colours, including brown or red, are seen as a great fit if you want your walls to feel closer. However, if your house appears large on the inside and you want to make it more compact and small, it's better to go for darker colours. 
This set of colours is perfect for creating an illusion of compactness and making the largest rooms appear small.  But first, study the space you want to work on to avoid mixing things up. Plan accordingly and select colours that'll appear less cramped and comfortable.
Also Read: Colorful Teenage Girls Room Decor
Find More Inspiration Online and in Artwork
Finding more inspiration on what others have done can greatly help decide the colours you want on your interior walls. Today's fast-paced world ensures that you have all the inspiration you want from a click of a button. Top retailers and interior decorators now have catalogs and online magazines that guide you on various home decorating tips.
They share many tips on how to use different colours in your home. All this information is targeted to enthusiast homeowners who are constantly looking for ways to elevate their homes. Pinterest ranks as the best place for all the inspiration and top decorating ideas if you want access to more ideas.
Another secret to great inspiration is the artwork in your home. Different kinds of art, such as the moss wall art, come with different inspirations on the types of colour schemes you want for your home interior painting. If you're keen on maintaining an even colour scheme, go for complementary colours from the same artwork.
Also Read: Top 3 Big Reasons to Hang Local Art in Your Home
If Uncertain, Stick with Neutrals

.
Sometimes you don't have to go bold or a little bit calm to add more attention to your wall. Being neutral will be enough if you don't want to implement many interior design ideas that may end up competing. While being bold is good, it can still mess things up, especially if you can figure out where to focus the attention.
If you settle on a bold scheme, ensure everything else in the room remains neutral. Going neutral, however, doesn't necessarily mean opting for the laid-back approach that doesn't fit with the modern housing ideas. It's all about rotating your neutral colour palette and getting creative with your use of the colours. 
For instance, if you want to add more colour and attention to your room without going extra, a neutral wall colour with a pastel ceiling will work perfectly. It blends in well without interfering with the space or any of the interior design vibes.
There are More Ideas Outside 
You don't have to concentrate on the standard interior painting colours alone to bring out the best from your wall painting. Stepping onto the wild and finding some inspiration from the outside can still do the magic you want. You can find more colour schemes from the vegetation green or the other exterior-inspired colour schemes.
These colours, preferably those meant to be restful and relaxing, make a great choice for interior wall paint. Just ensure you're open to as many colours as possible to get the most realistic view of possible choices.
Also Read: 4 Trendy Colours for 2020 Interior Bedroom Design
Bottom Line
Painting your home is a big task you shouldn't approach without proper planning. From selecting the colours to finding the right painting pattern, there's a lot to learn to avoid making common colour mistakes.