Colorful Teenage Girls Room Decor
Decorate teenage girl room is not easy task. We know this and that is why we are giving you ideas to make a fun job of decorating teenage girl room. Manage a right color theme and furniture. The best guide is wish and expectations of your teenage girl. You should consult her before deciding what is going to be your final product. So take a look at my list that might inspire you at some parts.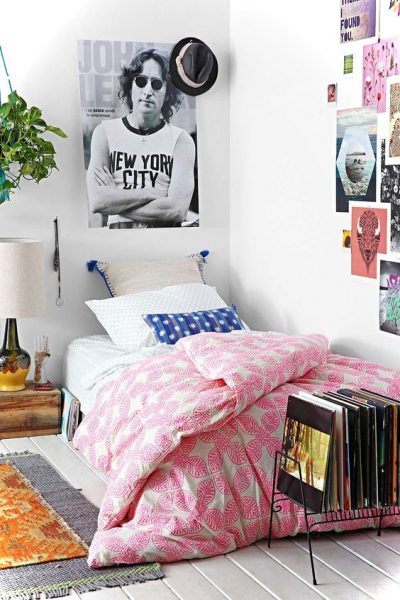 Simple and fresh scandinavian girls room decor. All white wall and flooring makes the plum and blow blanket looks more attractive. Fit for every small room.
---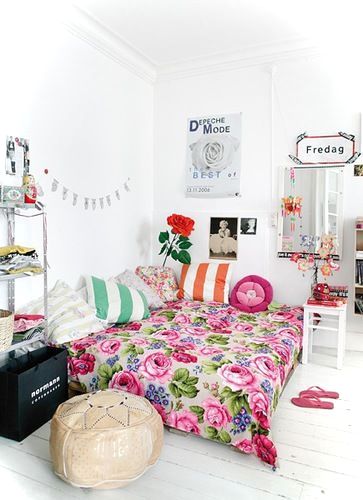 Actually has some concept with first image but comes with bigger bed, more girlish furniture and more bold bed covers.
---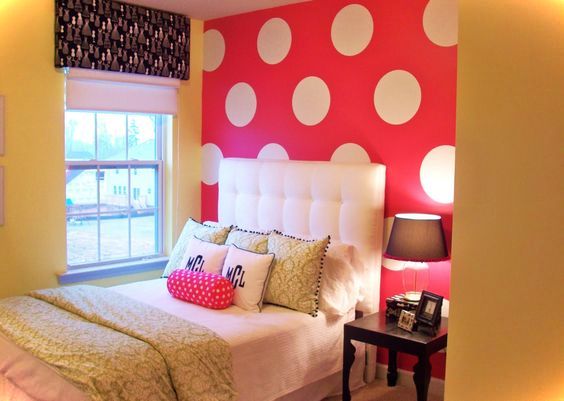 Cheap and cute teenage room decor. Although using simple furniture, With nice colors combination and pink-white wall pattern make this small girl bedroom visually attractive. PS: Personally, I don't like curtain colors and pattern.
---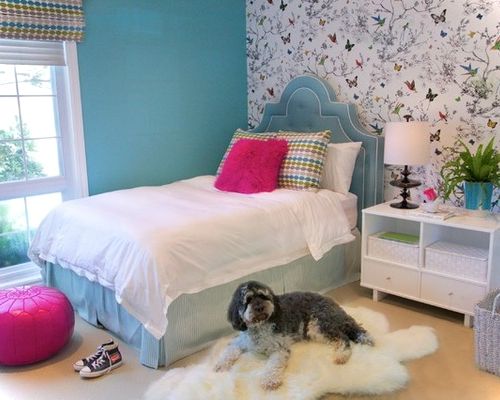 Birds and Butterflies wallpaper adds plenty of caprice and movement to this teen girl's room. The bedroom was a collaboration between the young lady and her mom. A chic tufted headboard with white piping takes the twin bed from girly to a faux sheepskin rug has a luxurious, touchable quality and sophisticated teen.
---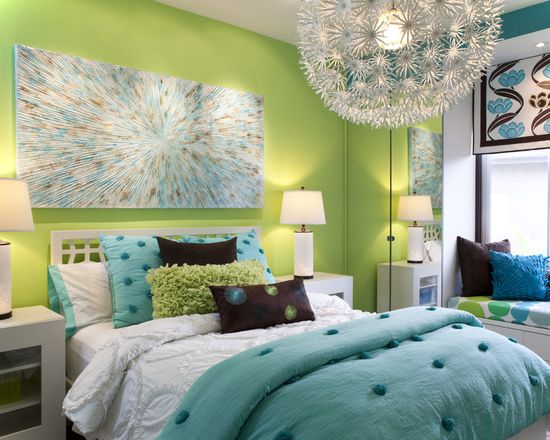 This girls bedroom design was create for a young girl in need a her own bedroom, comes with bright colors mixed wall, dotted pillow and blanket makes for a fun exhilarating first impression when walking into this room. The girls room decor took the box shaped room and added a much needed closet by using wardrobe system which flanked either side of the window. This provided the perfect spot to add a simple bench seat below the window creating a delightful window seat to curl up and enjoy a great book or text a friend.
---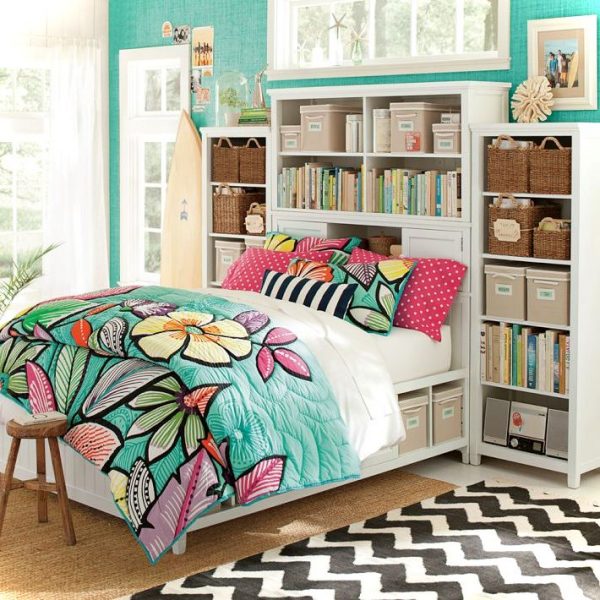 Attractive girls room decor. Rooms have plenty of space savings furniture such as understorage bed, behind the headboard and cupboard. Maximise every inch of rooms. The flowers-pattern and colorful on sheets creating refreshing looks.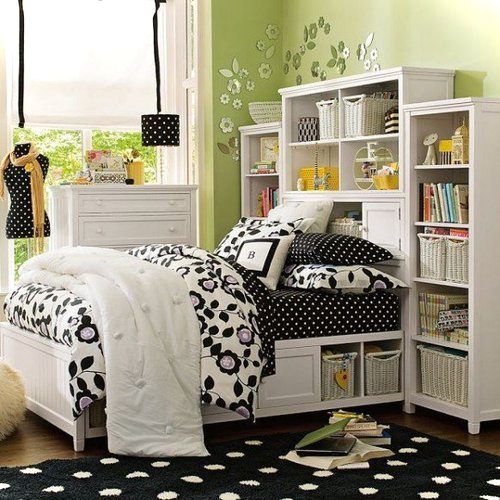 More adult style with black and white polkadot pattern theme.
---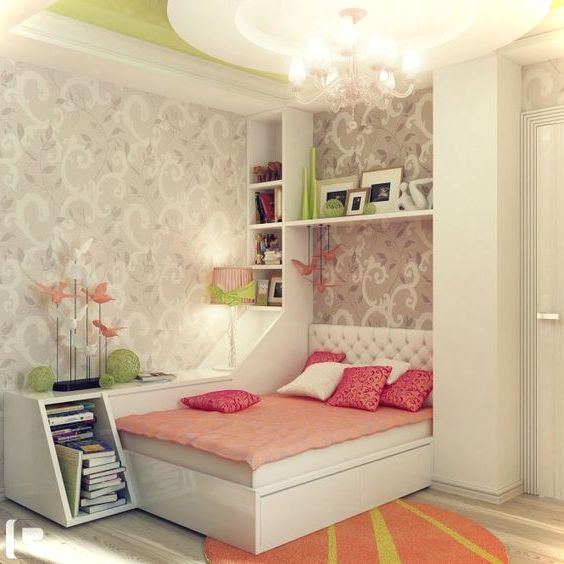 Luxury girls room atmosphere yet simple furnishing. Elegant look bed with tufted headboard, table lamps, trapezoidal bookshelf, beautiful wallpaper and amazing lamps. truly
---
Fashion, sewing and photography rule this tween girl's world. The teen is quite the creative but was on the shy side, so it was nice to have her mom there as the bridge of communication." says the designer. Source: houzz.com
---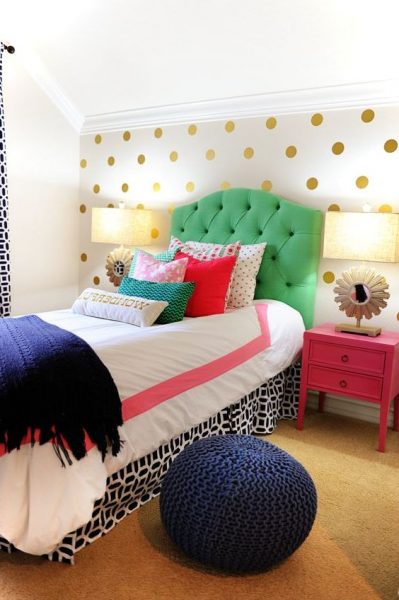 Attractive turquoise and purple teenage girls bedroom with golden table lamp and 3 inch gold polka dot wall transfers to the back wall. Green coloring tufted headboard also create noticable styles. Source: Here
---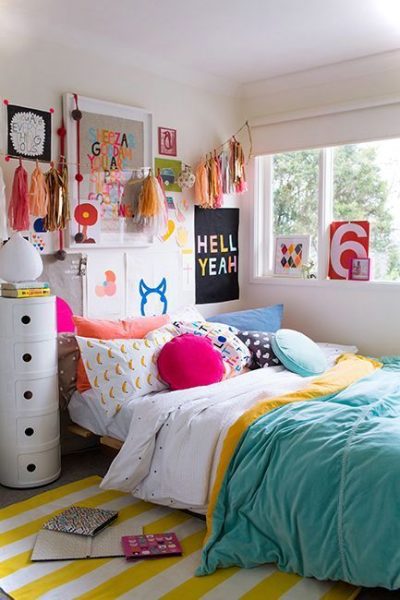 Nice colorful pillows and sheets. Stripped rug, rounded and high endtable creating more girlish environments. Personally love every bed that placed next to the windows.
---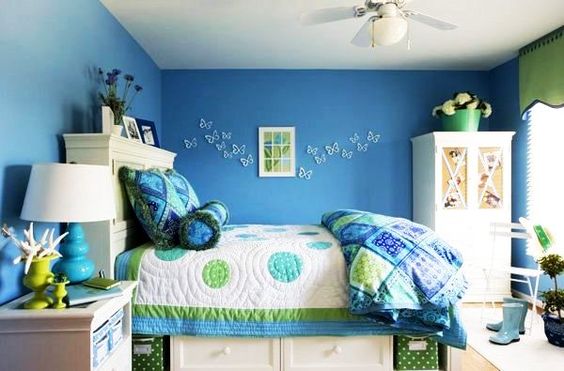 Another refreshing girls room decor. The all blue wall and mostly white furniture create eye candy collaboration into whole rooms. Under bed storage also provides more functional spaces.
---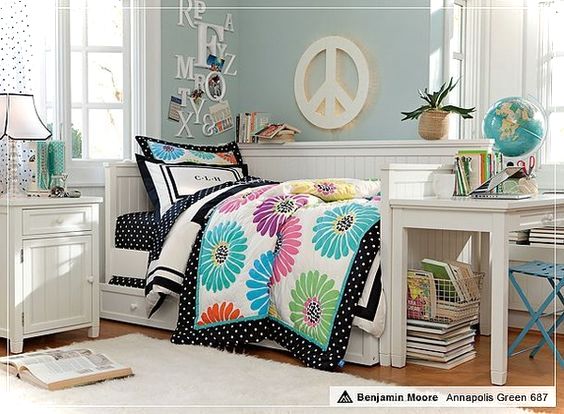 Nice wall painting and sheets. There also drawers under the bed and study desk right to the next. Wall decoration also makes this girls room more lively.
---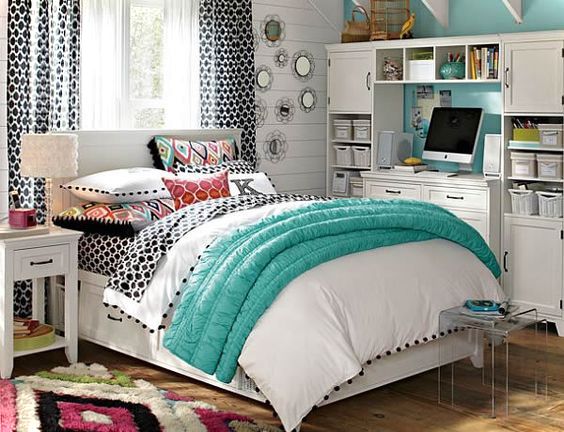 More serious yet attractive room design for teenage girl. All furniture comes with space saving vision.
---
Comes with horse and barn theme. The center bed placements also making more spacious and efficient with right furniture choice.
---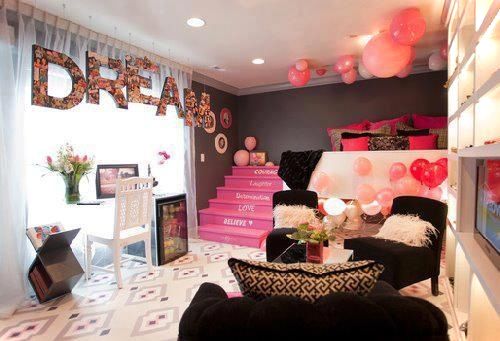 Pretty and luxury. All teenage girl dream rooms. No question!!
---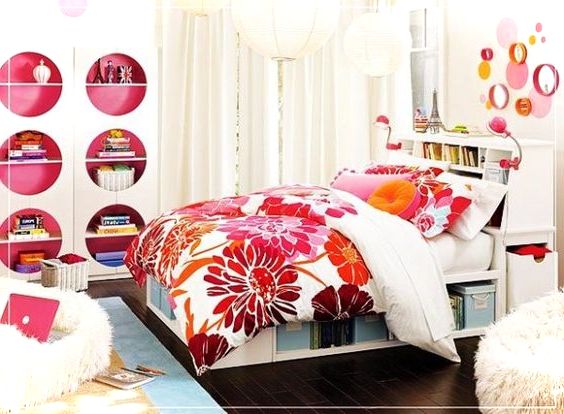 Smart bed with many storage and functional design. The round hole shelves with pink colors inside also make this room noticable and impressive. White fur bench also strengthen this teenage girls room character.
---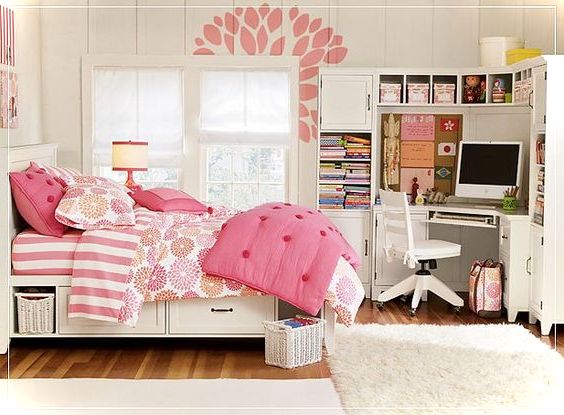 Like another design above. All comes with girlish coloring theme and pretty furniture which provides extra storage.
---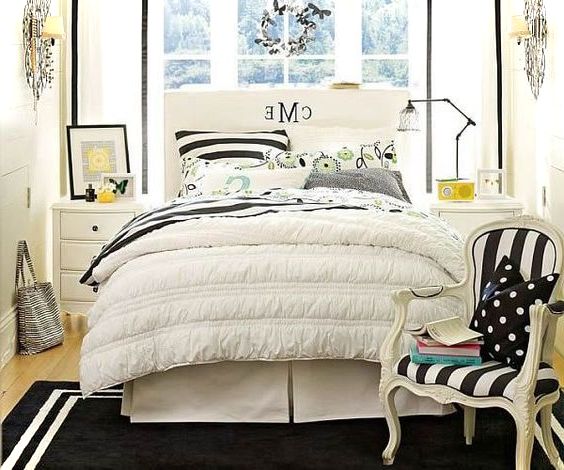 Elegant and more mature girls room decor. Mostly white wall and furniture create spaces visually bigger.
---
Have you find your favorite ?