Looking for a way to add some color to your daughter's room?
Our Teenage Girls Room Decor Ideas are perfect for adding personality and vibrancy to any bedroom. With 10+ different designs to choose from, you're sure to find the perfect one for your daughter.
We know that the teenage years can be tough, so we want to make her bedroom as fun and inviting as possible. With our vibrant designs, she'll be excited to come home every day and relax in her own space.
19 Colorful Teenage Girls Room Ideas
Scandinavian Teenage Girls Room Decor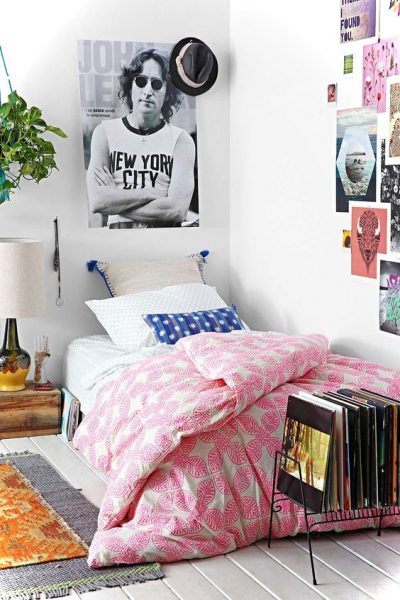 Teenage girls everywhere are sure to appreciate the simple yet fresh Scandinavian girl room decor. A blank white wall and floor provides contrast for the pop of color from the plum and blue blanket, giving it that extra level of attractiveness in any small room.
Stylish and trendy, this decor will always be a fit for any fashion forward teen's room. Whether going for an elegant look or a cozy one, this room decor is sure to provide both visual stimulation and comfort.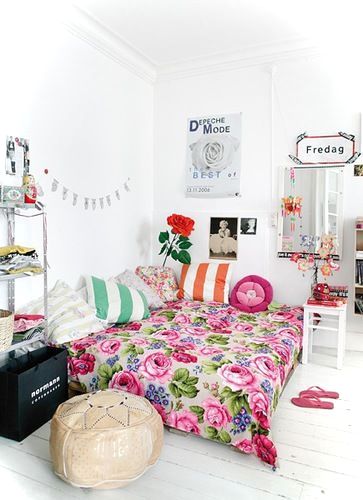 When it comes to redecorating your bedroom, it can sometimes seem like a daunting task. But with the right ideas and guidance, it might be easier than you think! One approach is to start with the basics and make tweaks based on what speaks to you.
While in this example we see a basic concept with its first image, quickly followed with a bigger bed, more girlish furniture and bold bed covers – all of which come together flawlessly that look attractive yet peaceful. It's important to remember that by thinking outside the box and taking risks can lead to something truly unique that you'll be proud of for years to come.
Cute Teenage Girls Room Decor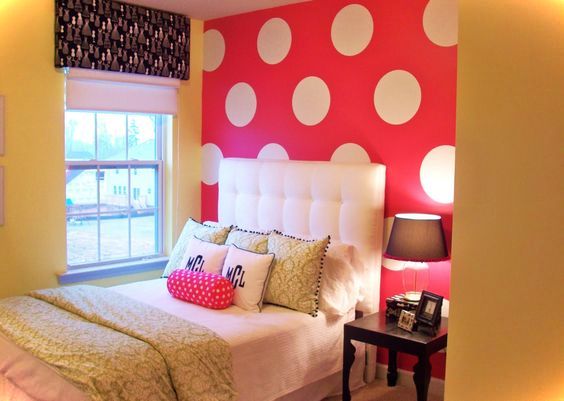 Teenage room decor doesn't have to be expensive in order to be cute! With some simple furniture and a few splashes of color, even the smallest teenage bedrooms can come alive with visual attractiveness. Color combination is key – why not try a pink-white wall pattern for maximum effect
Curtains are an integral part of any bedroom, but if you don't like the color or pattern, feel free to adjust it to suit your aesthetic. Teenage room decor is ready for fun and games, so pick what reflects your style, stay within budget and enjoy a new look in no time!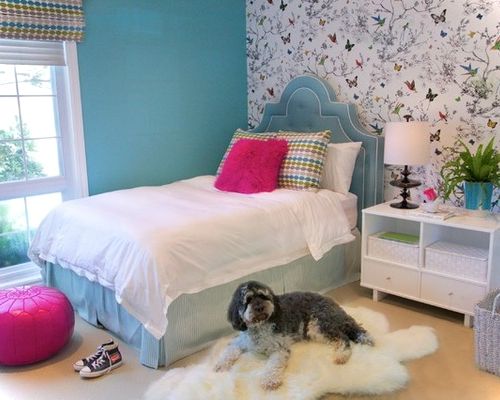 This teenage room decor is perfect for a young girl who loves adding a sense of whimsy and life to her space. Her mother collaborated with her on the design ideas, creating a charming look that is both stylish and inviting.
A tufted headboard with white piping brings poshness to the twin bed while the faux sheepskin rug beneath adds comfort and sophistication. The centerpiece of this joyful atmosphere, however, is the charming birds and butterflies wallpaper; its vibrant colors and playful patterns add a vitality to the room that will make any teen feel at home.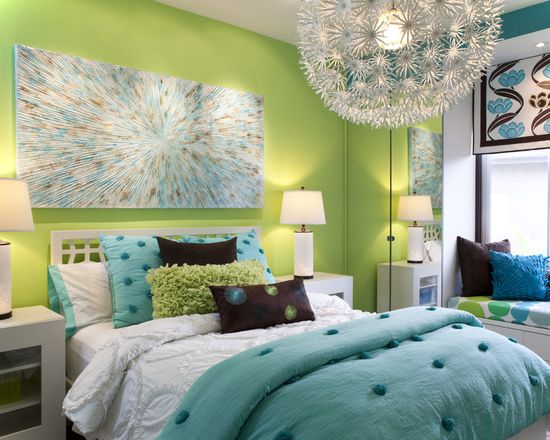 Teenage girls deserve a bedroom look that captures their personality, and this room was designed with that in mind. Every detail here – from the vibrant green and dangling dot pattern pillows to the surprisingly spacious wardrobe-wrapped window seat – complements the rebellious spirit of preteens and teenagers.
As much as teens love comfort, they also need plenty of closet space: luckily, this versatile design meets both those needs all while creating an inviting, unique atmosphere. Teenagers will have fun exploring all their new personal touches and finding ways to customize this feature-packed space.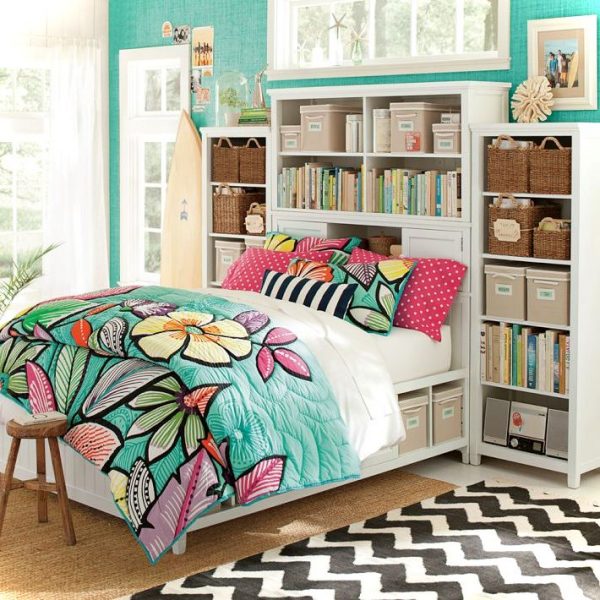 A girl's bedroom should be a fun and inviting place where she loves to spend time, so it is definitely worth the effort to send some time creating the perfect space for her. When it comes to decorating a young girl's bedroom, there are lots of ways to make it attractive and practical at the same time.
Space savings furniture such as understorage beds, headboards with cupboard space and sofas with integrated storage are all great ideas for maximising every inch of room available. The finishing touches really can make an impact too – colourful sheets with fresh flower-patterns will bring any room alive, while wallpapers featuring her favourite characters will increase the overall fun factor.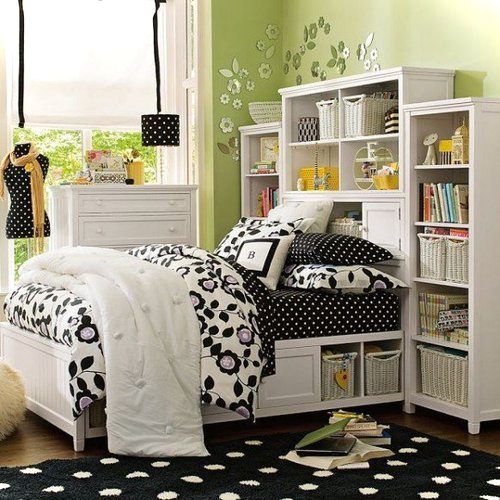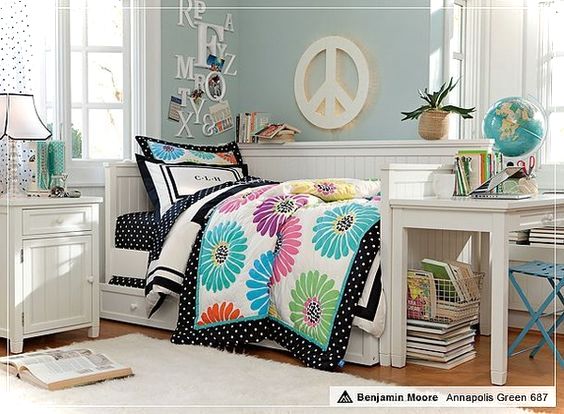 Black and white are a timeless staple when it comes to interior decor, and bringing in modern touches can create an attractive girls room decor that incorporates an adult style. For example, covering a single wall with a large polka dot pattern in black and white coordinates the rest of the furniture pieces in a visually pleasing way.
Other special touches might include some contemporary accent pieces like scatter cushions, metallic lamps or modern artwork to complete the look. Combining old elements into new trends can be quite captivating and give any space some edge and character to satisfy even the most stylish of adults.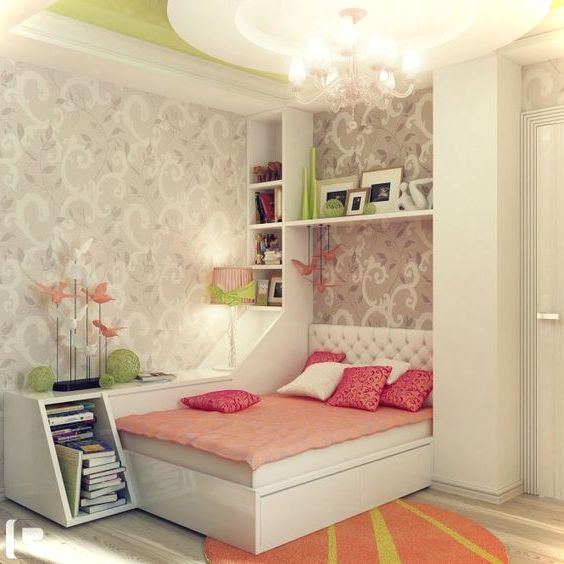 Creating the luxury atmosphere a young girl desires while maintaining a simple yet elegant look in her room can be achieved with the right combination of pieces. A tufted headboard paired with beautiful table lamps is a great way to begin designing the chic decor, followed by a trapezoidal bookshelf for added storage.
To complete the luxury feel, stunning wallpaper and amazing lamps will create an unforgettable atmosphere that she'll never tire of. Truly, luxury girls rooms are achievable when carefully planned out with thoughtful pieces and details.
This tween girl's room is a perfect reflection of her creative spirit. With fashion, sewing, and photography as her focus, the designer was able to create a space that she could call her own.
As a shy teen who didn't always express her thoughts readily, her mother played an integral role in communication between herself and the designer. Through this interaction, they were able to craft a girls room that truly spoke to this young girls interests and opened up spaces for self expression.
Also Read: 37 Square-meters Apartment With Moving Wall Design
Simple Teenage Girls Room Decor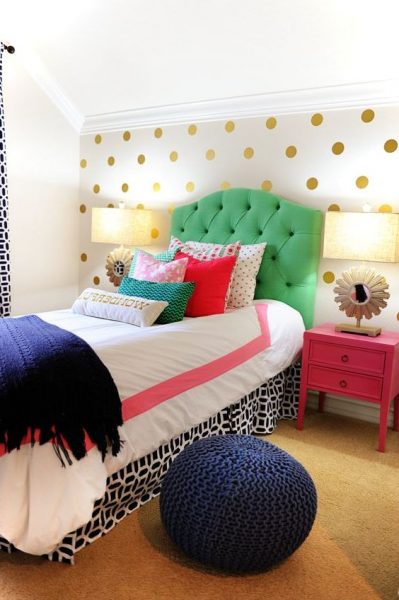 This girls room is a beautiful combination of turquoise, purple, and gold! From the eye-catching 3 inch gold polka dot wall transfers to the back wall, to the delicate golden table lamp, this room is shimmering with sophistication.
It's finished off with a unique green coloring tufted headboard that creates a stylish flair in the girls room. This room is the perfect balance between fun and elegance – sure to delight any birthday girl!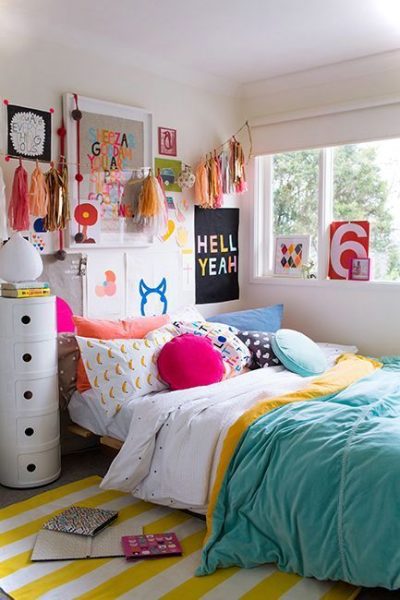 A girls' room is a special place, where girls can go to relax and endulge their creative sides. The use of colorful pillows, sheets, and a stripped rug can create an atmosphere that girls will love.
To add to the girlish environment, incorporating a rounded high end table can pull together the decor and bring the whole look together. Personally, I love every bed that is placed next to windows, since they frame the bed so nicely with natural light. Such spaces are inviting and cozy to girls who need their own sanctuary.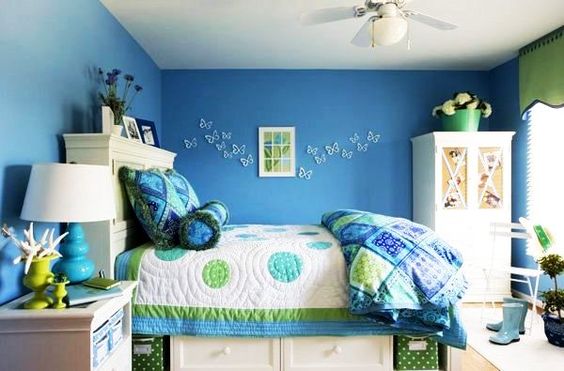 A girls room is a place for her to explore her creative side and express herself. With an all blue wall and mostly white furniture, you can create a visually stimulating girls room decor that keeps things refreshingly unique.
Even better, with under bed storage, there's additional hidden functional space, making it both aesthetically pleasing and practical. It's the perfect girls room that adds even more personality and beauty to the home!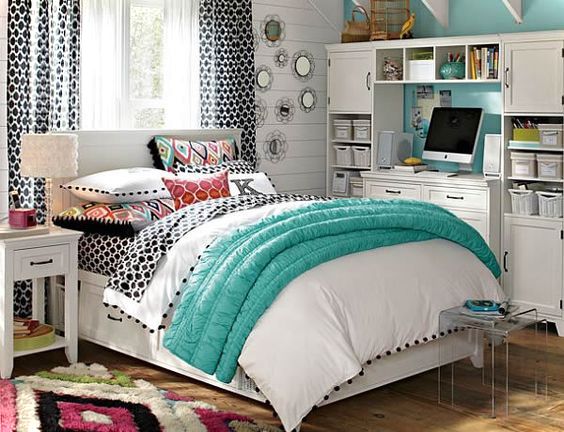 While girls rarely have the same level of space that boys have, girls need a place to express their individual style and accomplishments. To cater to girls who want more sophistication in their décor but are stuck with limited space, girls' room design needs to be adapted towards a more serious yet attractive look.
Furniture specifically designed for girls' rooms should come with a space saving vision – think light colors, sliding walls and multipurpose furniture like beds that can turn into couches or small desks that can store away school supplies. This type of design will provide girls' with the freedom they need while still staying within our limited spaces.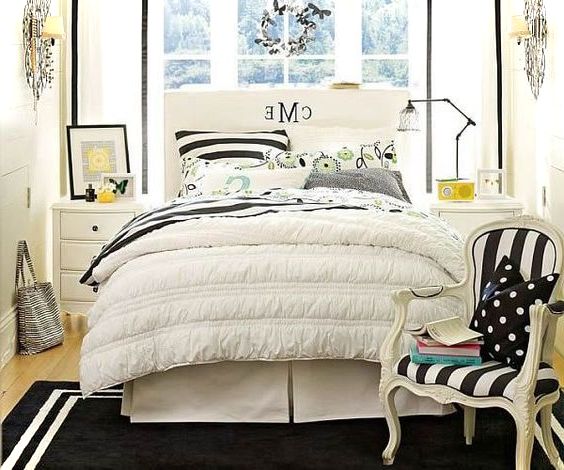 Creating an elegant girls room is easy when you stick to a simple white and beige color palette. White walls and furniture help to make spaces look bigger, creating an open and airy atmosphere that can easily be dressed up with hints of feminine charm.
Add some sparkle with metallic accents such as lamps, frames, or artwork on the walls, or bring in freshness with pastel colors, like soft yellows, pinks, and blues! You can add textiles like comforters and rugs to create a cozy respite that appeals to her more mature taste. The right girls room decor conveys a timeless yet modern feel that's sure to grow with her as she matures.
Creative Teenage Girls Room Decor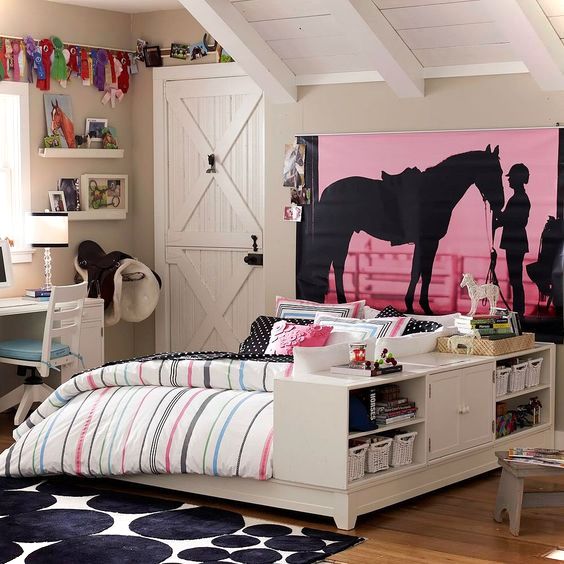 If you're looking for girls room furniture that adds sophistication, character and function, look no further than a horse and barn theme! Not only does this look great and add a touch of flair to any girls room, but the center bed placements are incredibly spacious and efficient.
With the right decision on furniture, girls can can sleep comfortably in their own little sanctuary with plenty of space available around them. From the bedding to the walls, girls will find the perfect setting with a delightful horse and barn theme that is sure to impress!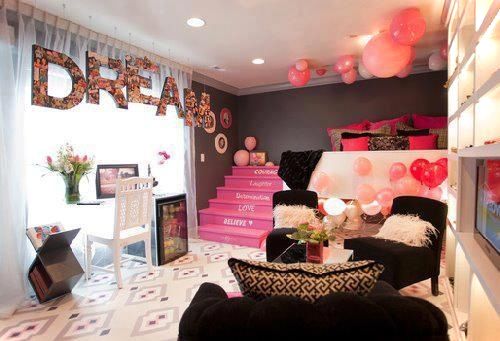 Every teenage girl dreams of having a bedroom that is both fashionable and luxuriously comfortable, and that dream is particularly made possible with an elevated bed and pink stairs.
This combination is ideal for girls rooms, as the elevation offers an added level of comfort for afternoon naps or just lounging around, while the splash of pink creates a truly eye-catching wow factor.
The pink stairs act as not only practical steps to climb onto the bed but also add a touch of sophistication; girls can show off what great designers they are by turning a functional item into an aesthetically pleasing piece.
Not to mention it's a fun way to make sure pets remain downstairs! With this combination of pretty and luxury, any girls room will be transformed into the envy of every jealous friend.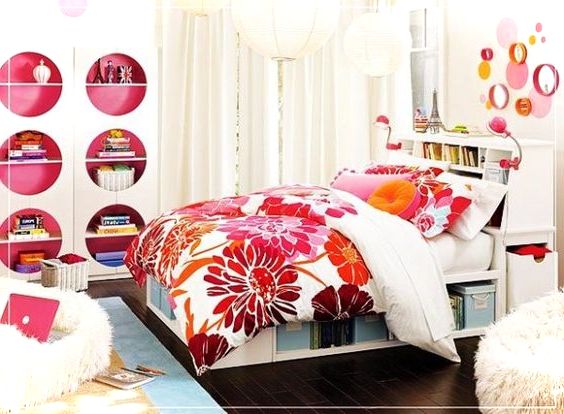 This girls room has it all – fashionable and functional design, storage space for all her belongings, and plenty of personality. The round hole shelves with pink colors inside really stand out and add a bright pop of color to the usually quite muted girls rooms.
The white fur bench is also an unexpected touch and adds depth to the overall look and feel of the room. With its smart bed design, this girls room is both cozy and practical; an ideal place for the trendsetting teen to call home.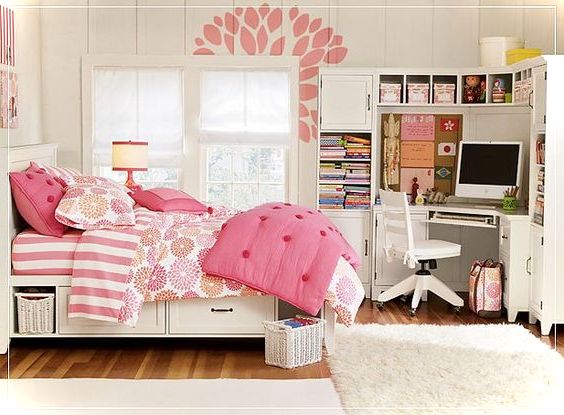 A girls room can be a place of beauty and reflection; personalizing the space with girlish colors and furnishings can amplify this. Whether it's a subtle pink accent wall or matching bed dressed in stylish bedding, a girls room palette empowers girls to express their inner creativity.
Furthermore, the furniture deserved special attention too; providing extra storage allows girls to conveniently manage the clutters that are inevitable when enjoying a vibrant lifestyle.
Final Words
Decorating a teenage girl's bedroom in 2023 can be an incredibly fun experience. While trends come and go, ensuring that your daughter is comfortable in her own space should be the overall goal.
Before making any decisions on furnishings or color palettes, make sure to consult your daughter and get her feedback on what she would like to see in her room. Additionally, take listing alerts for Collierville homes so you're both aware of upcoming items that may suit the room perfectly.
By taking this approach, you can create a cheerful, inviting atmosphere that won't become dated quickly and will provide a space where she can express her creative side.
Source Teen Girl Bedroom: houzz.com