Laundry Room Decor Ideas For Small Spaces
A laundry room may be hard working and most unorganized room in house. But doesn't have to be that dull and void style where you only go to throw your dirty clothes. Washing room needs to be comfortable and cozy even at limited spaces and at the same time must have highly functional design. So if you're looking for design ideas to decorate the perfect laundry room these eye-catching,multifunctional and efficient small laundry room decor ideas below should be of great help.
Modern Laundry Room Design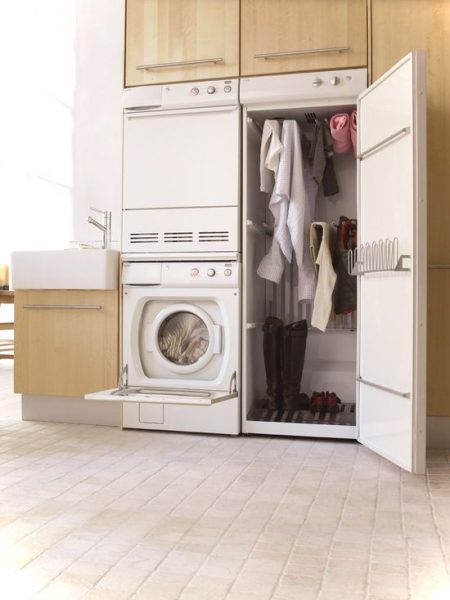 Modern washing room with stacked up washing machine and drying cabinet from ASKO.Drying cabinet will also significantly reduce crumple. Just hang shirts on the adjustable pull out racks and ironing becomes a mere formality.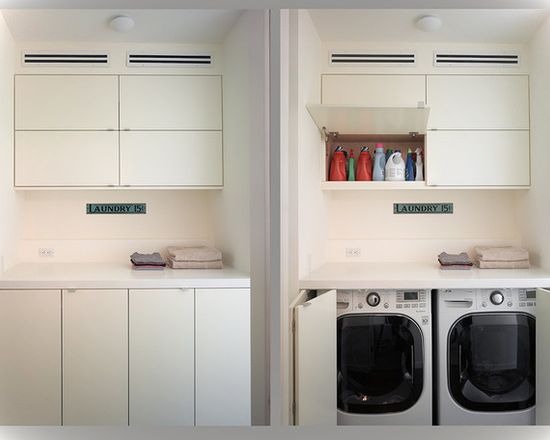 Clean looks with four symetric wall cabinet for better laundry room organization. Wash and dry machine also quitely hidden under the counter with folding doors.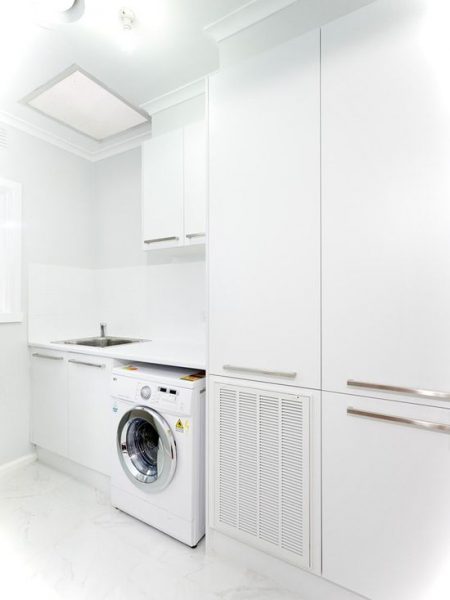 European laundry with modern looks. White make room clean and visually bigger.
Design ideas for a modern single-wall dedicated laundry room with a drop-in sink, white cabinets and flat-panel cabinets. source: Here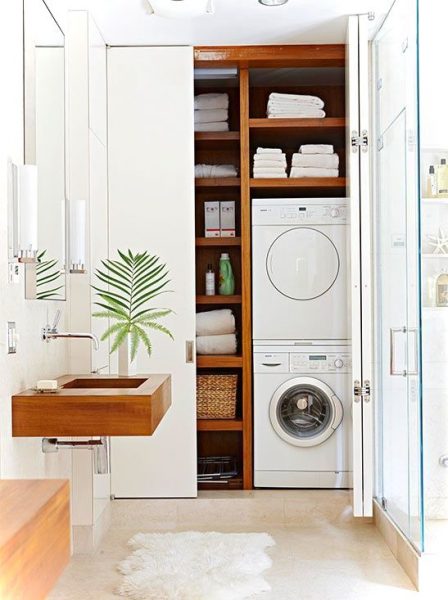 Beautiful in closets washer and dryer. Natural wood shelves inside make this small laundry room more attractive and perfectly blend with sink. The full-height laundry room shelving also provides extra storage. Too Efficient!!
---
Traditional Laundry Room Ideas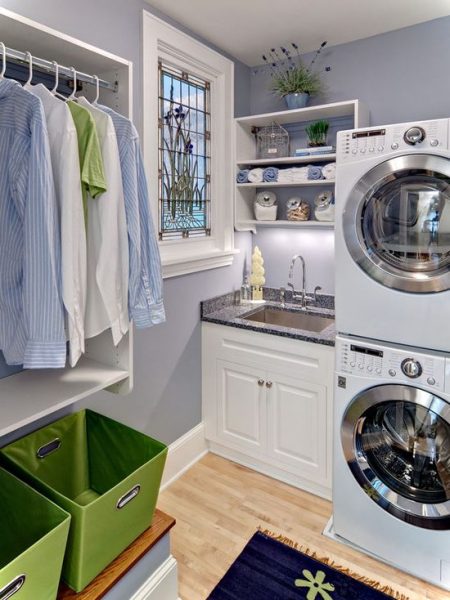 Clean and fresh laundy room looks with stacked washing machine and hanging rod, saves spaces by huge margin. Wall colors blend well with all-white furniture.
---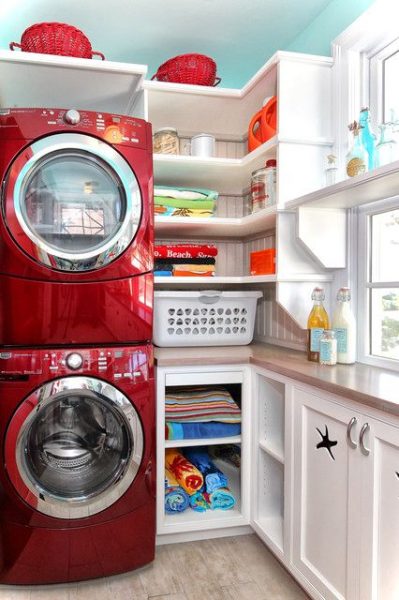 Red and white coloring theme. Counter and wall shelves provides more spaces into this laundry rooms.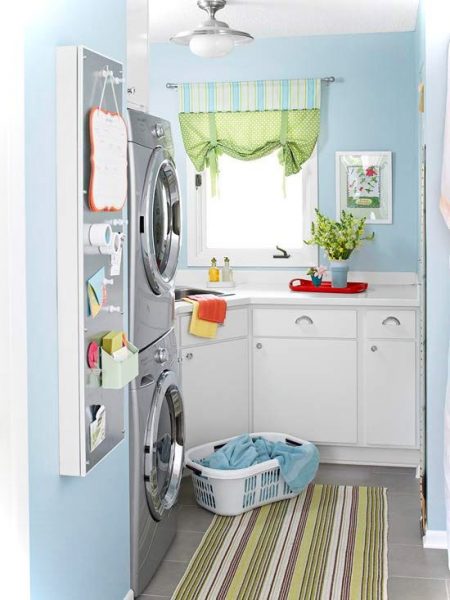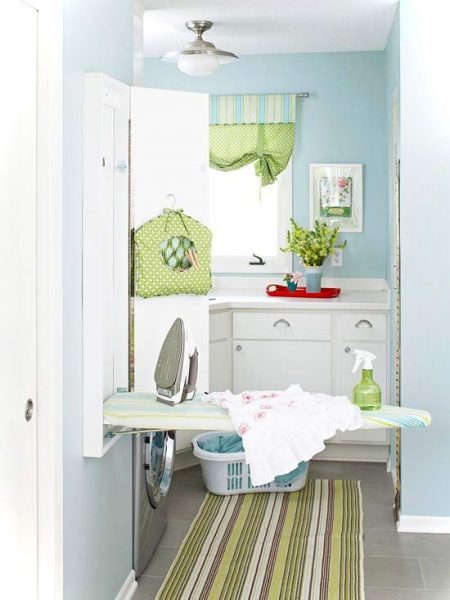 Compact and beautiful laundry room decor. Stacked wash and drayer, L-shape counter and magnetic board that hide pull-down ironing boards maximise every inch of this laundry room functional. Next to windows placements also provides natural light and better air flows.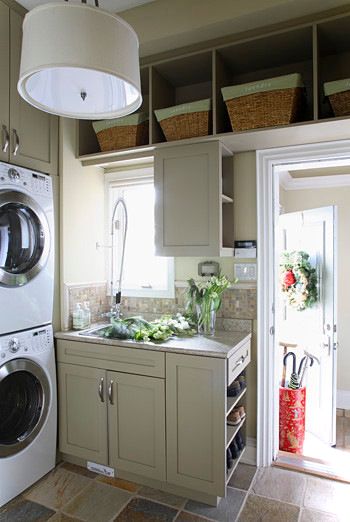 Traditional look with plenty if laundry room storage solutions for limited spaces. Look at the shelves over the stacked wash and above sink.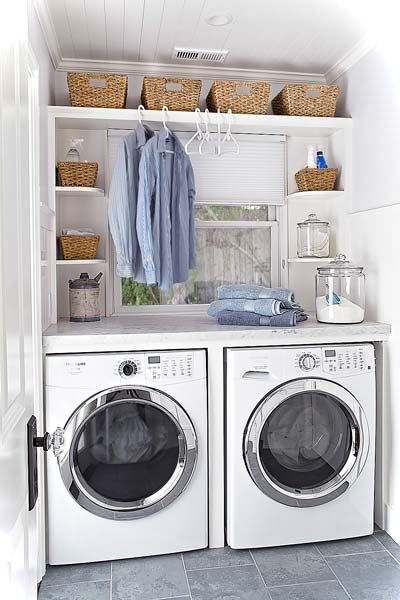 Most compact and simple decoration of all the list. Have laundry room hanging rod for better clothes organizing.
---
Farmhouse Laundry Room Ideas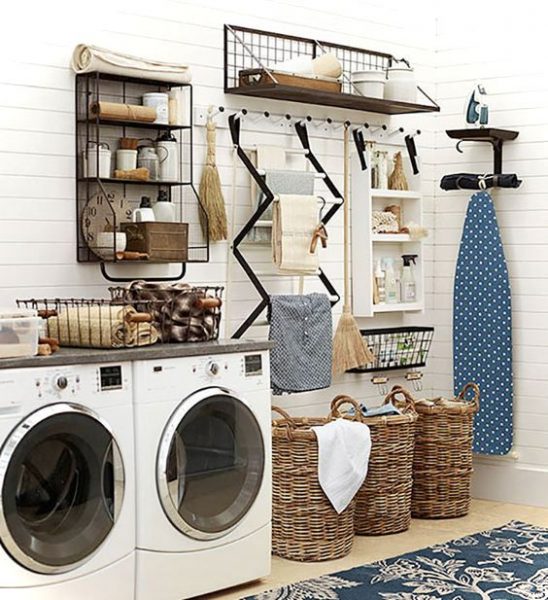 From Pottery Barn. They has lots of lovely looking organizing tools. The peg system means you can take things down and move them around with ease. The vertical drying rack is tops for those of us whose laundry room is literally a closet, and the shelving unit holds all those laundry room potions and tools.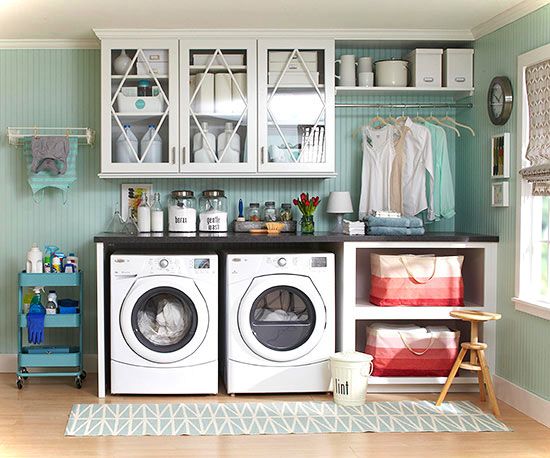 Beautiful washing room design with counter over washer and dryer. The vertical green wall makes this rooms more adorable and noticable. This 10×11-foot space smooths out wrinkles with a smart and toughtful laundry room storage for better organization.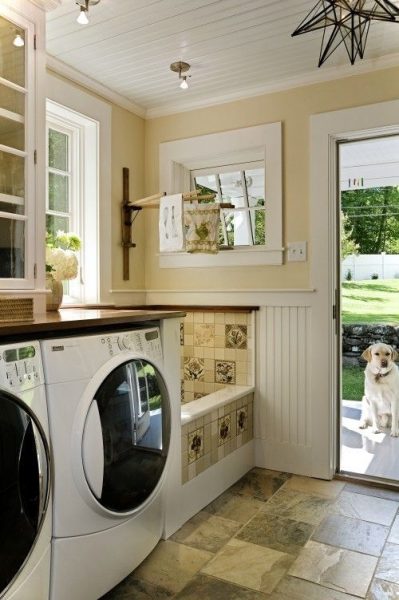 Another farmhouse laundry with simple and small bathtub to bathing your dogs or to soak the dirty clothes.
---