A recent survey indicates that up to 59% of Americans who embraced home improvements during 2020 will continue the trend throughout 2021. Are you among this group of energetic homeowners looking for ways to improve their interiors?
If so, designing a welcoming, tranquil, and elegant bedroom may lie close to the top of your list. 
Here's your guide to creating the ultimate modern luxury bedroom.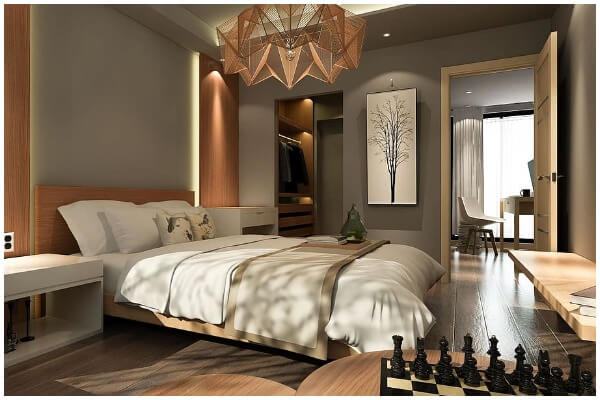 Getting Started
The best modern luxury master bedroom designs begin with planning your layout. Consider the placement of each element to create a comfortable flow and spacious atmosphere.
Make the most of natural light to bring your interiors to life by day, but remember appropriate window dressings to keep out exterior light sources and noise at night.
If you've got the budget, you can even start from scratch with new luxury bedroom furniture. Some top picks nowadays include statement beds, concealed storage, and some form of seating, like a divan. 
Headboards are a big thing nowadays and an important focal point in any bedroom. Choose unusual patterns and fabrics like velvet or leather for maximum impact. You can buy a headboard, or get creative and make your own. 
Modern Luxury Bedroom Colors
Rich, warm, natural tones are trending for bedrooms right now, with a few touches of gilt for emphasis. These shades create a comforting, restful aura and work well with most other colors.
Muted shades of blue, gray, brown, and green are your best bet for creating a restful, low-stress restful environment. 
Also Read: Bedroom Transformation: Create Extra Cozy Room Within Your Budget
Flooring For Your Bedroom
Every luxury master bedroom interior should have luxurious flooring that's comfortable underfoot. Luxury vinyl planks are great, but carpet is best.
If you want a little of both, a rug from upmarket suppliers like Karastan, Samad Rugs, or Bloomingdales does the trick. Place the rug so it extends from under the bed and ensures you arise to a soft, warm surface every day.
Also Read: Are Entrance Matting Carpet Important?
Lighting Up the Night
One of the easiest modern bedroom ideas you can implement is changing up your lighting. Go for dramatic, eye-catching lighting fixtures.
Pendants are a great way to add drama to a room, and glamorous bedside lamps are essential for every well-dressed bedroom. Remember, LED light bulbs save a ton of electricity and last longer.
Avoid bright lighting in your bedroom.
Plush Comfort for Restful Slumber
Bedding is one of the most important aspects of any bedroom, and it all starts with a good-quality mattress. After that, focus on relaxed style and comfort.
Organic materials, linen, and chunky wool throws are the top trends in bedding for 2021. These fabrics help emphasize a cozy, relaxed feel in any room.
It's vital to invest in the best quality bedding you can afford, it will help you sleep better, and it will last longer than lower-grade items.  
Perfect Interiors Begin With Planning
Thanks to these simple luxury bedroom ideas, anyone can create a plush haven of relaxation for themselves. The best part is that you can complete the transformation in stages as your budget allows. 
Enjoy your modern luxury bedroom and browse our website for ideas on how to upgrade your other living spaces.