You're here because you've probably decided on the window treatment for your small apartment, which is window blinds. You've made a good decision. 
Now, choosing window blinds won't be easy, nor will it be so challenging. By the time you're done reading this, you'll have gathered enough efficient knowledge to know how to proceed. With no further ado, you can jump right to it.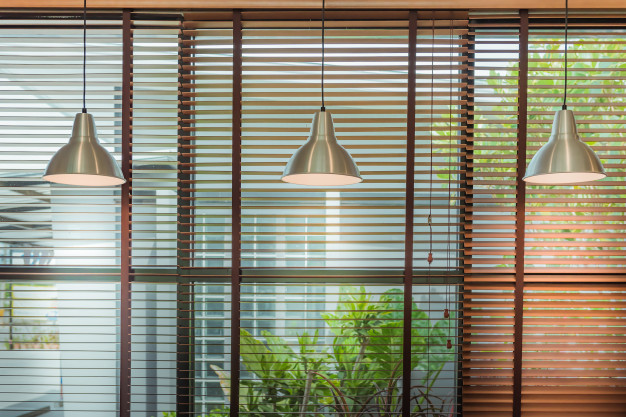 Determine The Blind's Purpose
What do you want window blinds for? Do you want to use them for privacy or fade prevention? Or are they a part of your home's decor? These are just a few questions you need to ask yourself before selecting your ideal window shades. With the correct answers, selecting will be more straightforward. 
Here's a breakdown of different window blinds' purposes:
Privacy is essential. You don't want passers-by to see everything happening in your home. Fortunately, you can use window blinds to enhance your home's privacy. Consider going for cellular blinds in such a case since they're ideal for controlling the environment.
If your small apartment face south, high chances are that it'll be filled with natural light. While this fact can reduce your power costs, it'll make watching television a challenge. Ultraviolet (UV) rays can also interfere with your furniture and flooring integrity. 
With that in mind, settle for window blinds that can prevent too much light or UV rays from directly accessing your home.
Perhaps you're looking forward to incorporating window blinds as your home's accessory. If that's the case, there are window blinds to make that happen. As already stated, blinds come in different styles and colors. 
Therefore, finding ones that can make your space look one of a kind is almost similar to a walk in the park.
Consider The Style And Pattern
When shopping for window blinds for your small apartment, you'll come across different styles, patterns, and colors. With that in mind, choosing window blinds that correspond to your home's decor and color would be helpful. For example, if your home has a bright theme, you might consider darker binds to tone it down. If the theme is darker, incorporate bright blinds for the same effect.
Look Into The Window Size And Shape
The first thing to consider when choosing window blinds is the windows' size and shape. Most windows are circular, etched, rectangular, or bay. It's important to mention that bay-shaped windows are made by merging three rectangular windows and are mostly tricky to dress.
Besides your window's shape, consider how they open to determine the practical blinds. Here's a list of the most common windows and how they open:
Awning windows: These windows are hinged at the top and open outwards from the bottom.
Sliding windows: As with the name, sliding windows slide to open. They're primarily used for entrance doors.
Casement windows: Casement windows are connected to the window frame at the side, hence the opening like a typical door.
Double and single-hung windows: These are the most traditional windows. They open by sliding upward from the bottom.
Once you've considered your window's size, shape, and how they open, you can move ahead to choose your perfect blinds that won't interfere with how your windows functions. Your windows' size will help you to choose the blinds that can fit perfectly as well.
Pick The Material That Suits Your Needs
Besides window blinds coming in different styles and types, they have different materials too. Henceforth, you aren't limited to a single material option.
Since there are many window blinds, you can choose different materials to match each room's design. For example, if your interior is wooden, choose faux wood blinds to compliment the look. Besides faux wood, other window blind materials include aluminum, natural wood, plastic, and bamboo.
Do Keep In Mind The Different Cleaning Methods
Dusting or light vacuuming your window blinds is one way to prolong their lifespan and integrity. Yet before purchasing the blinds, you should first understand and be sure you can clean them without challenges.
When it comes to window blinds, dust or carefully vacuum them daily to prevent tough stains from forming. Regarding deep cleaning, especially for vinyl blinds, get them off the windows and clean them with a mixture of water and mild household detergent. Avoid using bleach or strong chemicals or else you'll damage the blinds.
Conclusion
Choosing window blinds for a small apartment isn't challenging. You only need to understand a thing or two about your windows and the treatment. For example, considering your widows' size and how they open will help you choose the right window blind size that won't interfere with the window opening. 
It'd help if you familiarize yourself with different blinds to choose better too. Considering that, it's advisable to do a thorough window shopping before purchasing the blinds to understand your options.