A house fire is a traumatic event that takes time to heal. Both you and your damaged property need a healing and restoration process to get past the upsetting experience. Fire cleanups are stressful, but you have a fresh start towards restoration once the process is complete.  
However, property restoration, especially in places like garages, isn't easy and takes meticulous planning to prevent the current fire disaster. If you are adamant about taking up the overwhelming task of restoring the garage yourself, we can help you make the process easier. 
Following are a few helpful tips on how you can restore your garage after fire damage.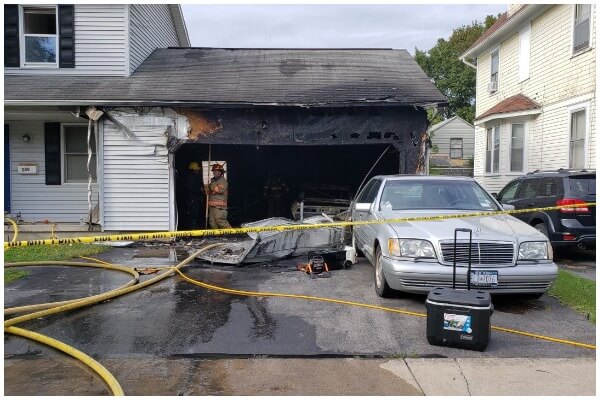 Dealing with the aftermath of fire:
The first thing you need to do is to step back and take a deep breath. Understand that you have been through a scary experience and came out of it unharmed. As for your garage and other damaged parts, you can repair them once you compose yourself. Remember, you don't have to deal with everything alone. 
Secondly, you must understand what has already happened can't be changed. But, what you do next will decide the outcome of the entire situation. Once you have accepted the problem, the restoration and clearing process comes next. 
To get that started, you must find reliable fire damage help and restoration services to understand the extent of the damage and the repair cost.  
You can depend on these professionals to help you understand the cause of the fire, how you can avoid it in the future, and what you can do at the moment to restore your property with caution. 
So, has your garage sustained the most damage during the fire? If yes, then don't worry because you can quickly restore it to its previous glory with the right tools and techniques. 
Also Read: 4 Garage Door Maintenance Tips to Avoid Future Repairs
Assessing the damage: 
The essential thing to do after regaining control of the situation is to assess and evaluate the damage. You first need to look out for signs of structural damage and ensure that the property is safe to enter. Your priority is to stay safe while ensuring that you minimize the damage in your garage. 
You need to understand the type of damage to avoid unnecessary repair bills or complete demolition. You'll be asking yourself; has the fire penetrated the core structural elements of your garage? Is the area salvageable? Do you need to replace the door? How much was the electrical circuitry damaged, and what items are retrievable? 
Start documenting every damage detail and make a list of things that require immediate attention. You need to prevent additional damage by isolating unsafe areas and especially the risk of water damage. 
Cleaning and drying the affected contents: 
The next step after the evaluation is to clean and clear the affected area. Typically, the hose water used to put out the fire may have drenched everything in your garage. Moreover, if the fire department used chemical extinguishers, you'll need a thorough cleaning to eliminate the toxic residues and the harmful odor. 
So, start by getting rid of all the excess water and dry wet surfaces. Since the water can soak into the walls and flooring, you should use commercial dehumidifiers and air movers to dry out the place properly. 
Apart from the walls and floor, any furniture, rugs, or insulation should be removed or dried along with the walls. However, before drying, you should rinse the surface of the walls and floors with warm water and then dry afterward. Do not repaint the walls until fully dry to avoid the growth of mildew and mold. 
Remove soot:  
The most overwhelming task of restoration after fire damage is to get rid of the smoke and soot. First, you have to remove soot from the entire garage and its contents after eliminating water and chemicals. 
Soot can cause severe damage to your property if not removed in a timely and effective manner. It is not only a hindrance in your restoration process but is also a danger to your health, so better call the professionals to remove soot from your garage. 
It would be best to be thorough because soot can stay on almost anything in your garage and house through the HVAC system. If you can't, first protect yourself from soot exposure by wearing safety equipment and using techniques such as thermal fogging and air scrubbing to get rid of soot. 
Moreover, ensure that you wash all items, utensils, furniture, and exposed clothing in your garage. 
Also Read: 7 Steps to Follow Immediately After a Residential Fire
Getting rid of smoke residue and odor:  
Another house fire hassle that remains after soot is the smoke residue and odor. It is as much of a difficult task as removing soot because before the smoke permanently settles in the air in your house, you have to get rid of it as soon as possible. 
You can most probably use an air mover or air scrubber to improve the quality of air. It is recommended that you use a shop vac installed with a HEPA filter to extract debris and residue. 
While most of the residue will be cleaned during soot and smoke removal, the associated odor will linger long after the cleanup. Therefore, remove all charred furniture, items, cabinets, etc., and use solid deodorizing agents such as hydroxyl to remove the odor for good. 
Also Read: The Roof Is on Fire! 5 Main Things That Cause Roof Damage
Install fire-resistant features: 
Once you get rid of all the smoke, residue, and odor and give your garage a nice cleanup, one crucial thing to do during restoration is to install various fire-resistant features. For instance, you can use fire-resistant materials for your garage interior and door. 
You can use various fire-rated wood or steel doors instead of regular ones to avoid future fire damage. Other fire-retardant materials that you can use to restore your garage include concrete, glass, perlite boards, treated lumber plywood, brick, and more. 
You should also install fire and smoke detectors in the garage along with water sprinklers for added safety. It's also best to keep a fire extinguisher in your garage in case of an accident. 
Also Read: Does Fire Rated Insulation Stop a Fire?
Conclusion:
It's almost impossible to predict accidents as traumatizing as a house fire. However, what you can do is take a deep breath and think about restoring what you've lost even if your garage sustained heavy fire damage. Our garage restoration tips will help you get through the process to ensure maximum safety in the future. 
Ensure that you clean up all the soot, water, smoke residue, and odor from your garage before making it functional again. Constantly assess the integrity of the affected area before starting restoration.