The stunning property is a duplex home. Many people dream of owning a duplex, but only a select few are fortunate enough to do so. A duplex home in Sydney is a good option for those who are building their first home.
However, since they are new to the process of finding a home builder, they are more likely to come across experts who are not entirely trustworthy. New South Homes AU experts seek out opportunities to work with first-time landowners because they often lack a clear understanding of what it takes to establish a good duplex home.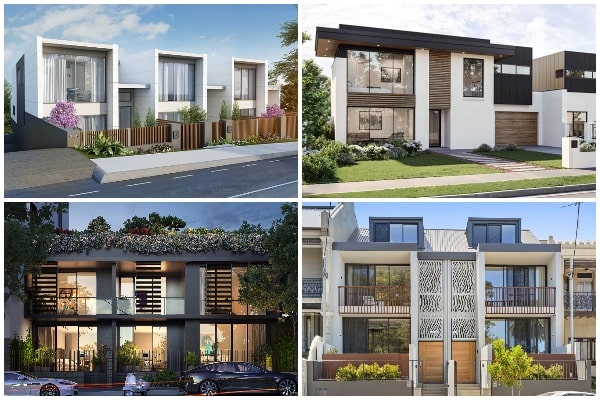 Duplex homes are one of the finest types of homes available. They have numerous advantages, including:
Renting:-

You can rent the top or bottom home and charge rent if you're not having a big family. In other words, you'll be renting and living in the same place.

High resale value:-

Duplex homes have a greater value than traditional houses with granny flats attached to them; so, if you are going to a new location, you will be able to sell the home for a better price.

Great designs:-

If you are preparing to build a home, there are several designs to choose from. For example, you might design a home that appears to be one large house from the outside but is actually two.
If you intend to rent one of the homes and do not want to contact the tenant on a regular basis, have your builder layout the home so that the top and bottom homes have various amenities such as main doors, parking spaces, and laundry rooms.
Designing The House
The layout is the most essential aspect of any home. A skilled architect with extensive knowledge of constructing duplex homes is required for a beautiful concept. All areas of your home should be private, according to the design. This implies that your house should be divided into parts by a wall.
Also Read: 7 Flooring Designs to Make Your Home Stand Out
Simultaneously, the layout should enable us to better extend the house if necessary. To make this a reality, you should have the architect design the home so that it is built at the corners of your plot, leaving enough space for future growth.
A fantastic duplex home necessitates careful planning. The architect must draw up a detailed plan that meets your needs, as well as obtain all required licenses from your local government.
People in Australia are constantly on the lookout for a good duplex home. You'll need to hire a competent planner to create a beautiful floor plan for you. Your home's floor plan can be optimized by a competent architect. They should make the most of the space available and even leave space for landscaping, gardening, or a patio.
Things You Should Note When Constructing The House
While duplexes are common, they are not permitted in all areas. Your architect should conduct research to determine whether the design is legal in your area. Some areas necessitate the construction of special duplex house designs. You can do some research and find out what kinds of designs are permitted in the area.
Conclusion:
Here's everything you want to understand about duplexes. As previously stated, to get a beautiful concept, you should collaborate with an expert designer who will not only provide you with a home layout but will also inform you of the latest designs to consider.