10 Bathroom Trends in 2021 You're Going to Want to Try
This year, make your bathroom your sanctuary.
There's nothing like finishing a stressful day of work and stepping into a blissful, beautiful bathroom. The bathroom of any home should be a calming space that makes you want to be in it, and it should definitely feel luxurious. 
If you're refurbishing your bathroom this year, be sure to keep an eye on the many wonderful trends out there! While it's not a great idea to create a room solely based on trends, they are a great way to drive inspiration and create a gorgeously modern space that you're going to love.
Take a look at the top bathroom trends in 2021 and start getting creative.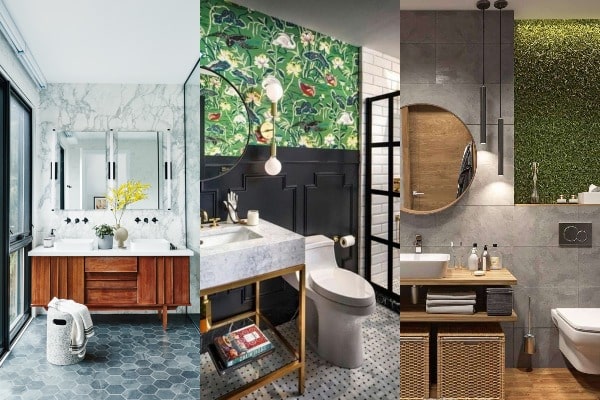 1. Abstract Triangle Tiling
Bathroom tiles have been a favorite for decades now, and their time isn't up yet! Practical, durable, and versatile, they're a great option for both floors and walls. This year, though, tile design is having a makeover. 
Abstract triangles are what's hot in 2021. This is where triangle tiles in different colors – no less than three – are placed down seemingly at random. There's no pattern which is what makes this such a standout look! It's creative and fun while remaining undeniably chic. 
2. Natural Elements
Natural materials have been working their way into spaces across homes, and now it's their moment in the bathroom. In 2021, designers are loving playing with raw, natural materials to bring the outdoors inside and help us all get back to nature. A grey stone bathtub, a wicker-fronted vanity, or wood-paneled walls will all be winners this year.
Alongside your natural elements, add green plants to your bathroom to bring it to life. These can tie your look together and add a touch of color. They're also very calming and peaceful to have in a space, making them perfect for the bathroom.
3. Dark Tones
While bright bathrooms are brilliant, there's definitely more of a darker tone running through this year's bathroom trends. Dark painted feature walls are a great way to add a luxe statement to your room and create a dramatic, stylish feel. We love a dark blue feature wall paired with gold or brass bathroom fixtures for a luxurious space. 
4. Large Standing Showers
Gone are the days of small, curved showers crammed into the corner of a bathroom. This year if you're installing a shower, make it a focal point of your space and really pull the attention to it. Opt for a large, double shower in a square shape, with a statement shower head.
Also Read: 18 Tropical and Natural Outdoor Shower Ideas
Rather than having shower doors, opt for a glass panel that sections your shower off creating an almost-wetroom in one area. Add bold bathroom tiles or a wood-paneled floor for the perfect finish.
5. Statement Lighting
If you've got spotlights or sconces, get rid of them! In 2021 no one should be scared to make a statement out of their lighting. Opt for a bold, artistic lighting fixture or a grand chandelier and bring your bathroom into the modern age.
6. Deep Vein Marble
Adding marble to a bathroom is nothing new and, sometimes, can even make a space look a little cheap. But this year the marble bathrooms that are setting the trend aren't what you're used to. Forget white, thin-veined marble, in 2021 it's all about thick-veined marble that's full of color. 
Brown and red thick-veined marble are particularly in demand right now. It's a great way to make a statement and adds a traditional, grand look to a room. If you're not ready to marble an entire wall, why not opt for a marble sink or bathtub instead?
7. Flora and Fauna Wallpapers
Botanical wallpapers with large, bold flowers and natural themes are a brilliant way to instantly make a bathroom more stylish. Wallpaper is easy to DIY, too, making this a job you can do yourself! If your bathroom's looking a little dull, add in a bold flora and fauna wallpaper to liven it up.
In particular, darker-toned botanical wallpapers are definitely on-trend. Rather than opting for bright blooms, choose a wallpaper that brings out dark green, dark blues, and more muted colors for an ultra-chic finish.
8. A Statement Bathtub
When it comes to bathroom trends, it doesn't get more luxurious than the statement bathtub! There's been a huge conversion back to baths in recent years as people prioritize self-care, so it's no surprise the bathtub is being brought back to life. In 2021, a freestanding bathtub in the center of the room is the way to go, creating a focal piece that's bound to create a stir.
9. Spa Simplicity
From bathroom flooring to sink styles, there's an overriding simplicity in a lot of bathroom trends right now that reflects spa designs. Spa bathrooms are known for their clean, minimal, and ultra-modern designs, and it looks like that's set to be brought into homes, too. Focus on a lot of natural light and small touches that add an upmarket feel, like decanting your shower gels and shampoos into brown glass bottles. 
10. All-Over Tiling
Creating a cozy bathroom that's still incredibly stylish can be hard to do, especially with natural, cold materials like stone and marble being on-trend right now. One way you can calm space is by using all-over tiling. It may sound like it would do the opposite, but this can actually mellow a bathroom and create a safe feeling for anyone who enters.
Opt for large, slate grey tiles and use them on your floor and your walls. If you don't want to go all-in, stop the tiles half or two-thirds of the way up the wall and finish the rest with paint.
Bathroom Trends 2021 For Inspiration
The bathroom trends in 2021 are wide and varied, but the general theme running throughout is to create a comfortable space that still makes a statement. Use these as a starting point for your own bathroom designs, but remember not to get tied down in trends – they don't last forever!
If you enjoyed this article, be sure to check out more home improvement tips on our website.