When I was a child, I absolutely loved summer. My parents and I would venture off to the family cottage in Hastings County for a full month of adventure and nature. They would even allow me to bring a couple of friends every time we visited, it was always the highlight of the year.
When my grandparents passed away my parents inherited the family cottage. My uncles didn't live in the province anymore and never used the little slice of heaven to unwind anyways.
The cottage is on a fair-sized chunk of land, about 200 acres. Full of forest, red pine plantation, a river flows through it and a few ponds at the back end. The cottage is built up on a hill and nestled into the trees facing west to soak in the evening sunsets on the deck.
As my parents got older, they stopped using the cottage. They surprised me when I was 25 with an envelope stating that I was now the sole owner of the property. They knew how much I loved it there, and I really appreciated the gift.
I had a plan in mind for building a new custom cottage on the property if I ever inherited the land. I started my search for the local home builders with top notch reviews in the Belleville and Hastings County area.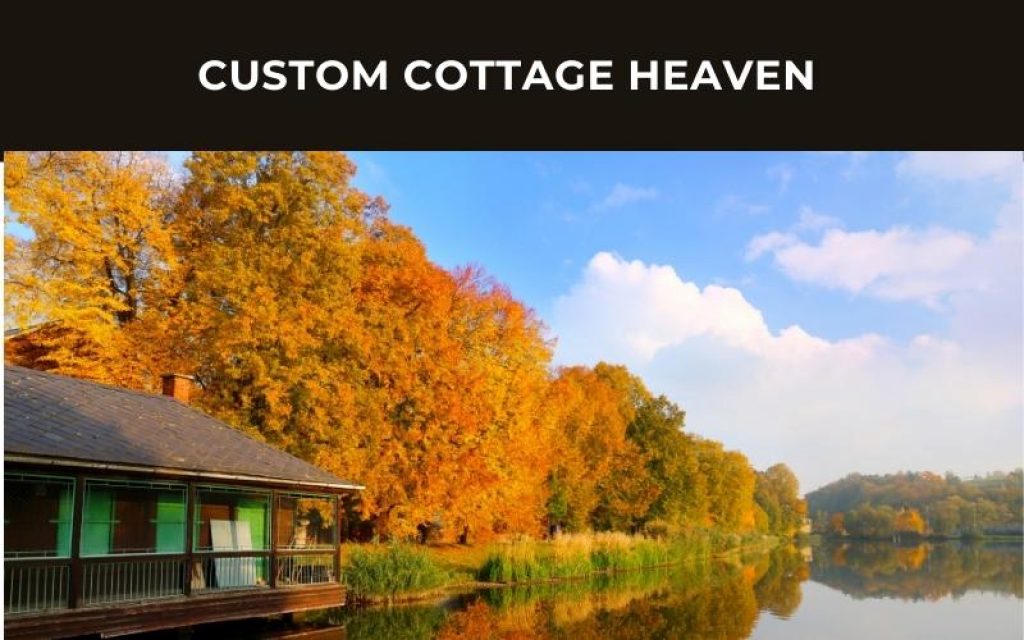 Home Builders for Cottages
After swinging by the bank and budgeting out my finances for a side cottage build project, I got in contact with a couple local home building contractors. I live in Belleville Ontario, there had to be at least a few that provided these services… It is cottage country around here.
After a few meetings I was super impressed with the feedback and in-person meeting with one company. They were located just on the outskirts of Belleville. Perfect.
When I was choosing which home builder contractor, cottages were the goal. Some of the builders only specialized in regular home builds. And this company had so many great reviews based on –
Communication
Licensing
Warranties
Attention to Details
Certifications
Custom Build Homes and Cottages
Post Build Policies
The list of qualities made it super easy to trust I was in good hands. 
Also Read: 21 Cozy Hammock Hang-Out Ideas for Your Indoor and Outdoor
Property Building Permits
When we were scoping out the property with the home builder, he checked out our septic and well. Both seemed to still be in great condition so we could tap into those and use them. That saved me a nice chunk of money.
We had the discussion of if I wanted to tear down the old cottage and rebuild where it was or off to the side of it. I never imagined tearing it down… It was a token of my childhood. I went with tearing it down, otherwise we would need to do a bigger septic and well and all the costs would be flying up.
Once we came up with the preliminary plan, we looked at blueprints that the custom home builder had. He said that I could tweak, change, and completely redo the interior of any layout.
I wanted an open concept with at least 2 bathrooms. I wanted this cottage to be large for my family and kids to come and bring their families too.
I settled on a pyramid style cottage that had a front and back deck, open concept, walk out basement and 5 bedrooms. It sounds like a mansion, but the rooms aren't huge, they are cozy. There for the purpose not luxury.
We sent off our permit requests to Hastings County for the build and waited.
Custom Home Interiors
Once we got the green light for the build, I was quick to shop for all the details. My custom home builder sent me to his suppliers to choose flooring, tile, cabinetry, stone (for the gorgeous fireplaces), appliances and lighting.
The exterior brick and shingles were probably the hardest to choose. It was the first thing you see when you pull up, I wanted a modern rustic but not trendy vibe. So, I chose a medium brown tone with lighter shingles. They looked almost like cedar. It would blend so well into the environment.
Interior custom design was much quicker to choose. The windows and doors were black with black trims so I wanted to go with a neutral colour that would be soft with the morning sunrise and evening sunsets. Full window walls on both ends of the house made for gorgeous natural light.
Most custom build cottages choose to make the interior quick rustic. Pine or cedar all over the walls and cabinetry… not my style. I chose to do my kitchen cabinets in a soft beige with a marble granite countertop. The island will be a luscious slab of oak. The home builder knew exactly what I was looking for and kept sending me photos of the progress.
The base line hardware and knobs were perfect with the interior design. I only chose a different finish for them, a stunning flat matte black. It suited the black doors and trim to a tee.
When I went to choose the flooring my home builder suggested I go with a luxury vinyl plank flooring throughout the whole cottage. To keep a seamless flow that I was going for and it was a material that was made for bathrooms, kitchens, basements, and regular rooms. 
Also Read: 134 Sq. Ft. Japanese Tiny Tea House Built Under $34,500
Final Product Custom Cottage Build
After months of permits, planning, interior and exterior decisions, final details, and painting… I was left with a bit of my budget to have my backyard spruced up a bit.
I was shocked that my cottage home builder was right on track with his budget. I had always read that if a contractor says $200 per square foot it is usually $300 per square foot by the end.
Highly recommend building with the home builder I used to create the cottage of my dreams. Always do the pre-checks for reviews, warranties, certifications, and licensing with any contractor you choose to use. It is priceless to have someone you trust and does quality work that won't require constant maintenance or tearing out and redoing.
Contact Information
Harmony Homes
8125 ON-62, Foxboro, ON K0K 2B0
(613) 961-1717