You are a frugal person, and because of this, you know the value of saving a dollar when possible. The rising temperatures across the continental United States in recent years have made it necessary to find cooling solutions that are both environmentally friendly and cost-effective. A ceiling fan could be one of the best ways to significantly cool your home at an affordable price.
But ceiling fans are old-school technology, and many don't benefit from fan remotes that make them easy-to-use appliances. What's the solution in this case? Installing a universal ceiling fan remote control kit through which you can control the essential functions of your fan from the comfort of your bed.
You work hard every day, and when you get home, you deserve to rest in the pleasant air a ventilator provides. Ceiling fans are easy-to-install appliances that are significantly cheaper than AC units, and their maintenance can be performed even by people who don't have specialized electrical training. In addition, ceiling fans can be modified and updated to suit your needs.
Do you want to give wireless controls to your ceiling fan? In this case, a Harbor Breeze ceiling fan remote could be an ideal solution for you. But since you are reading these pages, you may have questions. So, in the next few minutes, we will list some of the aspects that make ceiling fan appliances more suitable than air conditioning units, and we will outline the considerations you should keep in mind when looking for a universal ceiling fan remote control kit.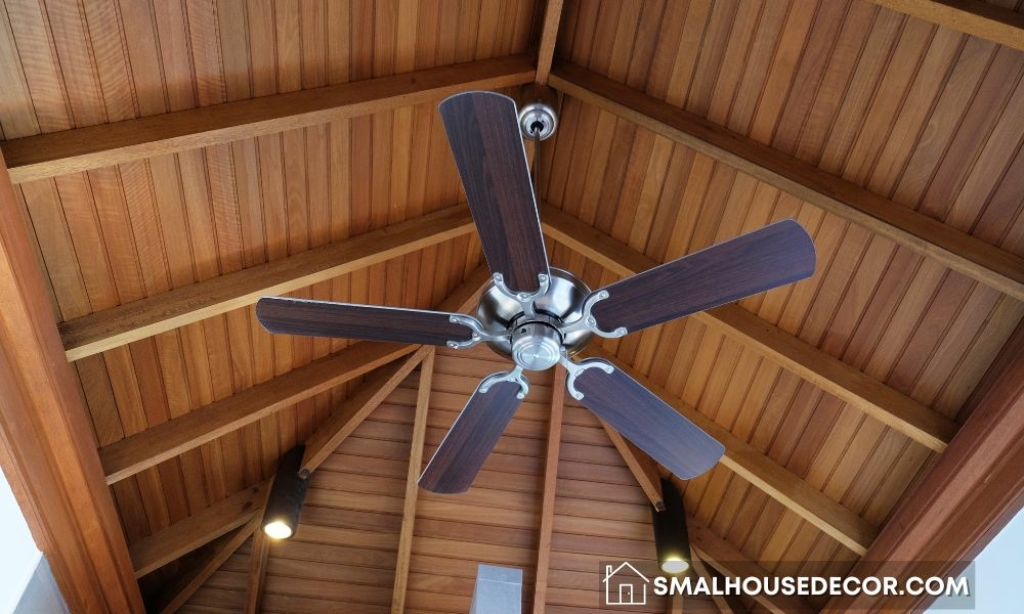 Why Choose a Ceiling Fan? 
The main advantage of choosing a ceiling fan over an AC unit is related to costs. Ceiling fans consume significantly less electricity than an AC unit, and as electricity prices in all US states are at an all-time high, this could be an essential factor in the choices of many families.
In addition, ceiling fans are quieter and are much easier to install than a typical air conditioning unit. While an AC unit must be installed by experienced professionals, a ceiling fan can often be installed by yourself, as the process is straightforward.
Furthermore, ceiling fans are simple mechanisms, and for this reason, they have fewer moving parts. This simplicity translates into greater versatility and lower maintenance costs. Using an air induction process, ceiling fans do not actually cool the air in a room but produce a breeze, and this can be beneficial for people who are sensitive to cold, dry air or who can't stand the noise caused by AC units.
One aspect of air conditioning considered an advantage is its ability to be controlled wirelessly. But when combined with a Harbor Breeze ceiling fan remote, your old fan could be just as versatile as a newly installed AC unit and do its job at least as well.
Are There Advantages to a Fan Remote? 
Of course. A Harbor Breeze ceiling fan remote could be a cost-effective solution to give smart functionalities to your ceiling fan. A universal ceiling fan remote control kit could allow you to control the speed of your fan blades from any room. And this could be helpful if you are someone who suffers from mobility problems or are elderly.
In addition, ceiling fan remotes are simple devices that anyone can use. In most cases, a ceiling fan remote will include buttons that control the speed of the blades, a light dimmer, and an on/off switch. In addition, the installation kit of such a remote is straightforward and requires no more than five minutes of your time.
Moreover, a Harbor Breeze fan remote could be a wise financial decision. Ceiling fans, even those manufactured by reputable manufacturers, can be found for as low as $100, which is significantly less than what even the cheapest air conditioning unit would cost. If you wish, a universal ceiling fan remote control kit that gives smart functionality to your ventilator can often be found for under $20, which is a steal when you consider the conveniences that such a system can bring to your life.
Also Read: The Benefits of AC: How It Can Improve Your Home's Comfort and Air Quality
What to Consider When Looking for a Ceiling Fan Control? 
Above all else, it is imperative to ensure that the universal ceiling fan remote control kit you buy is compatible with the ventilator in your room. The remote control you purchased is intended to replace one that has been lost? In this case, it is important to know the serial number on the back of your old remote and ensure that the unit you bought matches it. If you don't have access to your old remote, you will need to remove your fan cover and match the jumper setting on the receiver with the existing ones on your new remote.
Your fan is rather old and didn't come with a remote? In this case, you can give it some smart functionality by hooking it up to a wireless receiver, which is a simple operation that should typically only take a few minutes. It is essential to choose a kit compatible with the most popular ceiling fan brands available on the American market. And here, we can mention Minka-Aire, Casablanca, Emerson, or Kichler.
But whether you purchase a Westinghouse kit or a Harbor Breeze ceiling fan remote, the important thing is to ensure your new fan can handle the cooling demands of your home.
They Simply Make Sense 
Ceiling fans are American homes' simplest and most versatile cooling solutions. Being easy to install and maintain appliances, ceiling fans have been a staple of North American dwellings for over a hundred years, and today they are considered cheap fixtures that can give a boost to any room. A universal ceiling fan remote control kit could be an ideal solution for your old trusty fan to gain a new life, and the smart features you can offer it could significantly increase the quality of life experienced in your household.
Your parents are elderly and no longer have the mobility to adjust the settings of their ceiling fan optimally? In this case, a Kichler or Harbor Breeze ceiling fan remote could be an ideal solution by which they can keep their thermal comfort at bay.
Furthermore, ceiling fans that benefit from a remote kit are a nice-to-have accessory and could be an asset for potential buyers if you want to sell your home. But above all, ceiling fans are a cost-effective alternative to bulky and hard-to-maintain AC units. With the gradual rise of our energy costs, it is essential to find ways to save money where possible, and here ceiling fans might be unbeatable.