How Soon Ahead Should You Schedule Movers
The most common question any moving company gets is how soon ahead should you schedule a moving service. In short, the sooner you do so the better. If you are planning a move during the summer or if you are moving to a different state, you should get in touch with a reliable company like Miracle Movers as soon as you have the details of your move.
Miracle Movers Maps
Scheduling a moving service should be a top priority when moving. It is fundamental for any further planning as you will need to base your entire checklist on the availability of the moving service. Make sure you find a convenient date and check the availability of the moving company you've selected for the effort.
You should book a moving service at least eight weeks ahead, even more, if you are moving to a different state. Never wait later than four weeks, as the company might not be available. If you are moving to a different neighborhood in the same city you can call up to two weeks ahead. However, the sooner you do the better deal you will get and the sooner you'll be able to start planning.
The main factors you need to consider are when you are moving and where. You should also consider the volume of items moved, which shouldn't be an issue for a qualified moving company.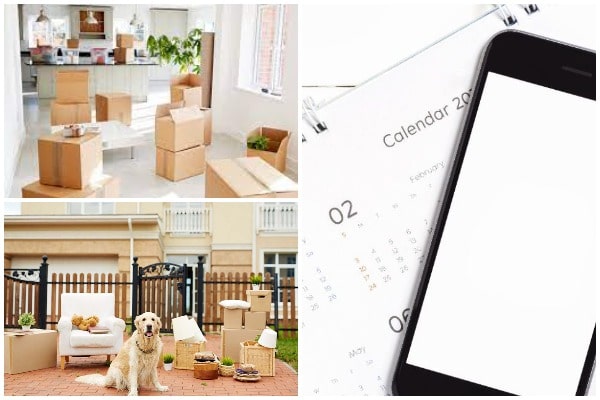 When Are You Moving?
The first thing you need to consider is when you are moving. If you are moving during the peak period, make sure to schedule the move at least eight weeks in advance.
Peak periods include:
Late spring and summer

First and last days of the month

Weekends

National holidays
Moving services are very busy during these times and you likely won't be able to book them later than two months ahead as they will already be booked. If you wait too long, you'll have to settle for less than a reliable company.
If you are moving during a less busy period, you can schedule the move no later than four weeks ahead. This will ensure you'll get a reliable service at a reasonable rate.
Also Read: Moving Hacks For A Faster And Smoother Move
How Far Are You Moving?
The longer the distance you're moving, the earlier you should book the move.
If you are moving to a different neighborhood, you can book the movers two weeks before the moving date. This will only take a couple of hours, so movers will be able to fit you into their busy schedule.
If you are moving to a different town in the same state, you should give the company at least four weeks' notice. They will be able to make a plan and prepare for the move.
If you are moving to a different state, make sure to book the moving company no later than 8 weeks or 12 weeks ahead during the summer. Long-distance moves require more planning, shipment consolidation, and various regulations involving interstate moving.
How Much Are You Moving?
The volume of the items you need to move should also be considered when hiring a moving service. More items will require more resources and time to load up, so you should schedule the move ahead to let the company plan for everything.
Also Read: 8 Factors to Consider Before Moving to a New State
How Complex Is The Move?
If you are moving any specific items or supplies you should give the movers a call at least two months ahead so they can ensure the equipment they need for the move is available on that date.
When Should You Schedule A Moving Service?
To sum up, anywhere between four to eight weeks before the move is a good time to hire a moving company. This will give the company enough time to work out the logistics and give you enough time to prepare for the move. Give them as many details as possible and let them know how flexible you are with the date.