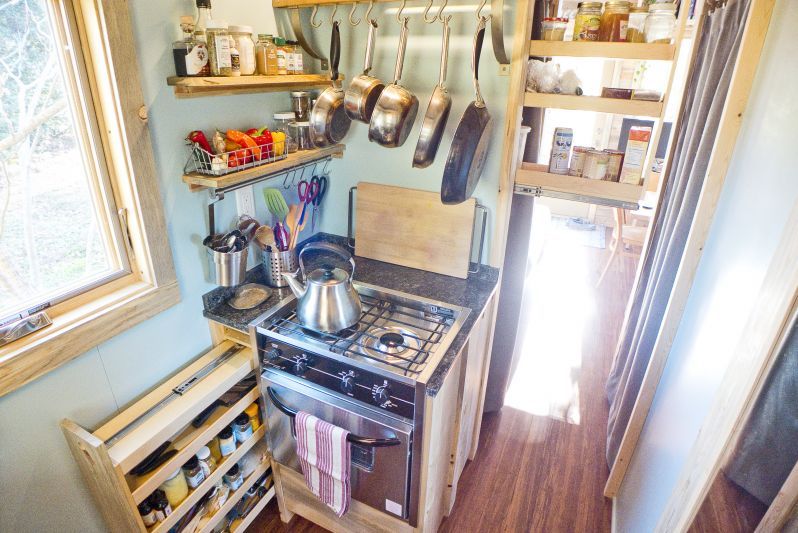 An ideal kitchen balances aesthetics and efficiency without compromising on either. Your kitchen design depends on how frequently you cook and what appliances you use regularly. 
The task may seem daunting but start with a list of items. The trick is to keep only the things you need for your daily life, and you are good to go. Let's deep dive into how you can go about organizing your appliances and making the most of a small kitchen.
Your Kitchen Needs
Your kitchen is a reflection of your personality and should be designed to cater to your needs. Kitchen appliances can be a rabbit hole once you get immersed in them. There are so many exciting new appliances in the market, and it's easy to end up with things that you don't really need for your everyday cooking.
For instance, do you really need industrial mixers and grinders if you are not into baking? The massive oven or a double-door fridge may take up most of the space in your already small kitchen especially if you live alone or rarely cook. It will only end up as a piece of furniture for your kitchen, with minimum to no use.
Hence, draw up a plan and buy only appliances that truly reflect your kitchen requirements.
Think About Your Work Areas
The kitchen is often the center of your home. From cooking and dining to chatting and even homework, it is the space in the house where the family gathers to spend time and enjoy mealtime. 
Hence, the first step is to plan your kitchen renovation ideas according to your and your family's needs. If you are working with a small space there are some layouts that work best. This includes single-wall kitchens, L or U-shaped kitchens, galley kitchens or island kitchens.
Measure out the area of your kitchen. Your floor plan should leave at least a 1m walkway between the kitchen counters and 1.5m between living zones. Ideally, the golden triangle ratio between the sink, fridge, and stove creates the most efficient workflow for the area.
Alternatively, you can opt for a mini kitchenette to solve space dilemmas if you live in a tiny apartment.
Ensure Free Traffic Flow
A kitchen is a busy place and small kitchens can get even more congested if not planned properly. Ensure that the path between the refrigerator and the stove is easily accessible without obstacles. You also want to easily move from the oven to the counter and then to the sinks without interrupting your workflow.
Plan Size and Installation Requirements
Before you go shopping, sit down and plan your kitchen requirements based on your cooking needs and family size. You should also check whether your kitchen can fit in large appliances and requires additional installations to accommodate them. 
Take into account the countertop depth, kitchen cabinet space, and storage before you buy anything. You don't want to bring home kitchen appliances that stick past the countertop edge or the cabinet and risk accidents or interrupt workflow. 
Leave Space for Doors and Drawers
You would be surprised by how common it is for people to miscalculate the space required to open doors or drawers in a kitchen. 
Be sure to keep ample space to maneuver around an open oven door to get to the counter. Plan the position of the fridge so that you can fully open the doors to get the internal bins fully out. You also want to be able to put away the groceries or access food when cooking easily without hitting your head on an open door of the fridge or cabinet.
Take Small Appliances into Account
Toasters, coffee machines, blenders, and mixers are small appliances that you are likely to use the most frequently in everyday cooking. Thus they should be placed within easy reach without cluttering the counter. 
Small kitchens need to be designed systematically. Have a designated beverage station for coffee makers and juice blenders. Keep the stand mixers on a dedicated top shelf and the rest of the appliances that you use less frequently on the pull-out shelves.
Pare Down Your Appliances
The best way to utilize your kitchen space is to declutter. Categorize your appliances into three groups- the ones that you use frequently, the ones that you use on special occasions, and finally the ones that you rarely use.
Since you are also likely to be short on storage space, buy appliances that offer multiple uses. For instance, a waffle iron can double as a panini press and you can get the work of a food processor done from a good quality blender. 
Banish Your Never-Used Appliances
Though it is easier said than done, getting rid of appliances that you rarely use will save you a lot of space no matter that you got a great deal on that industrial mixer on Black Friday.
Only keep appliances that you cannot go without. Try to sell them, by posting pictures online. You can also donate them to local charities so that they find a better home where they will be used and valued. If the device no longer works, you can choose to recycle it. 
Still unsure about parting with the appliance? Try keeping it in a box out of sight for a month, if you use it, keep it, otherwise, it is time to part ways for good.
Cut Cabinet Clutter
Once you have cut down on the clutter, it is time to organize the cabinet. Take a weekend morning to sit down and clean your kitchen cabinets then begin to arrange your appliances and crockery neatly.
Get rid of all the manuals to reduce paper clutter, instead save the pdf version or save them on Google docs. Store appliances on the top shelves with the help of a step stool. Remember to wrap the cord around the appliance which saves space and looks neater. 
Finally, keep the extra parts of the appliances in labeled ziplock bags and store them at the far back of your kitchen cabinets.
Conclusion
Designing a kitchen can be tricky but if planned properly, it can cater to your needs efficiently all the while looking aesthetically pleasing. Be sure to go through your cabinets at least twice a year for cleaning and decluttering.
This process of arranging and cleaning the kitchen is an incredibly cathartic experience. Once you get rid of the things that you don't need, you will notice that your workflow is improved and you will be cooking faster in a spotless kitchen. No longer would you need to worry about tipping over or bumping into obstacles.