How to hire an ideal interior designer for your dream home?
Stepping into your new dream house can be an exceptionally exhilarating feeling. While the unmatched feeling can leave you overwhelmed, there are certain things that still need tending to after you have bought your dream space. Every piece of land, or wide-open space, or even a small and cute shelter, is just another space, after all, what truly makes it 'home' is the interiors and the set-up. 
It is inside a house that the true spirit of every member living in it is expressed. It is believed that your space resonates with your thoughts and personality. So, setting up your dream space and turning it into a true wonder of beauty is only the task of an expert. 
Regardless of whether you're a property owner or tenant, your home is an impression of you. It is a representation of your passion, inventiveness, drive, interests, and achievements. It's the place where you discover love, magnificence, harmony, inspiration, and solace. It conjures numerous feelings from you and all those who share the space. Thus, picking the perfect person to take charge of your interiors is of utmost importance.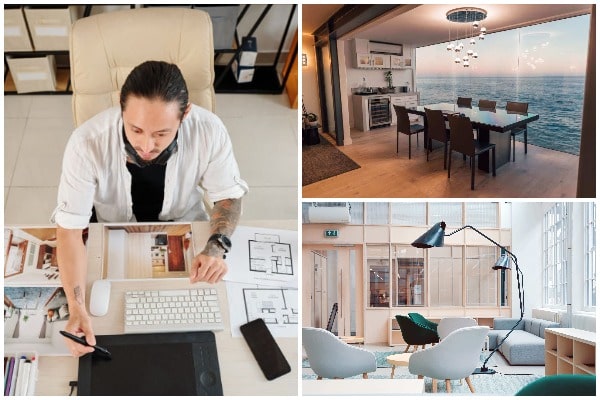 While most people might think hiring a professional interior designer isn't important and home decor can pretty much be done by the homeowners. Here's how an interior designer can make a huge difference in your space:
Saves time and effort
Decorating a space is research-heavy work that needs extensive knowledge of design, decor, color, fabric, shapes, and much more. While initially, one might think that the work isn't tedious, the truth is that the entire process of hunting, shopping, and installing is very tedious and effort-consuming. So, it's best to get it done by an expert who can make the process fast and deliver good results.
Better Resources
Since interior designers are experts in their job of decorating and designing new spaces, they'll have better contacts and resources. You wouldn't want to micromanage and hunt for every little piece that goes into your house. Plus, an expert would get you better home accessories in your set budget without you having to roam aimlessly in search of it.
Also Read: 5 Ways to Decorate your House on a Low Budget
Now that you know why an interior designer can make a huge difference in your new space, the next step is to find the best fit according to your needs. Here are some things that can help you hire an ideal interior designer for your dream home:
Determining Your Budget
The most persuasive factor in getting your home designed is knowing your budget well. Firstly, you should assign a set amount for the new furniture and accessories that you need. Then you should consider listing out the new fittings and additions that you need in your space.
On the off chance that you are new to a place or have no related knowledge in this field, it can be bewildering to choose the amount you need to set aside. In this case, you can always contact neighbors or look on the internet for the best prices. Once you find a designer in your budget, they can help you formulate a plan according to your budget. 
Do your Research
While you may want to rely on hearsay, nothing can beat good old extensive research. It is imperative to find the right match for your needs. At this point, things like location, budget, type of decor, rooms to be designed and other factors need to be delved into.
The best approach is to glance around, connect with your neighbors, and make an inquiry or two about good interior designers and get their reviews. You can also look on the web to find a good decor company or individual that fits your budget. It's best to start off with many options and then based on your research narrow down on one. 
Insure your dream house 
While beautifying your house inside-out is surely important, protecting your space from unforeseen damages or circumstances should be your first priority. Bearing the brunt of bad luck, or sudden infrastructural damages can sometimes cost a lot. Here's where good home insurance can save you a lot of effort, time, and of course, money. The benefits of good home insurance are abundant, and it's undeniable that it's always better to be safe than sorry.
Conclusion
Your home should be a well-decorated, exquisitely designed, and protected space. It should combine aesthetically poured-in elements that balance everything from color to scale to texture, to lighting and furnishings. Thus, it becomes important to curate everything with perfection so that your house can truly transform into your dream home.