With fabrics, you can paint absolutely anything that a brush can touch. But, of course, the fabric you choose will dictate what kind of paint is best to use, and other considerations also come into play. So, while it is possible to paint fabric, you must know the types of paint you can use and how to paint on fabric.
Panting fabric can be quite challenging, especially because paint does not stay on the fabric. However, with the right paint, medium, tools, and procedure, one can find it easy to do without any setback. This is what you get to learn from this page as you read further.
How to Paint on Fabric?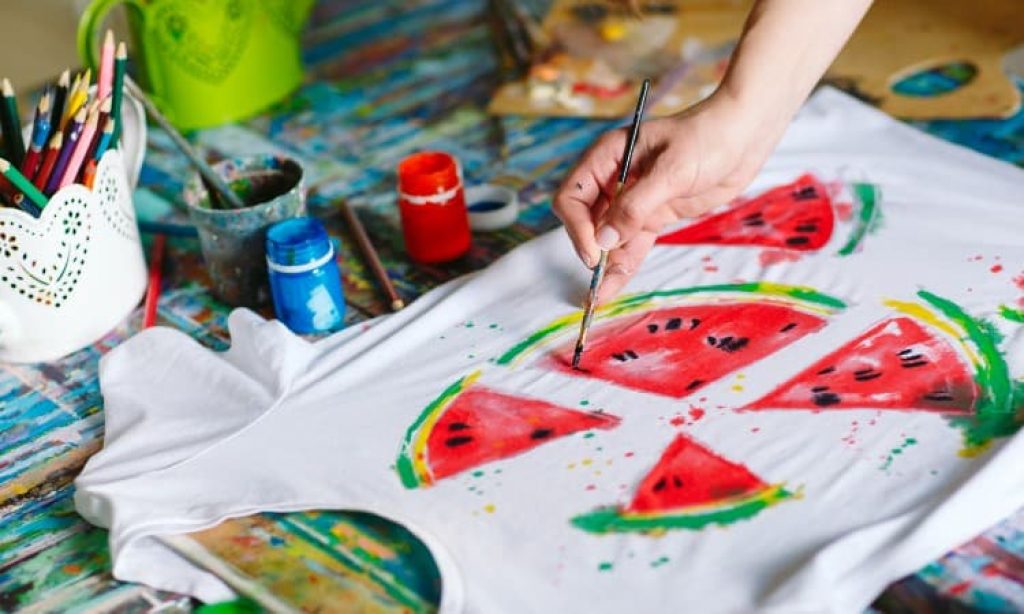 You can paint on most fabrics, such as t-shirts, canvas tote bags, and jeans. Just ensure the area you are painting is flat and use fabric medium so that the paint doesn't crack once it is dry. First, however, let us get into the full details on achieving quality painting on your fabric.
Pre-Wash The Cloth
You must start with pre-washing the cloth as it is a must if you paint on the cloth. Washing the cloth before using any paints will remove any chemicals that could prevent the paint from adhering to the surface.
It will also remove any sizing or starch that would prevent fabrics from absorbing watercolors when used. Detergent is also not necessary for this pre-wash, and any fabric softener should be avoided at all costs because it will further impede the ability of most paints to adhere to the cloth.
Use A Barrier To Prevent Bleeding.
To prevent bleeding when hand painting on fabric, you must treat the fabric with a barrier. There are two methods. The first is to use a spritzer bottle and spray the entire piece of fabric. The other method is to draw your design on paper and then trace your design on the fabric using a pencil or a chalk pencil. This creates a barrier for you.
Prepare The Paint With A Medium.
If your paint is thick, thin it out with a fabric medium to make it easier to apply with a brush. This will also allow more even coverage; however, it will slightly change the texture of your painted fabric, dulling the color and making it slightly shiny.
It is important to use a paint medium when painting fabric, so the colors don't crack. Paint medium is a liquid you add to acrylic paint, which helps the paint adhere better to the fabric. This is also important as standard acrylic paint is designed on canvas, not fabric. You can create your paint medium or purchase one in any art store.
Choose A Style Or Design.
Now you are ready to choose a style or design. How to paint on fabric depends on what kind of project you wish to make. What will be the main theme? After you have decided, plan out how this will look on the item you are going to decorate.
Before you begin painting on fabric, you must choose a style or design to paint. This helps you decide what kind of brush or silk paint to use and gives you an idea of how much time and effort you need to put into your painting project.
Also, selecting a style or design for the painting is one of the most important decisions that you must make. Depending on what your painting will look like, it will determine the colors and materials you need to use.
Choose The Right Painting Tool.
Many paints are suitable for painting on fabric, but you may want to start with fabric paint. Acrylic paint on fabric, for example, works fine on fabric and can be thinned with water if necessary. Watercolor paint is also easy to use and adds a soft touch to the painted patterns.
If you want to create a drawing only, choose a pen or marker suitable for drawing on fabric. Also, you need to decide if you want to use a fabric paint marker, fabric paint, or a stencil and spray fabric paint. Each method has its benefits and disadvantages, so your choice will depend on how long the paint needs to last and how much time you want to spend painting.
Paint The Cloth Carefully.
Painting on a piece of fabric is a simple yet dissimilar experience. It opens a wide creative scope from bold abstract designs to delicate, ephemeral images. The technique involves applying liquid paint to the surface of the cloth and allowing it to set before washing off excess dye.
If you want to paint on fabric, you will need some acrylic paints and a medium to mix the paint with so it doesn't soak too deeply into the fabric. Your best bet is to work with a strong cotton-mix fabric rather than something thinner and make sure it is not too wet.
Once your medium is mixed in, use thin layers of paint so that it doesn't get too gloopy, then wait for it to dry before adding more.
Also Read: How to Choose the Right Interior Wall Paint
Leave It To Dry
Leave your piece to dry completely. Fabric paint needs at least 72 hours to cure properly, giving it plenty of time. The longer it has to dry, the better the paint will stay on your garment.
Is Medium Necessary For Fabric Painting?
Whether you should use a painting medium depends on the paint you are using. Mediums are used to make the paint thinner, change a paint's finish, or otherwise alter how the paint works. For example, you may find that acrylics behave differently when used on fabric than they do on wood or canvas.
You can paint on fabric without a medium. When painting on fabric with acrylic paint, make sure that the fabric is stretched out tight, so there are no wrinkles or folds. It will give you a clear path to paint on, especially if you were painting without a medium. You can also use fabric medium to thin paints and prepare them for painting on fabrics or clothing.
What Can I Use Instead Of Fabric Medium?
If you prefer not to use fabric medium, you can mix a ratio of 1 part water to 3 parts acrylic paint to create your water-based paint. You can also mix in equal parts of acrylic paint and glue to create a homemade fabric medium instead.
If you don't have any fabric medium, try adding a couple of teaspoons of salt to your paint mixture. This will help increase the color's opacity and blend-ability. If your project calls for thick, stiff fabric paint, dilute the paint with some water (as opposed to medium) to thin it out and add flexibility.
Also Read: How To Repaint A Wood Door
Conclusion
Do you want to learn more about painting on fabric? Then you need the right information on how to paint on fabric. This page reveals all you need to know about painting on fabrics and the method you can use to paint. You just need to read to understand the basics and follow the right procedure to get the perfect result.