Many people have been maximizing their viewing experience by turning their backyards into outdoor cinemas. Well, there's nothing quite like it once you've done it.
However, many people are intimidated by the thought of transforming their backyard because they think it's going to be too expensive or difficult. But the truth is, setting up a backyard cinema is actually quite easy and affordable if you know how to go about it.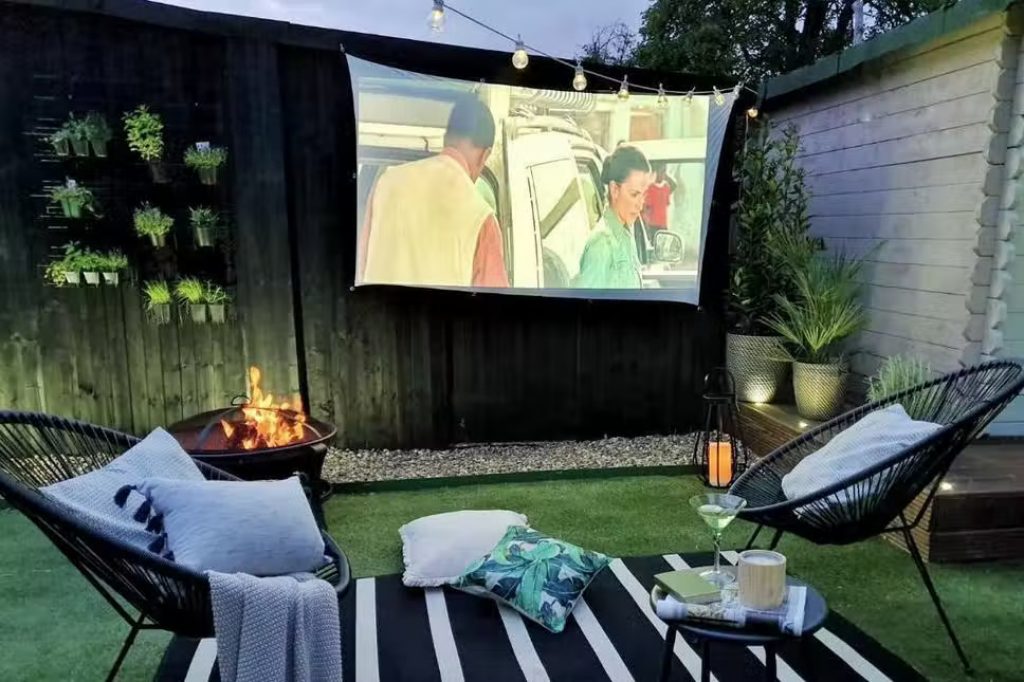 So, here's a simple guide on how to set up your very own backyard cinema. Let's begin!
What You'll Need for Your Backyard Cinema
You can easily purchase a projector with great pixel quality at an affordable price. However, if you're opting for a better viewing experience, we recommend you opt for a high-end projector.
Projectors and screens are usually sold in bundles, but if you already have a projector or you prefer to buy them individually. You can purchase a portable screen that's easy to set up and take down.
Reliable Internet Connection
While this is usually not required if you're watching pre-downloaded films, it is a must if you're reliant on your streaming services. Whether you have DSL, fiber, cable, or satellite internet, it's important to have a fast and stable connection for a smoother viewing experience.
For an immersive experience, you'll want to consider getting a sound system. A soundbar would be a great option as it doesn't require too much installation. However, if you want something with more power, then outdoor speakers would be your best bet.
You can also maximize the Dolby Atmos audio technology from specific streaming services, like Netflix when you have a good sound system.
This is entirely up to you and what will make your guests comfortable. You can go for beanbags, lawn chairs, or even build a makeshift couch out of pallets.
How to Build Your Backyard Cinema
Choose an optimal location.
You'll want to find a spot in your backyard that's level and has little to no obstructions. This will ensure that everyone has a clear view of the screen. If you're going to watch movies using a streaming service, it's also important to consider the coverage of your wireless internet to ensure a smooth viewing experience.
Be sure to also make sure that there is sufficient cover from rain and the other elements," comments James Durr, Purple Bricks commentator.
Configure your sound system.
If you're using outdoor speakers, then you'll want to set them up in a way that will ensure everyone can hear the audio evenly. Keep in mind that there's nothing worse than watching a movie without understanding a word of what the actors are saying. You can experiment with the placement of your speakers until you find the perfect configuration.
Set up your projector and screen.
Setting up the projector and screen is usually quite easy. Most portable screens come with an instruction manual on how to set them up. As for the projector, you'll want to place it on a stable surface and point it toward the screen. If you need help with the alignment, you can use painter's tape to secure the corners of the screen.
Pick a theme.
If you want to give a twist to your outdoor movie night, you can pick a theme for every movie you watch. This will make your experience more fun and enjoyable. For example, you can have a '90s night where everyone has to dress up in '90s attire, and you only watch movies that came out during that decade.
You should also pick a family-friendly theme once in a while, especially if you have kids at home. They can participate and dress up as their favorite heroes and cartoon characters while creating a memorable moment with the entire family.
Prepare good snacks and drinks.
No movie experience is complete without tasty food and drinks. You can prepare simple snacks like popcorn and chips or go all out and make a full meal. It's also essential to have a variety of drinks, so everyone can find something they like. If you want to save some money, you can ask your guests to bring their own snacks and drinks.
Conclusion
Building your own backyard cinema is a great way to enjoy your favorite movies with family and friends. It's also very easy and inexpensive to do. Just follow the steps above, and you'll be ready to have the time of your life.