When you are starting woodworking and crafting, the first thing that will overwhelm you is what tools to choose. Of course, the whole work is about skills and application, but having the right types of equipment almost gets the job done. For starters, going with hand tools seems to be the right thing to do. As days progress and you become more efficient in your work, you can upgrade from hand tools to power tools. 
In this list, we have talked about the most common and helpful hand tools important for basic carpentry work. Whenever you are ready to modernize your style, you can head over to the Data Powertools Website and order your required item. For now, let's check out the list of hand tools.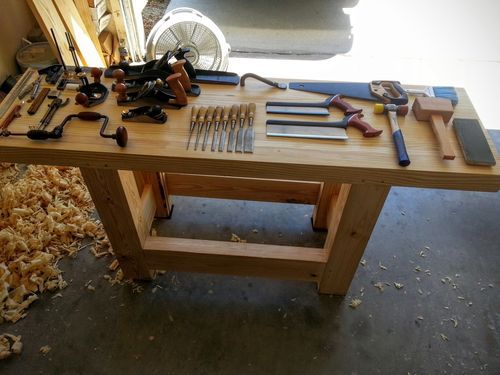 What are the Basic Hand Tools for Carpentry?
We've mentioned 7 common hand tools that you must need at the initial stage if you're into woodworking. Scroll down and have a look. 
Buy a Wooden Workbench or Build One
Creating or purchasing a wooden workbench will be the right way to start off your carpentry work. The biggest advantage of using a workbench is that you don't need to bend down or sit on the floor when you are seeing or cutting anything.
You can focus on your work; it gives you the flexibility to use your strength when cutting woods. Moreover, a workbench allows you to keep your most important work tools within reach. Another reason for going for a workbench is, it is affordable and helpful at the same time. 
Claw Hammer
A Claw Hammer is the must-have tool for all carpenters, and any work without this one will be incomplete. Most claw hammer comes with a rubber or vinyl handle to allow a comfortable and smooth grip so that it doesn't slip off your hand.
It has a massive hammerhead on one side and a claw on the other that helps you remove nails from wooden furniture. A claw hammer does not tend to be heavier than 20 ounces. 
Also Read: stainless steel wire rope grips
Hand Saw
You can't go far with your carpentry work without using a Hand Saw. Hand saws are one of the most basic hand tools for all the woodworkers that let you cut through woods nicely and effectively. It makes dimensions on your wood projects and contains sharp blades that help you get the job done with ease.
Hand saws have different shapes and sizes and depending on the type of project you are working on, you'll have to choose one. If you are a beginner, start with a fret saw first.  
You'll Need a Jack Plane
When you have a small budget as a beginner woodworker, you can temporarily go with a hand jack pane. They have another name, rough bench plane that lets you gather dust, remove stock; you can joint edges with them, and smooth any wooden surface. When you are buying a jack plane, consider one that has a sharp low angle.
Chisels and Mortice Chisels
There are different sizes of Chisels available, and you will need at least 4 sizes before starting on your new woodwork. They are required to refine edges, carving woods, clean mortices, or cuts and joints.
Also, the Mortice Chisels help chop mortises into your woodwork when you want to insert a tenon. You will need to use tenon joints in your craft, and for that, you may require a ¼ inch mortice chisel and other types of chisels.  
Buy a Backsaw
Panel saws and backsaws are somewhat the same, but backsaws are more important when making dovetail joints and needing more accuracy.
There are three backsaws; dovetail, you use to cut joinery and grains; carcass saw, for cutting across the gain; tenon saws for a deeper cut. All of these saws are important in woodworks and needed to some extent. But if you have a small budget, go with a dovetail saw first then buy the other ones, and you can also buy these stainless fasteners as well.
Coping Saw
A coping saw is one of the most common and basic tools for carpentry work which is more elaborate than simple handsaws. You can use them when you need to cut through rough or awkward shapes and edges, and you can also use them to remove excess from dovetail joints.
There are many other tools that you will require for your carpentry work, but these ones are the most important. Got any questions? Drop them in the comment box below.