Cleaning is a simple, effective way of ridding your commercial space of germs, bacteria, and dirt accumulation. Whether you're looking for deep commercial cleaning or simply want to adopt a daily cleaning schedule, it's always a good idea to rid your office of germs and bacteria. 
There are countless benefits to a clean office environment, ranging from happier employees to a cleaner space for customers to come to visit. A healthy office is a productive business, and cleaning is an excellent way to achieve this. 
If you're interested in learning the 5 key benefits of cleaning your commercial space, then you've come to the right place. Keep reading for more information about turning a dirty office into a clean workspace.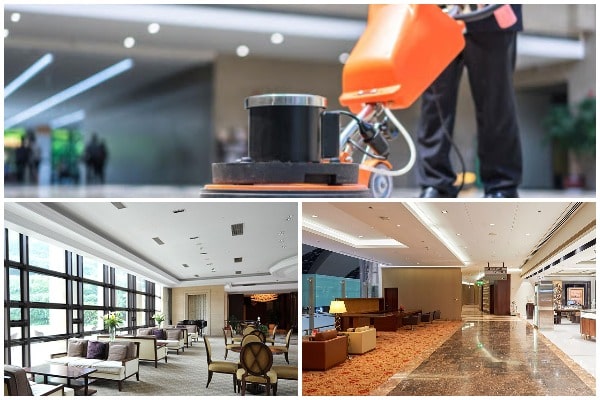 1. More Productive Business
A clean commercial space means less clutter. As a result, employees will be able to better navigate high-traffic areas, locating items with ease. This includes keeping clean cabinets, storage facilities, and kitchens, where employees frequently visit throughout the day. 
When employees are more productive, their work gets done faster, helping your business to be more successful.
2. Fewer Sick Days Used
When you have a clean office environment free from germs and bacteria, employees are less likely to become sick. This means fewer sick days are used, and more employees are present at work. 
Fewer sick days also equates to a more productive business, as day-to-day operations run smoother with fewer interruptions. 
3. Reduces the Spread of COVID
In addition to fewer sick days being used from common colds and viruses, a healthy office in this day and age requires COVID preparation. When you have a dirty office, the chance of spreading COVID is increased. 
A clean commercial space allows you and your employees a level of protection against COVID, helping everyone to feel safe, work to their full potential, and run a productive business. 
4. Professional Work Space
When customers enter your commercial space, they expect to see a clean, professional workplace. When things are dirty, disorganized, and cluttered, it sends a message of unprofessionalism. 
Also Read: How To Keep Your Gym Or Fitness Centre Sanitized And Clean
Invest in deep commercial cleaning to keep your office looking professional all year long, pleasing employees and customers alike. 
5. Saves Money
Since a deep cleaning costs more than light dusting and vacuuming, it's a good idea to stay on top of a dirty office. If you let your commercial space get too dirty, it will cost you more money in professional cleaning. Instead, clean your office frequently, as light dusting and vacuuming is much more cost-efficient. 
Also Read: Save Your Money With The Standing Desk
This includes dusting office equipment, computers, and baseboards, all areas where dust accumulates. If you're wondering how to clean baseboards, you're not alone. This essential part of any cleaning process is a must for your business. 
Get Ready to Clean
Now that you know the reasons why a clean office environment leads to a more productive business, you can start cleaning.
A clean office helps keep employees happy and healthy and shows customers your dedication to excellence. It also reduces the number of employee sick days, helping your business succeed all year long. 
For more articles about the best cleaning practices, then be sure to visit the rest of our website. We've got tons of great information for all your home and office needs.