Some say that you can save money by just not using your HVAC unit. While that may be true, when your A/C unit starts to fail, you might wonder what to do next.
How can you tell when your unit is heading for a breakdown? The signs aren't always obvious.
If you're wondering if that weird noise coming from your A/C was something you need to worry about, we've got you covered. Here are five signs that it's time for HVAC repair.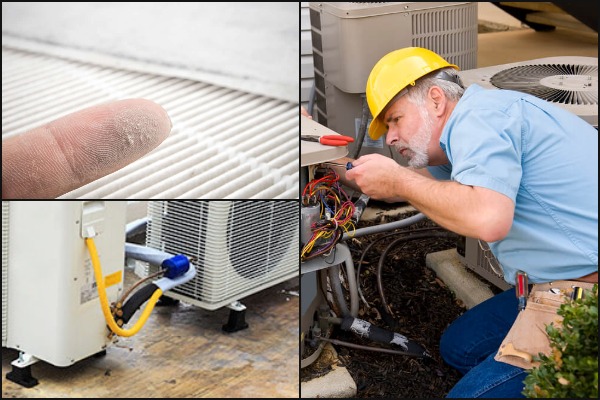 Strong Smells
Does the air inside your home smell a little funny? It could be coming from your A/C ducts.
Burnt, musty, or just plain gross smells can be a sign that something is wrong inside your unit. From burned out wires to animals caught in the system, call a pro soon so that your family doesn't get sick breathing that air.
Strange Noises
Hearing weird noises inside your unit doesn't always mean you need a complete overhaul. It could need minor HVAC maintenance or be a major blow out, so get it looked at as soon as possible.
If you ignore the noise, the problem can get worse and affect other parts of your A/C unit. Keep your peace of mind and have a professional check it out.
It's an Older Unit
Most appliances have a regular lifespan and yours might have just run out. If your A/C unit is over or around 10 years old, you might consider upgrading to a newer, more energy-efficient model that can save you up to 40% on your electricity bill.
Check to see how old your unit is and start thinking about whether it might be time to get a new one. Bryant air conditioning has a great guide to help you pick the right HVAC unit for your home.
Water Leaks
Have you noticed water leaking around your A/C unit? There could be a few reasons for that — and those leaks might not always be water.
You could have a broken hose or issues with condensation. In the worst-case scenario, your HVAC could be leaking refrigerant, which is poisonous, so get it looked at right away.
Extra Dust in Your Home
Does it seem like you're always cleaning your home but the dust keeps piling up? It might be a problem with your A/C.
Dirt and dust build-up might be a sign of a blockage in your unit. Call HVAC repair services to get it cleaned out or schedule a regular cleaning before it gets blocked.
When to Get HVAC Repair
After reading our list, do you feel that you need to get your A/C unit checked out? Don't put off scheduling an HVAC repair with air conditioning repair las vegas or your issues can get worse — and more expensive.
Also Read: What Type of HVAC System Is Best for a Tiny House?
Having a pro look over your HVAC can give you peace of mind. It might just be a minor issue, and you'll feel better if you have someone take a look at it.
Want to learn more about keeping your appliances up to date? We've got lots of other great articles to keep your home running smoothly and save you money.