Don't look at your small bathroom with despair; look at it as an opportunity to transform the tiny space into something wonderful and impressive with smart and clever changes. The reality is that due to overcrowded urban spaces, the bathrooms are getting smaller.
 The true change lies in making the most of the lack of space and finding the best design solution to renovate the small-sized bathroom. Visit The Surface Shop and learn from the industry experts to create a strategically designed bathroom that all your friends' envy. All you need to do is be clever with the layout, storage, and colours.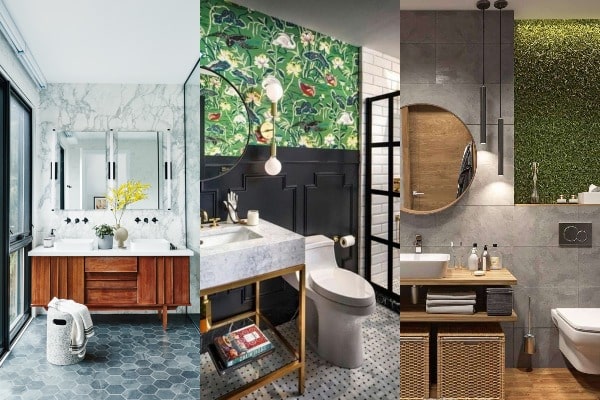 Given below are some of the most ingenious small bathroom ideas that are sure to create a showstopping small bathroom.
Revise the layout- Take a good look at your bathroom and remove any items that are not needed. If your budget allows, you can remove the bathtub and replace it with a shower. The idea is to maximize the use of every inch of space.

Go for neutral colours- Always use light, neutral colours for your bathroom, whether it is the paint, the tiles, or the floors. Lighter shades on the walls and floors open up the room visually and create an illusion of more space.

Make use of vertical space- Look for unused vertical spaces in your tiny bathroom and put them to good use. For instance, you can install wall-mounted cabinets and place hooks and shelves to keep the floor free of any storage for toiletries, towels, and other essentials.

Select compact fixtures- It is a must to choose compact fixtures for a small bathroom, or else the space will look cramped and congested. Whether it is the bathtub, shower area, sink, or toilet, try to go petite there to save space but without compromising functionality.

Install larger mirrors- A clever idea that can be used to expand a small bathroom visually is to use large mirrors. Mirrors can bounce light rays around the room and make the room feel more open and larger by adding more depth and light to the small space.

Use a folding shower screen- A popular trend nowadays is setting up a folding shower screen in bathrooms. These shower screens can be folded back easily when the shower isn't in use. That is a smarter way to open up more space within the bathroom. A clear glass enclosure is another tip that can be used here.

Tiles and patterns – You can create an illusion of a larger space by installing larger light-coloured tiles and using vertical stripes or patterns on walls. Those efforts will make the room appear taller and more spacious, adding a sense of height to the space.
Keep things minimalist- Remove any clutter and utilize built-in niches to free up as much space as possible. A clutter-free space eliminates the tininess of the room and makes it more welcoming and inviting.
Follow the above space-saving tips to design a tiny bathroom oozing with style and sophistication. After all, a small bathroom doesn't need to be cluttered and cramped.