5 Superb Reasons to Get Aluminum Handrails for Your Property
It can be tough trying to decide which material is best for your handrails. So why not listen to what architects have to say about the subject. When selecting any architectural material, aesthetics must be balanced with functional performance.
That's why metal railing systems are a very popular choice. Metal fits the design criteria of most projects and has the performance to back it up.
Steel has historically dominated this market. When it comes to strength and durability, it most certainly checks those boxes. But it's also very expensive.
Is there a low-cost alternative to steel? Aluminum handrails might be what you're looking for.
Like steel, it's reliable, durable, low-maintenance, and best of all, affordable! Keep on reading to learn about the benefits of aluminum as the material for your railings.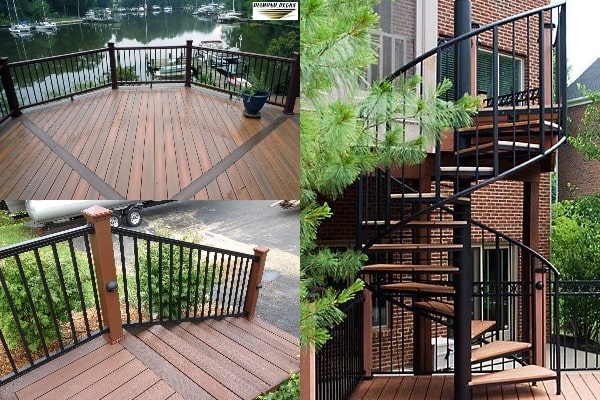 Versatile Beauty
Aluminum railings offer flexibility in design that's second to none.
It's more malleable and elastic than steel. Aluminum can create shapes that would push steel to the point of cracking or ripping. You can incorporate sleek sections or decorative shapes to complete various aesthetic looks.
You can choose a satin or soft-matted finish for a more classic style or a polished finish to appear more modern. They're also available in a wide range of colors and infills such as mesh, glass, or balusters.
Strength
While steel is technically stronger, aluminum is only about one-third the weight. When looking at the strength to weight ratio, aluminum has the edge. This is the reason why aluminum is used everywhere in modern aircraft.
Its lighter weight makes it easy to meet the load requirements of any design. It can also retain its structural integrity in extreme temperatures unlike other materials such as vinyl.
Long Lifespan
Like any metal, aluminum can oxidize or "rust". But even without further treatment, aluminum has high corrosion and oxidation resistance. This is due to the formation of a passivation layer that protects the metal from further oxidation.
This means that aluminum is practically rust and corrosion-free. It can hold up to any kind of weather. It can handle environments that steel will balk at, such as coastal areas and water treatment facilities.
Aluminum Handrails Are Low Maintenance and Eco-Friendly
Like we mentioned, aluminum, in practice, doesn't rust or corrode. They're also usually powder coated. Unlike regular paint, which needs a "retouch" from time to time for wooden railings, powder coating won't chip, peel, or crack.
Also Read: Save the Earth: 6 Sustainable Home Decor Ideas
They don't require a lot of upkeep, just regular cleaning with soap and water, which you can do at least once a year. Aside from being fully-recyclable, this is one of the reasons why aluminum railings are gentle to the environment. You don't need frequent reapplications of harmful chemicals for proper maintenance.
Easy to Install and Affordable
It only takes eight hours to install 25-30 feet of aluminum railing. You can read more about the installation process of Alumarails at https://saltlakeroofing.com/railing/.
Aluminum is cheaper than steel or wrought iron. Wood might be less expensive in terms of upfront costs, but it ends up costing a lot more because of its high maintenance.
Aluminum Definitely Deserves to Be in the Short List
Looking at the many advantages of aluminum, you have to consider it as a premium railing material. Its affordability, function, style, and customization are compelling reasons to get aluminum handrails.
For more home design tips and advice, feel free to browse our site.