The flooring in a house is a crucial feature that may either make or break a space. Even though our initial impression of a space is visual, the first physical touch a visitor will have with your home will be with the flooring. It gives your design a foundation and ultimately determines how successful it is.
It is essential to choose a flooring option that complements the design style you have chosen. Flooring is one of the most often used surfaces in our homes. Thus it must resist constant use without losing its sublime beauty. Given the numerous flooring options available, it is simple to get carried away and overlook the practical considerations that need to be made.
The top factors to examine when picking flooring are price, quality, and style. Although buying cheap flooring will help you save money upfront, it will not endure. These days, flooring is considered an investment, and there are several possibilities for every price range. In addition, there are a variety of materials on the market, from stone to tile. Still, we will compare the advantages and disadvantages of each so that you can make a more informed decision.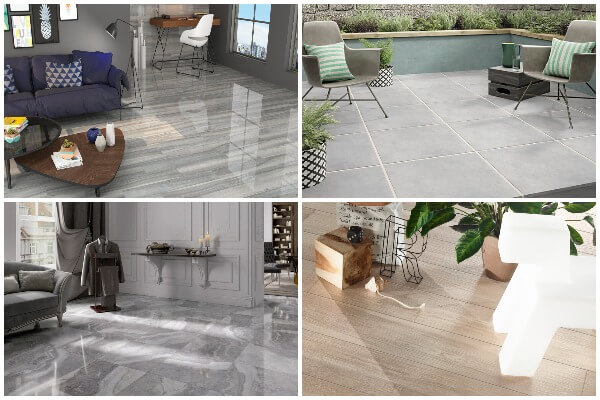 Tile VS Stone which Flooring is the Best?
Tile Flooring
Any flooring constructed of durable tiles on which the gaps between the tiles have been filled with grout is referred to as "tile flooring." Tile flooring is frequently composed of ceramic, which is a clay-based substance. These tiles are commonly referred to as porcelain or non-porcelain, depending on their composition (which is also confusingly referred to as "ceramic"). It is quite different from Premium quality natural stone flooring. 
Advantages of Tile Flooring
 When laid properly, high-quality tiles can give a home a classic appearance. Tiles can easily survive more than 20 years with good maintenance and are moderately resistant to permanent harm. It is possible to choose the most appropriate tile for your property using a rating system ranging from Class I to Class V. Although Class V is the most resilient form of tile, Class III or IV should be more than adequate for a home with typical foot traffic.
Sealed tile is a fantastic flooring option in bathrooms, kitchens, and mudrooms since it is water-resistant. Look for tiles classified as semi-vitreous and vitreous since these tiles are categorized according to how much water they absorb. Remember that grout and tiles are not watertight. For maximum water resistance, your tile floor will need to be maintained.
Only a light cleaning is required daily to keep tile flooring.
Disadvantages of Tile Flooring
Tile is more expensive to buy and install than other flooring options like laminate, especially high-quality or real stone tile.
Active maintenance must be done on the grout between the tiles, especially in high-traffic areas. Since grout is made of cement, it is porous and susceptible to contamination from dirt and moisture. Watch out for concerns, including staining, crumbling, and mould. These can compromise a floor's aesthetic and structural stability, but frequent grout cleaning and resealing will prevent serious issues.
Stone Flooring
Stone flooring is stunning and unusual, not to mention durable. Aside from concrete, stone flooring may be the only type used inside and outside. However, the high cost of stone floors necessitates careful consideration before choosing one. Consider these advantages and disadvantages of stone flooring when choosing new flooring for your home.
Advantages of Stone flooring
One of the toughest building materials available is unquestionably stone flooring. However, deciding to install stone floors is one that will last for many years.
Works both indoors and outside:
Stone is the best material for artistically achieving an indoor-outdoor seamless flow. Stone flooring connects both indoor and outdoor rooms and creates the appearance of extra space.
Stone stays naturally cool:
Stones can keep cool, which is important for temperature regulation, especially during the summer, in homes in warm areas.
Stone floors can be energy-efficient: 
Stone flooring is a top choice for constructing an energy-efficient heating system since it is a natural heat conductor and works well with radiant heat in homes with chilly winters or colder areas.
Disadvantages of Stone Flooring
The cost of stone flooring is high.
Stone, especially Premium quality natural stone flooring, can be expensive compared to other options. Compared to alternative flooring options, shipping and installation expenses can be much higher.
Stone stays naturally cool: 
Depending on where you live, stone tends to stay cold, which offers advantages and disadvantages. If you don't have a radiant heating system placed underneath, stone flooring may be a little uncomfortable in homes in colder climes.
The wet stone can become slick, making it unsuitable for areas like the kitchen or bathroom. Yes, various sealants and finishes can help with this, but it can still become rather slick when the stone is wet.
Water damage is possible on stone flooring. Natural stone is readily stained, scratched, and chipped when exposed to water.
Conclusion
Tile and stone floors are probably the best options if you want to give your home a timeless, classic look that offers lots of design flexibility and is aesthetically pleasing but also easy to maintain. Tile continues to be one of the greatest solutions for high-traffic areas since it adds class without any of the hassles associated with wood flooring or the artificiality of synthetic flooring.
The ideal flooring for people who love to decorate their homes is stone flooring. Both types of flooring have many advantages and a few disadvantages. However, by selecting the appropriate contractors, like Unilock, you can get the necessary assistance and advice regarding flooring.