6 Ways To Make Your Bathroom Beautiful
While home design is often focused on areas like the kitchen and living room, you likely spend a lot of time in your bathroom. This room needs to be highly functional, but this doesn't mean it shouldn't also be beautiful. 
Of course, you need room for your various toiletries and still want enough floor space to move around and get ready. But, you can still find ways to get all that usability while still upgrading the room to be easy on the eyes. 
While there are many ways to improve your bathroom's interior design while increasing functionality and comfort, you might wonder where to start. That's where this guide comes in. 
Follow these six easy tips to make your bathroom a much more stylish space.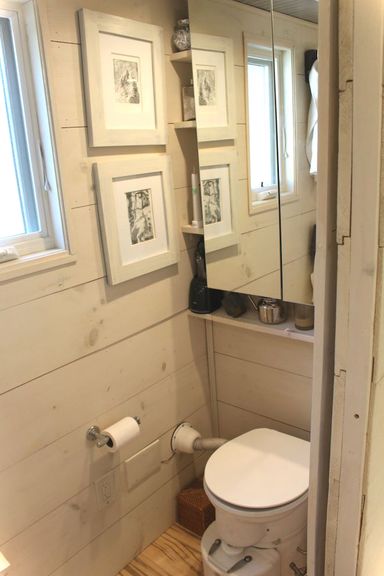 Make Technology Work For You
You might think about various upgraded appliances or gadgets for your kitchen or living room. Still, you shouldn't forget about the ones for your bathroom. You can look into improved, fancier showerheads, speakers, and more. The good news is that you don't have to sacrifice technology for beauty. For example, a smart toilet or luxurious bidet looks sleek, and it also improves your life. 
Incorporate Tips To Make The Space Seem Bigger
Even if you have a small bathroom, you can make it look better by following a few tips and tricks. Light is fundamental to making the room feel open and less cramped. Ensure that natural light can get in through the window by using a cover that still lets some of the sunlight through. You can also make your bathroom look bigger by decorating in light colors overall.
Add A Floating Shelf Or Ledge 
Decorating a room is always a mix of function and design, and so much of this is about organization. You have lots of things you need to store in your bathroom, including towels, makeup, hair supplies, and more. But, you can include extra organizing space while making your bathroom look more contemporary. A floating shelf or a more extended ledge can add storage space to a wall that's otherwise mostly unusable. Plus, it is a trendy design choice. 
Include Fake Or Real Plants
Indoor plants are the ideal way to make any room look better and feel fresher. However, you don't have to worry about tending to live plants if that's not your thing. While living plants add a bit of nature to your life, they can be hard to upkeep, especially if you're really busy. So, for those with a green thumb, add a lovely ivy or pothos plant. For everyone else, find a well-made fake option. 
Change Your Handles
If you want to make your bathroom look newer but don't have much money to make changes, try switching out the cabinet handles. You could also install a new toilet handle. These are two quick fixes you can do that change the finishes in your bathroom without breaking the bank. 
Decorate To Your Tastes
Finally, if your bathroom looks pretty plain, take the time to decorate. Like the rest of your home, you should spend time picking pieces and matching colors and designs. What you choose to decorate with will depend on your interior design style and the rest of your home. But, you don't want to only have blank walls. Instead, choose some mirrors, paintings, or small statues for shelves. 
You can also incorporate candles or incense burners, which look good and help your bathroom smell wonderful. Remember to have fun and choose decor that you like!