Top Six Tips to Select Outdoor Furniture
Finding the right furniture is an important decision that will last for years. We offer you some tips to select the outdoor furniture that best suits your needs.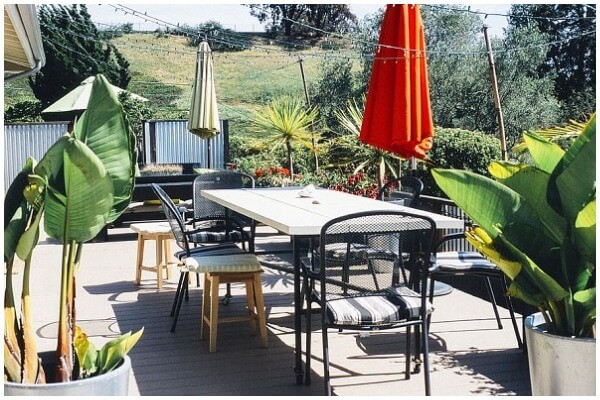 Suppose you're looking for outdoor furniture sets that will last longer. In that case our tip is to choose outdoor furniture made of durable materials, such as wrought iron, aluminum, steel, copper, and cast iron. We also suggest buying lightweight outdoor furniture so that it will be easy to move it from place to place.
The outdoor furniture you select will impact your family, friends and guests as much as the furniture you use inside your home. So, it's essential to find the perfect outdoor furniture that fits your needs.
The appropriate outdoor furniture makes it simpler to spend time with family and friends, relax by the pool, host parties, or enjoy a quiet meal in the fresh air. It's important to make the right choice when purchasing outdoor furniture and accessories for your outdoor space, just like you would do when purchasing some furniture pieces for your interior rooms. Nowadays, there are many crypto-friendly shops of outdoor furniture worldwide that accept payments in several cryptocurrencies (Bitcoin, Ethereum, etc.) that can make your shopping experience much better. So if you decide to buy BNB, Bitcoin or any other type of crypto, you shouldn't worry as you'll be able to spend it on the new furniture for sure. 
Space and size
Before you go shopping, measure the available area in your home to ensure that you have enough room to accommodate your new furniture. Your deck, patio or courtyard should serve as an extension of your home. The same as with inside furniture, the scale of your outdoor furniture must be appropriate to the space in which you will use it.
Giant furniture groupings can make tiny outdoor patio furniture or deck look smaller, while a large deck looks best with a larger set.
Types of Furniture
The next step is to figure out what kind of furniture you'll need for your outside space once you  measure the available area. Think about what you're going to do and how you will do it. Of course, the amount of room you have will be a factor. It will help if you think about who is using the furniture and how many people are seated.
Storage
Most outdoor furniture can be outside all year, but many retailers recommend that you store your sofa or chair cushions during the wet winter months inside to get the most life out of them. It's a good idea to think about where you can store those cushions while they're not in use before you buy them.
Design or style of furniture
There are no hard and fast rules when it comes to choosing outdoor furniture, but you should keep in mind that the styles and colors you choose should complement the interior design of your home.
Shop around for similar designs, as this will improve your indoor-outdoor flow. If you don't want your outdoor space to match your gray interior and prefer a splash of color, go for it. Make sure you pick something that you'll enjoy for a long time because you have many options.
Material of Furniture
Keep in mind that outdoor furniture should consist of durable materials. Denser woods like teak are suitable for long-lasting outdoor furniture. They are naturally water-resistant and easy to maintain. Remember that the sun's rays will gradually fade the teak color.
Other woods require an annual sealant application, making them high-maintenance. Many rattan-style pieces of furniture are made of weather-resistant poly-resin material and can be left outside all year.
Accessories
Cushions can add color and character to your outdoor furniture while increasing comfort. It's true for both inside and outside to make a big statement with your design. Look for rain-proof cushions with water-resistant materials and fillings.
An umbrella is a must-have for any outdoor place with a lot of sun. They provide shade and protection from the sun's beams. If your outdoor space is neutral, why not add some color with a vivid umbrella or a creative pattern on cushions?
Assemble two tiny end tables or stools to match your couch and loveseat. A little outdoor stool can serve as both a seat and a table. It can also provide you with a place to have drinks and food on. 
Conclusion
If you want to make sure you get the right outdoor furniture for your backyard, these tips will help you select outdoor furniture that will last longer or help you better understand what type of outdoor furniture would be best for you.