Simple DIY Ways to Protect Your Outdoor Furniture from Elements
Outdoor furniture is a core asset in the setting of a patio that offers a great getaway. While getting the best outdoor furniture can be easy and fun, protecting your new investment from elements can be somewhat challenging.
Over time, the effect of rain, suns, winds, and dirt can do severe damages to your wooden patio ensembles. You need to know how to get your patio furniture set ready for all seasons and weather. Below are some protective measures you can employ to preserve your outdoor wooden furniture.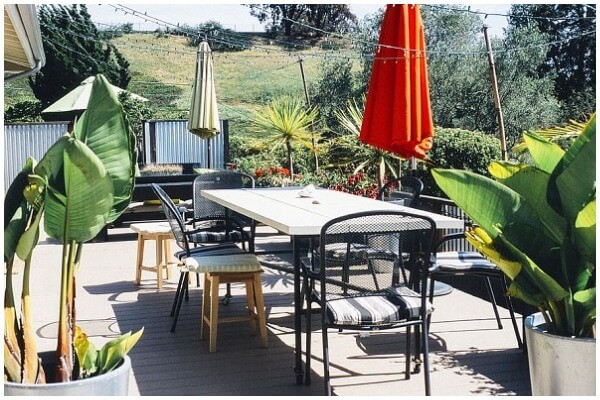 First Thing First
Many people complain that their outdoor wooden set becomes ramshackle in a couple of weeks or months. Even after employing some protective measure that promises to extend their lifetime. What most people fail to understand is that you cannot protect bad wooden furniture from extreme weather. Start with these 3 tips;
Getting the wood type right from the onset is more important than protecting a bad one. Some woods are naturally bad for outdoor usage, while some have the properties to survive intense weather conditions. If you are taking the plunge to put in any outdoor set, teak, redwood, and

cedar outdoor furniture

should take the top spot on your list. They are wood types that are more durable and sturdier for outdoor usage.

The construction of your furniture is another area to look into, as that also affects longevity. On a general note, parts of wooden furniture are held together using glues that weaken over time. And at a faster pace when exposed to elements. It is better to go for a piece of furniture that uses waterproof glues.

Don't just buy any furniture for outdoor placement. The build is as important as well. Wooden furniture designed for outdoor usage is more durable and has better features and fixtures when compared to indoor furniture. Furniture built for indoors will never live as long outdoors as their outdoor-intended counterparts.
Do yourself the good of taking note of the above to start. Then you can apply any of the following protection tips. Whether you are searching for ways to extend the life of your favorite porch wooden rocker, or you just feel like refinishing your outdoor bench DIYerly. The practice below should serve you right.
Paint Your Furniture 
Paint offers reliable resistance to environmental elements. Using paints on your outdoor furniture can give you rest of mind. The only downside is that you will lose the original look of your furniture, which is worth it in the longer run. Paint protects your furniture from direct UV rays from sunlight. Painting your outdoor furniture will also protect the wood during the rainy season. That is from water which could result in rot and decay.
Note, latex paint is better than oil-based paint. The latter can be easily washed by water, and it often tends to fade faster when exposed to intense weather. On the other hand, latex paints are easier to apply. Their glossy nature enhances their resistance to water and sun rays.
Also Read: What Are the Benefits of Painting Kitchen Cabinets?
Use Water Sealers
Water sealers can be a better alternative to paint if you live in an area with more rain. Water sealers can keep your wooden furniture completely waterproof while preserving its original look. A water sealer is the best form of protection from damages caused by moisture and damp weather. Using sealers also comes with an additional advantage. It allows damp wood to dry quickly, thereby keeping splitting, discoloration, swelling, and warping at bay.
To get the best out of sealers, make sure you do not leave out any part of your furniture. From the joints to the underlay and the tiniest of holes, make sure to fill without omission.
Also Read: The Undeniable Benefits That Are Associated With Renting Furniture
Apply Outdoor Varnishes
Don't want to paint or seal? Varnish is another good bet you can make to extend the life of your outdoor furniture. Vanish offers a reasonable layer of protection from elements without altering its beautiful look. The only problem is that it will not protect it as long as paint. That should be no cause for alarm, just be sure to reapply another coat every few months to strengthen the varnishes as they fade.
Beware when purchasing varnishes online or offline. Make sure you go for a varnish that is for outdoor usage. You can visit stores in your locality to get the best varnish for your purpose.
Also Read: A Brief History of Chinese Antique Furniture
Use Exterior Oil
Applying exterior oil can be the most pocket-friendly means of protecting your outdoor wood furniture from the ravages of outdoor life. Only to have you go again in 6 months if you want your furniture to be well protected.
Unlike paints and vanishes, exterior oil will not form a protective layer on top of the wood. Instead, it sinks into the wood and dries up its fibers. Most oils come with trans-oxide pigment to protect woods from UV. This helps in maintaining the wood's natural look.
Keep up with the reapplication schedule specified by the manufacturer and see your furniture serve you for many years to come.
Relocate Your Furniture
It is good to tell you this; no paint, furniture, or sealant offers 100% protection. The best thing to do is to minimize the extent of your furniture exposure to elements. When they are not in use, especially in winters, relocate your beloved furniture inside your garage or somewhere safe.
More so, winter can be the harshest of weather on your furniture. The finishers that perform wonderfully well during other seasons can be easily ripped apart by winter. So, if you have enough space in your garage or somewhere else that is covered from elements, moving your outdoor furniture is the best thing to do in winter. After all, you are likely not to use them.
Also Read: How to Move Large Furniture Safely
Use furniture covering
Perhaps the easiest method to protect outdoor wood from harsh weather is by covering it. Above applying finishers, covering your outdoor furniture from elements when not in use can be a plus. Get the right size patio furniture cover or protective fabrics. Patio furniture coverings come with UV inhibitors.
Conclusion
By and large. Everything starts with good outdoor furniture that uses the correct wood, construction, and material. Applying finishers complement the natural strength and properties of your furniture.
On a great piece, you have got a rock-solid outdoor getaway. On a bad one, you are shedding bucks on some scrappy packs of wooden ensembles. Start by getting the first thing right as explained above. Then you can use any of the above to protect your outdoor furniture.