Are you tired of the look and feel of your kitchen, and you don't have the money to do renovations?
It's human nature to desire novelty after being used to your old-fashioned kitchen cabinets for so long. You don't need to beat yourself up if you can't afford a complete renovation and styling of your kitchen.
As stated by the experts from Painters Care, if the cabinets are still intact, painting kitchen cabinets can refinish your kitchen to have a new modern look. If you are skeptical about the direction you want to take with your cabinets, this article is for you.
Read along to understand the benefits you can derive from painting your kitchen cabinets.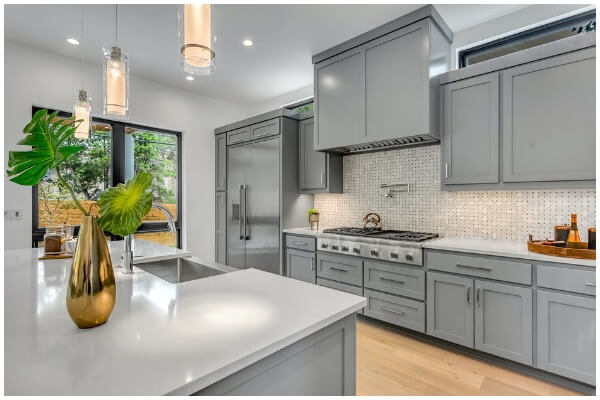 It Saves You Time and Money
Doing a complete kitchen renovation to make your kitchen look better can cost you as much as $20,000, depending on where you live. Also, this can take 3-4 weeks to complete. While all that is happening, you will need to relocate to pave the way for the renovation. 
You can attain a more desirable look at a cheaper rate by painting your kitchen cabinets. Besides, you won't have to move for the painting to be done.
Also Read: The Ultimate Guide on How to Renovate a Kitchen
Flexibility and Convenience
Assuming when you moved into the house, you loved everything else apart from the color of the kitchen cabinets. You have the flexibility to paint the cabinets to suit your desired color or match the home decor of the kitchen.
Depending on the type of paint, painting can be done, and within two or three days, the house is habitable.
Also Read: A Step-by-Step Guide to Painting Your Window Frames
Increase Your Resale Value
Rather than replacing your best kitchen cabinets, consider refurbishing by hiring cabinet painters. It increases your home appraisal value at a cheaper cost than doing a complete makeover. You don't have to incur exuberant charges hoping you will recover your money during the sale of your house.
You should hire professional home painters for the best results. Contact Marvelous Painters for your kitchen cabinets painting and get the job done at an affordable cost.
Facelift
We spend most of our time in the kitchen when washing dishes, kids doing homework, or chatting with a friend while cooking. Painting your cabinets gives the kitchen a facelift making it more comfortable and appealing to stay in.
If you had a bit of a challenge with the kitchen's lighting, painting a brighter color will brighten up the room.
Also Read: Most Popular Types Of Kitchen Cabinet Refacing St Louis 
Eco-friendly
Replacing old kitchen cabinets involves tearing and clearing the fittings ignoring sustainability goals. Repainting your cabinets if they're still in good condition achieves the same purpose as acquiring new ones.
Consider Painting Kitchen Cabinets to Enhance your Home Look
Having a new kitchen look doesn't have to be costly. Painting kitchen cabinets is an affordable way to improve your home in a more eco-friendly and time-efficient manner. Get a professional painter who can flawlessly execute the job.
Found this article informative? Check out our other blogs on real estate, business, and marketing.