You probably would have spent more than hundreds of dollars and precious time on your interior decor. And did an excellent job at it. People would be coming in and appreciating your sense of style and choices. 
But hang on! 
Did you pay the same amount of attention to your backyard? If you are unsure about the answer, this article might be the right thing you need. 
Imagine yourself sitting with your friends and family members on Friday night in your beautiful backyard. Feels relaxing. Right? What if we tell you that you can transform your imagination into reality by using a few decks decorating ideas?
Believe it or not, 68% of millennials are actually willing to pay around $5,000 extra to create a perfect outdoor space in their homes. 
You should know that deck decoration is not as difficult as it appears to be. It is almost similar to designing your interiors. You start with an idea about what you need and work to bring it to reality. 
But to simplify things for you, here are trendy deck decor ideas for you to create a perfect entertainment and relaxation sanctuary. You need to know that apart from choosing a cohesive color scheme for your backyard, there are many things you need to consider with your deck decoration. 
So, without further ado, let's dive right in.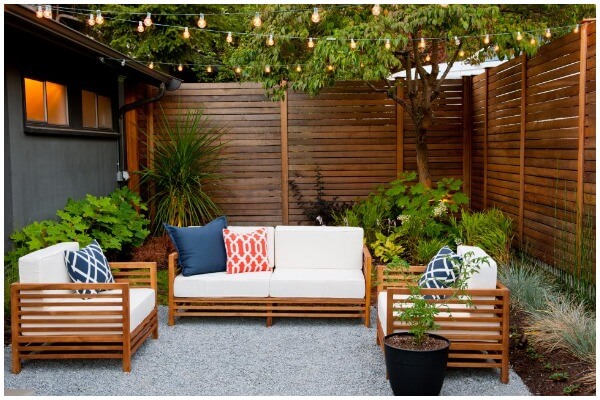 Eco-friendly deck decor
With pollution and global warming at their peak, many people are doing whatever they can to help Mother Nature. From clothing to appliances, they are opting for sustainable stuff everywhere. And you can do your bit for the environment by opting for sustainable designs for your deck. 
When it comes to sustainable decking designs, there are several options to choose from. One of which is using composite products. According to industry professionals, these products are made of wood and HDPE plastic, commonly known as high-density polyethylene. 
You'll be surprised to know that these wood particles can be anything from recycled wood chips to sawdust. And the plastic components are also made up of recycled materials. This means that no trees have been intentionally harmed to produce composite designs for your outdoor space. One of the best parts of using composite decking is it is durable and super-easy to maintain. 
By using such sustainable materials, you'll be actually doing your part to keep the environment safe. 
And suppose you want to take your eco-friendly deck decor to a whole new level. In that case, you can also replace your worn-out lighting fixtures with energy-efficient ones. Using sustainable LED bulbs will not only illuminate your backyard but will also help you keep your utility bills from skyrocketing. Creating perfect outdoor lighting with lanterns and other fixtures will definitely amp the ambiance of your deck. 
Also Read 5 Simple Ways You Can Practice Eco Consciousness at Home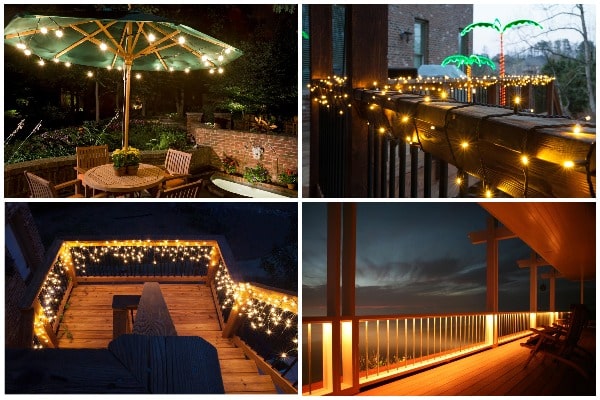 Chic backyard dining area
Let's be honest; nothing beats the experience of enjoying meals in the lap of nature. There is certainly something surreal about it. 
How about we tell you that you can have exactly that right in your backyard? Yes, with the help of an outdoor dining area, it is definitely possible to enjoy your meals on your deck. 
For this, you'll have to dedicate a separate corner on your deck for mouth-watering alfresco meals. All you have to do is bring in a sturdy outdoor table and comfy couches or chairs. 
Also, if your deck receives a lot of sunlight, you can use a huge umbrella to shade your dining area. Try to opt for a flexible seating arrangement so that you can squeeze in your guests without any hassle. Elevate the comfort with plush outdoor pillows, and you'll be good to go. 
Or, if you want to take your deck dining area up a notch, you can always consider incorporating an outdoor kitchen. Not to mention, it'll save you the trouble of going to and fro for all the dining essentials. 
In fact, according to industry experts, the demand for such culinary amenities is now more than ever. People are using it to spruce up their outdoor decor and elevate their home's market value. Plus, with the help of an outdoor kitchen, you can actually have your meals right off the grill.
Also Read: 18 Cozy And Adorable Breakfast Nook Ideas
Framed deck decor with a touch of greenery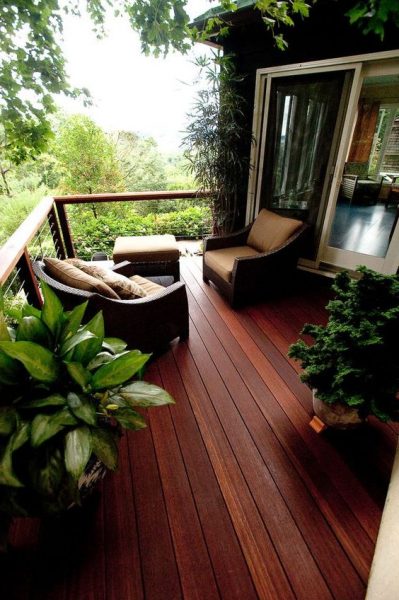 Not everyone is a fan of open decks. People love enjoying their outdoor space with a little bit of privacy. Thus, if you also want to add privacy to your deck in a subtle way, you can always go for framed designs. 
These stylish panels not only add charm and improve the visual appeal of your deck but also fashionably elevates privacy. You can pick those trendy geometric patterns and give your deck a modern look. 
You can also consider covering those glass panels with grapevines or wisteria and save yourself from prying eyes. 
Speaking of adding greenery to your space, you can also transform your deck by adding lots and lots of lush plants. It'll make it look like a tropical paradise. 
Add in some colorful terracotta pots with seasonal bedding plants on glazed pots, and you'll be good to go. 
You can also elevate the tropical feel of your deck by using some cool water fixtures such as waterfalls and convert it into an oasis. Imagine how cool it would be to wake up to the sound of chirping birds. 
One of the best ways to add greenery to your outdoor space is with the help of a hanging garden. Use those baskets featuring trailing and lush plants that can add a huge impact on your deck's decor. 
In the end
The key to creating a perfect outdoor space is to keep a close check on its comfort and aesthetic appeal. Once you are done with that, you'll love a relaxing and laid-back weekend on your outdoor patio. 
Throw in comfy furniture pieces and everything that matches your home's style. 
So, use the tips mentioned above and create a perfect outdoor space for your entertainment and relaxation. Do it right, and your backyard would be your favorite place to hang out.