Do you often feel like your home could use a little extra spark? Do you want to create an unforgettable, magical atmosphere in the comfort of your own home? Well, don't worry – here are 6 ideas that can completely transform the look and feel of any room in your house with minimal effort and cost!
Whether it's through magical lighting, freshening up furniture pieces, or adding boho chic touches, these tips will help you turn up the magic factor without breaking the bank. Read on for expert advice on creating a cozy but luxurious living space tailored perfectly to your tastes!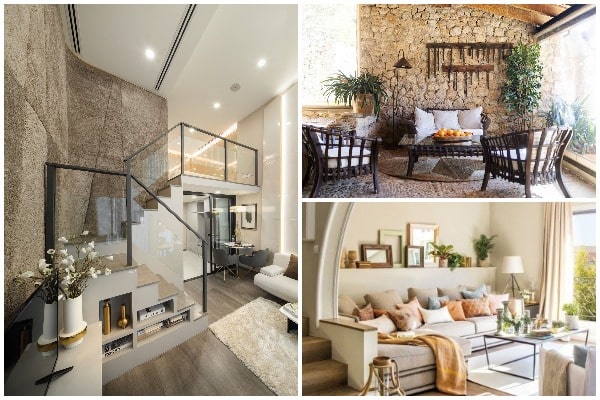 Install a statement wallpaper
Wallpaper is a fantastic way to add a pop of color and personality to any room. Whether you're looking to create a statement wall or add a bold pattern to an entire space, wallpaper can make all the difference. What's great about wallpaper is that it's a relatively easy way to transform your home's aesthetic without committing to a full renovation. With so many different colors, patterns, and textures available, finding a wallpaper that speaks to you will feel like a no-brainer. So why not take the plunge and experiment with a fun wallpaper design to spice up your space?
Prepare for holidays on time
Getting ready for the holidays in advance is another clever approach to bring about a magical transformation in your home. Start by choosing a theme based on the holiday that's approaching. Whether it's the warming hues of fall for Thanksgiving, twinkling lights and baubles for Christmas, or vibrant colors for Easter, decorating your home in sync with the holiday season will create a festive and enchanting environment.
Consider hiring a professional light installation team for Christmas to ensure a dazzling display that can transform your home into a twinkling winter wonderland, while eliminating the stress and hazards associated with doing it yourself. With the help of companies such as Christmas Champs, that specialize in holiday decorations, your home will not only be safe but also transform into a sparkling spectacle of holiday spirit. Remember, the key is to plan and start early to avoid last-minute chaos and to ensure every corner of your house exudes holiday cheer.
Hang floating shelves
Hang floating shelves in your home to add a unique touch to your decor while also creating more storage space. With these shelves, you can display meaningful items such as family photos, favorite books, and sentimental trinkets. By showcasing these cherished possessions, you can turn your walls into a work of art while keeping your treasured items organized and easily accessible.
Not only do floating shelves provide a stylish way to display your belongings, but they can also help eliminate clutter and make your space look larger. Install a few shelves in any room of your home and transform your living area into a beautifully organized and personalized space.
Use LED lighting to create an ambiance
With the implementation of LED lighting in our homes and businesses, we have the opportunity to create a space that is not only visually appealing but also kinder to the environment. LED lighting uses significantly less energy than traditional lighting, which not only helps to reduce our carbon footprint but can also save on energy costs.
The technology behind LED lights also gives us the ability to play with colors and hues, allowing us to create a unique atmosphere that fits our personal style. From warm and cozy to cool and calming, the possibilities are endless with LED lighting. By making this simple switch, we can create a space that not only looks great but also contributes to a better world.
Invest in statement pieces of furniture
Upgrade your living space with statement pieces of furniture that will bring your home's style to the next level. Instead of buying a bunch of cheap, generic pieces that will wear out quickly, invest in high-quality items that will stand the test of time.
A plush velvet armchair will not only add comfort to your living room but also be a gorgeous centerpiece that guests will admire. A rustic wooden coffee table will bring warmth and character to your space, while also being practical for gatherings with family and friends. These statement pieces make a statement about you and your personality, so choose carefully and enjoy the added style they bring to your home.
Also Read: How To Protect Your Furniture When Renovating The House
Use plants to freshen up the air quality
Bringing life into your home doesn't just mean adding more furniture or decor. Consider the ways in which nature can add a pop of vitality to your space. Plants not only add a unique aesthetic to your home, but they can also improve the air quality in your home.
Not only can indoor plants clean the air of harmful toxins and gases, but they can also reduce stress levels and boost productivity. Whether you're looking to add a touch of green to your bedroom or a splash of color to your living room, the possibilities for bringing plants into your home are endless. Plus, with the added benefits to your health and well-being, it's hard to say no to adding some flora to your space.
Final Words
With these tips at hand, creating a magical, vibrant, and personalized living space becomes an achievable dream. Integrating elements like statement wallpapers, festive decor, floating shelves, energy-efficient LED lighting, statement furniture, and green plants can remarkably transform your home into a place of joy, comfort, and style.
Remember that the essence of an enchanting home lies in reflecting your personality and preferences while ensuring the space is functional and aesthetically pleasing. With careful planning and thoughtful investment, your home will become a true reflection of your unique style and a sanctuary that brings joy and comfort to all who enter its doors.