If you're a fan of home decor, bed linen and bath accessories are some things you just cannot miss. A lot of us ignore the latter, thinking it doesn't matter much what we use in the bathroom, as long as the shower gel, soaps, and shampoo are great.
However, there's a lot more to your home decor than having a perfectly aesthetic-looking bathroom with expensive cosmetics. The kind of bath towels you use says a lot about hygiene as well as the health of your skin and hair. If you're using cheap and synthetic fiber towels on your body, you could cause damage to your hair, breaking it due to friction.
Your skin, too, can get reddened because the material is not skin-friendly. However, we've got your back, because today, we're going to give you nine types of bath towels that not just add to the aesthetic of your home, but also ensure that your body is well taken care of.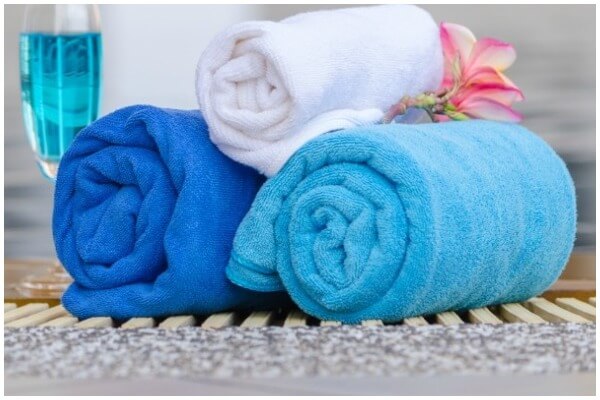 Reasons to Avoid Microfiber Towels
We have all used a special fabric to dust or clean our cars, and these materials are known as microfiber. Microfiber towels are fast-drying and have been used for cleaning for a long time. However, they're a recent addition to the bath towel collection.
Microfiber is created using finely spun synthetic fiber like nylon or polyester. They are capable of absorbing large amounts of water with ease. They're typically quite soft, being highly absorbent and dry quickly. New innovations have also made them just as plush as luxurious towels, so essentially you can get a similar experience while saving money.
However,  microfiber fabrics are a huge cause of oceanic pollution. Tiny polyester fibers shed and contaminate water supplies, which cannot be filtered off. While natural fibers such as cotton, microfibre are non-biodegradable. Since they're made of plastic, they don't break down and are too small to be filtered.
Not only do microfibers defile rivers, seas, and oceans, but they are also swallowed by aquatic life. They also end back up in our food. This is one of the reasons that it is not favorable to use microfiber towels apart from their durability. Since the fibers keep falling off with each wash, unlike cotton towels, they don't last as long.
The Best Variety of Towels
Now that you know why microfiber is not a great choice, let us introduce you to our selection of the most sustainable, durable, and absorbent towels you can buy!
Egyptian and Turkish Cotton
These are two of the best quality towels one can get. While you will find subtle differences between these Egyptian and Turkish cotton towels, they match the quality standards and are super luxurious to use. This is why Egyptian cotton towels are very expensive, while their Turkish counterparts are not far behind. Both of them are regarded as the best in class.
Their fiber is created using highly fibrous and long-staple cotton sourced from Egypt, which is the reason these towels are so luxuriously soft, absorbent, plush, and durable. The towels last for years if they are well looked after, and you'll find them in all good hotels and spas.
Turkish cotton towels have almost the same qualities as Egyptian towels, except that their cotton is sourced from Turkey. 
Pima Cotton 
Pima cotton towels are also known as Supima, their brand name. These towels source their cotton fibers from the same plant used for Egyptian cotton towels. However, these plants are grown and processed in the U.S. Pima towels are also high-quality bath accessories because their long-staple fibers are extremely plush and absorbent.
Pima cotton towels fall into the similar upper-range pricing as Egyptian and Turkish towels. Due to their excellent durability and performance, these towels are a common alternative for customers that prefer to have domestically sourced products.
Bamboo fiber 
Since more and more people are trying to reduce their carbon footprint, bamboo towels are gaining popularity in the market. Bamboo is one of the many eco-friendly fibers available since it grows quicker than cotton and does away with the need for pesticides.
There are quite a few products created using 100% bamboo, but the towels you'll find in markets are a blend of bamboo and cotton. The cherry on top of these towels is that bamboo fiber is a natural antibacterial. 
Peshtemal, Hammam, or Fouta 
These towels have gained a lot of popularity since they look amazing and dry very fast. Generally, they are decorated with a fringe at their ends and can be used as hand towels, beach towels, travel accessories, or even a blanket.
Since they are thinner than Egyptian cotton towels, they suit warmer climates very well. The authentic towels will be made using 100% authentic Turkish cotton.
Linen 
Linen is superbly eco-friendly and dry quickly, making it a good option if you live in hotter climates. Their texture is very different as compared with cotton towels. Linen towels are light and a bit coarse instead of being soft and plush.
However, these make an excellent towel to exfoliate your skin as every wipe will remove any accumulated dead cells. People living in tropical areas use these very common, which is also a reason why their skin stays soft and fresh-looking.
Organic Cotton
Many homeowners want to have an all-organic space, these are the best towels you can choose. Made from 100% organically sourced and processed cotton, which is also certified that there were no pesticides used in the crop. However, these plush towels can take a long while to dry, and if you use dryers in a cold area, be mindful about our energy consumption as it can affect the environment too!
Wrapping Up:
As you can see there is a huge pool of towels if you'd like to dive into fabric and sustainability. The essence of a great home is one that not only thinks about durability but also tries its best to live sustainably. Out top 9 are amazing investments for your bath accessories and will not just help you experience luxury but also stay in good quality for a long time.